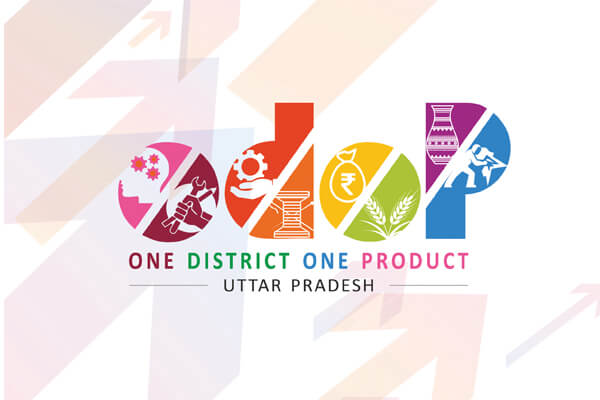 Launched with an objective to promote traditional cottage and handicraft industry and entrepreneurship, the One District One Product scheme is facilitating many small businesses in Uttar Pradesh to realise their dreams of going global.
From working at other enterprises for petty wages to providing employment to 18 people, Kamal Kumar Kardam's life took a 360 degree turn after he decided to visit DIEPC office in Agra and apply for a Rs 20-lakh loan under the Prime Minister's Self-Employment Scheme through Union Bank. The officers of DIEPC office informed Kardam, a supplier of leather goods, that the leather products from Agra had been identified and marked under the One District One Product (ODOP) scheme. Uttar Pradesh became the first state in the country to implement the ODOP scheme, which was launched by the Central government to provide the much-needed impetus to micro, small and medium enterprises (MSME) and cottage industries.
Kardam, like many other entrepreneurs, registered with the e-commerce website Amazon to market and sell his products and since then there is no looking back. The story of Kardam, and that of many others like him, is the story of hope, self-reliance and success that needed a slight nudge to start unfolding the way it has. Uttar Pradesh is a treasure trove of unique products and crafts including leather goods, carpets, textiles, pearls, furniture, glassware, brassware, woodworks, iron and steel articles, and machinery equipment, among others. However despite being the second largest job creator in the state after agriculture, MSMEs and cottage industries would often be found grappling with the lack of funding, marketing know-how and platforms to showcase their offerings. It was against this backdrop that the Uttar Pradesh Government, led by Chief Minister Yogi Adityanath, launched the ODOP scheme.
Besides boosting traditional cottage and handicraft industry and entrepreneurship, the ODOP scheme has the unique feature of creating job opportunities with low capital investment. Given that each district of the state has a unique identity in the form of its traditional craft, the scheme also has a great potential to help small entrepreneurs expand their businesses and turn exporters. Therefore, it is in this light that Uttar Pradesh ODOP E-Marketing Initiative assumes significance. Activities taken up under this initiative includes conducting training for nodal officers, conducting workshops for weavers/artisans and MSMEs and onboarding sellers on e-commerce platforms like Amazon for discoverability of sellers and products by small businesses.
Also Read: ODOP—Fostering Local Arts, Crafts, and Traditional Skills: Navneet Sehgal
The initiative has opened up new avenues for growth of traditional industries like terracotta from Gorakhpur, carpets from Bhadohi and leather products from Kanpur and Agra. As part of this initiative, Uttar Pradesh government celebrated 'Small Business Day' last year on December 16 with dedicated visibility across media channels as well as online platforms to promote small businesses from the state. Bolstered by exhibitions, technical sessions, workshops under ODOP, small entrepreneurs from Uttar Pradesh can now dream big by making their products global.