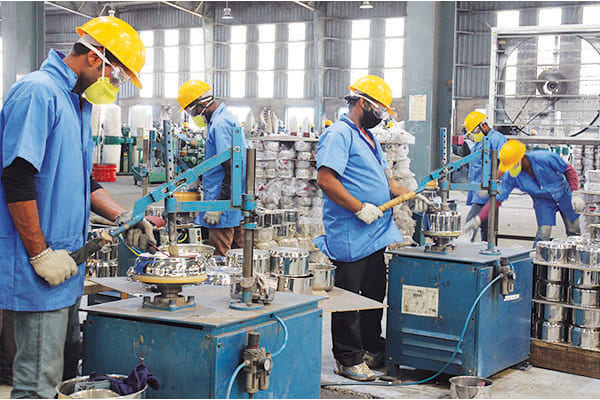 The Government of Rajasthan is laying stress on building an enabling environment for small scale industry through its Department of Medium and Small Medium Enterprises (MSME), Elets News Network (ENN) does a reality check.
The Rajasthan Government's Department of MSME carries the mandate to promote Medium and Small & Medium Enterprises (MSMEs), artisans, handloom and service sector in the State. The major sectors in which the MSMEs of Rajasthan are primarily involved include textile, apparel, engineering, ceramics, marble and Kota stone processing, chemical, food processing and IT services amongst others.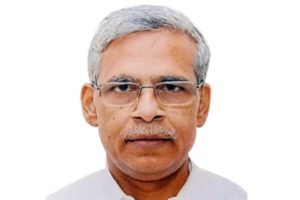 With 7.22 lakh MSMEs in the State as of 30th November, 2018, the MSME department performs the dual role of boosting the State GDP as well as generating more employment. Total investment of over Rs 62,000 crore has been made and 34 lakh people have been employed.
A host of Departments, and affiliated and associate organisations are also pushing the MSME agenda in the State of Rajasthan.
Commissioner Industries – This Department is headed by the Commissioner who is a senior IAS officer with District Industries Centre in every district of the State. The Department promotes the following schemes:
Udyog Aadhar Memorandum
Priority in government purchases
99 items reserved for MSEs
80% purchase of non- reserved items from MSMEs at L1 price
Thrust Sector benefits for MSMEs in Rajasthan Investment Promotion Scheme: 2014
MSME Policy – 2015
MSME Assistance Scheme – 2015
MSE (Revival and Rehabilitation) Scheme 2015
Micro and Small Enterprises Facilitation Council
Udyog Ratna Award Scheme – 2016
12 awards to MSMEs and one each to Bunkar and Hastshilpi every year.
Rs 1 lakh cash, certification and shawl
Handicraft Sector
Artisan identity cards
Financial support for participation in fairs and
Employment Oriented Schemes –
Prime Minister Employment
          Generation Scheme: –
Bhamashah Rojgar Srijan Yojana – 2015
Government of Rajasthan Scheme
Cluster Developmet –
Handloom Sector
Rajasthan Small Scale Industries Corporation: It is an autonomous corporation of the State Government which has been created to provide marketing support to micro and small enterprises as well as artisans. The Corporation also supplies raw material to micro and small enterprises and provides facilities of inland container depot and air cargo facilities. Certain items like steel furniture, barbed wire and tirpal etc. can be purchased by State Government Departments through this Corporation without inviting tenders.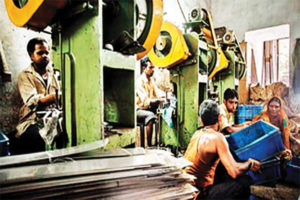 Rajasthan State Handloom Weavers Cooperative Sangh: It is the cooperative organisation of handloom weavers' societies, dedicated to provide marketing support to handloom weavers cooperative societies. Presently, 501 societies are members of the Sangh. It has 12 depots in the State and one in Delhi providing retail outlet facility for the products of weavers' societies. It also participates in fairs and exhibitions within the State and outside the State. The total turnover of the Sangh during the last financial year was Rs 12.1 crore.
Rajasthan State Handloom Development Corporation: It is another autonomous body of State Government involved in providing support to individual handloom weavers of the state in terms of technological upgradation, design development, publicity, participation in fairs and exhibition and direct marketing of the handloom products of individual weavers. The corporation sold the handloom products to the tune of Rs 18.32 crore during the last financial year.
Rajasthan Khadi and Village Industries Board: It aims to strengthen the rural economy of the State through promotion of Khadi and Village Industries. The board has the mandate to formulate plan for the development of Khadi and Village Industries, to provide employment to lower income group people through Khadi and Village Industries, to train them in different trades, to supply raw material and market finished products.
The Rajasthan Khadi and Village Industries Board also promotes the following Schemes:
Publicity – The Board promotes the Khadi and Village industries products through different mediums of publicity like hoardings, folders, brochures, FM Radio, newspaper, magazines, social media, print media and electronic media.
Khadi Bhandar – These are the sale depots run by khadi They supply raw material to the workers, get back finished products and market them.
Fairs and Exhibitions– The Board also organises fairs at state and national level in which the societies are given an opportunity to sell their products.
Training Centres– The board also operates training centres to train the new entrepreneurs in different trades related to Khadi and Village There are three such centres being run in the State. So far, around 28,000 entrepreneurs have been trained through these centres.
Prime Minister Employment Generation Programme (PMEGP) is a Government of India scheme with three agencies in the state implementing this scheme. A loan amount of Rs 10 to 25 lakh is given to aspiring people to set up their on-service/industrial enterprises under this scheme. 15 to 35 % of the loan amount is given as a subsidy.
Rajasthan Industrial Development and Investment Corporation (RIICO): Although this corporation is not under the MSME Department, it plays important role in providing infrastructure facilities to the industrial enterprises, primarily the MSMEs . It acquires land, develops it as industrial area, and allots funds to entrepreneurs for setting up entreprises. So far, it has acquired 84,441 acre of land out of which 47,585 acre land has been developed and allotted 55,092 plots to entrepreneurs. The enterprises set up in 344 industrial area of RIICO are mostly small and medium enterprises.
Also Read: RIICO: Catalyst to Rajasthan's Industrial Growth
Rural Non Farm Development Agency (RUDA): It promotes the Rural Non Farm sector (RNFS) in the state. RUDA follows a sub- sectoral, integrated and cluster based approach for promoting rural micro entreprises as viable avenue of sustainable employment.