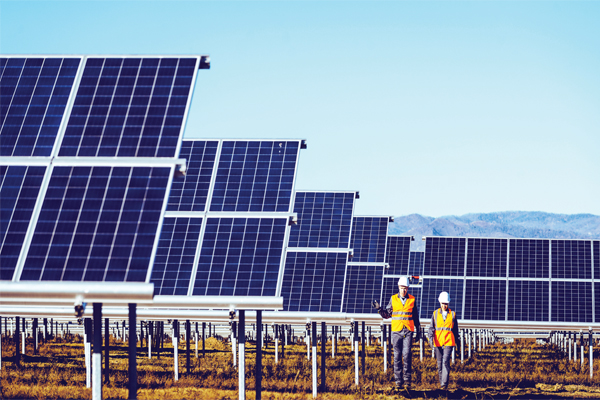 Electricity demand is increasing day by day due to exponential growth of population, followed by rapid urbanisation and industrialisation. In this backdrop, India developed a strategy and a roadmap to explore and exploit the renewable energy to power its growth to sustainable energy, writes Sudheer Goutham and Jyoti Bhagat of Elets News Network (ENN).
India has embraced the idea of Clean & Green Energy and emerged as one of the Global leaders in addressing the issue of climate change through effective and feasible intervention.
Geographically India is blessed with bounty of natural resources with nearly 300 days of bright sun shine annually, speedy winds in majority of the geographical area, powerful water streams in the hilly area and abundant greenery all over.
Electricity demand is increasing day by day due to exponential growth of population, followed by rapid urbanisation and industrialisation.
In this backdrop, India developed a strategy and a roadmap to explore and exploit the renewable energy to power its growth to sustainable energy.
We have set ambitious targets. By 2030, we will reduce the emission of green gases by 33-35 percent of its 2005 emission level and produce 40 percent of our electricity power from non-fossil fuel resources, said the Prime Minister Narendra Modi at a global platform UN Climate Change Conference Paris – 2015.
Currently, India has potential of 1000 GW non-conventional power, with 750 GW from Solar, 300 GW of Wind, Bio Mass  Energy 25 GW and Small Hydro 15 GW.
Ministry of New and Renewable Energy (MNRE) has increased its target of new and renewable energy to 175 GW with 100 GW from Solar, 60 GW from Wind, 10 GW from Bio Power, and 5 GW from Small Hydro by 2022.
MNRE has introduced conducive policies, favorable and friendly regulations for purchase of solar power, common acquisition of land and infrastructure development of Solar Power and establishment of 34 solar parks in 21 states with total aggregate capacity of 20 GW.
India has launched the second phase with additional capacity of 20 GW. India takes pride in commissioning largest solar park with capacity of 1000 MW in Kurnool Andhra Pradesh. Solar power has attained grid parity in India.
The levelised tariff of solar power which was once Rs 17 per unit now has come down to Rs 2.5 per unit. Through Make in India, high quality Solar Photovoltaic Cells, modules, systems and devices are being manufactured in solar panels.
In rural India, a special policy to installation of 1,00,000 solar water pumps is changing the agricultural scenario and easing accessibility of drinking water. Off grid solar plant, LED solar home light, solar lanterns, LED solar street lights in rural and urban areas are transforming the quality of life.
As many as one million solar lamps have been distributed to tribal and backward communities in over 10,000 villages. A skilled work force of 11,000 Surya Mitras against the target of 50,000 are already providing technical solution in the field. Policy facilitation, easy and low costing financing have created a wave of solar roof tops in the country.
India is running one of the largest and most ambitious renewable capacity expansion programmes in the world. Newer renewable electricity sources are projected to grow massively by nearer term 2022 targets, including a more than doubling of India's large wind power capacity and an almost 15 fold increase in solar power from April 2016 levels. These targets would place India among the world leaders in renewable energy use and place India at the centre of its "Sunshine Countries" International Solar Alliance project promoting the growth and development of solar power internationally to over 120 countries.
Also Read: IT Power for Solar Energy
India set a target of achieving 40 percent of its total electricity generation from non-fossil fuel sources by 2030, as stated in its Intended Nationally Determined Contributions statement in the Paris Agreement. A blueprint draft published by Central Electricity Authority projects that 57 percent of the total electricity capacity will be from renewable sources by 2027. In the 2027 forecasts, India aims to have a renewable energy installed capacity of 275 GW, in addition to 72 GW of hydro-energy, 15 GW of nuclear energy and nearly 100 GW from "other zero emission" sources. Hence, India is counted under the largest production of energy from renewable sources.
According to a report, sectors like electricity, renewable energy account for 34.6 percent of the total installed power capacity. Large hydro installed capacity was 45.399 GW as of 31 March 2019, contributing to 13 percent of the total power capacity. The remaining renewable energy sources accounted for 22 percent of the total installed power capacity (77.641 GW) as on 31 March 2019. Wind power capacity was 36,625 MW as of 31 March 2019, says the report.
The above coupled with the fact that India is one of the largest recipients of solar radiation in the world, provides it with wonderful opportunity to not only catch up with developed countries for availability of power but also ensure that this objective is environment friendly.
The challenges in renewable industry 
Land – Installation of 60 GW of conventional ground mounted solar plants by FY 2022 would require 3.6 lakh acres of land. While India has enough unused land for this, the process of land acquisition needs to be streamlined – the absence of which could derail the growth of solar segment. Secondly, the regulations need to evolve for ease of conversion of agricultural land into non-agricultural land, creation of security on forest land etc.
Reforms of Sate Electricity Boards have been attempted twice and failed and now, within three years of the last reform package, they have a new scheme called "UDAY". Thought better than the other two packages in terms of putting penal provisions on respective state government for non-compliance, the key would be proper execution.
Enforcement of renewable power purchase Obligation (RPO): While the Central Government has given RPO to each state, there are no significant penal provisions for non-compliance. This issue needs to be addressed.
Domestic manufacturing – 100 GW of solar capacity would require corresponding solar panels, most of which are imported today since domestic manufacturing capacity is currently limited to just three to four manufacturers with an aggregate capacity of about five GW. Secondly, all the wafers required for manufacturing are imported. Domestic manufacturers are not cost competitive due to economy of scale (15-20 percent higher compared to Chinese counterpart). We need to develop the solar panel and wafer industry to reduce the dependence on high cost imported products.
Technologies in Energy Sector
Integrated metering, billing and collection systems: The objective is to integrate billing, payment and collection to eliminate scope for tampering and manipulation and thus, improve collection. Payments are currently made in person in most of the places. Only in few places payments can be made online or through ATM. IT can be used for making electronic payments including direct debit payments.
Energy accounting system to conduct energy audit: At present, meters are installed at 33 kV feeders and at some places on 11 kV feeders. Meters are not installed at distribution transformers (DT) level. Total energy input to a circle is known accurately but not the total energy sold, because of many customers are unmetered. As such energy losses at different stages are unknown. Energy accounting has started at some places but with inaccurate data. Due to lack of information, the control is ineffective and the responsibility cannot be fixed. It is necessary to know energy input and energy sold at various stages of sub-transmission and distribution to identify areas of high losses. Moreover, information on loading, voltage and consumption at different levels can be used for network management and reduction in outages. For this purpose, meters with real time communication, facility should be installed at 33 kV feeders, 11 kV feeders and 11 kV /0.4 kV DTs. Non-metered customers are to be separated and supplied power from different transformers. Map customers to respective DTs and build communication channels to transfer data from the meters to the central meter reading control system.
Remote reading is preferred over download facility through handheld device. It provides real time pictures while handheld device can give only snapshots. This information can be used for network management and in distribution automation.
Complaint handling: At present, consumers find very hard to lodge their complaints. The customers usually have to go to the substation for supply related complaints and the concerned offices for the bill related complaints. Power utilities can have call centers with IVR for outages and bill related complaints.
Solar Schemes in India
Below is a list of some of the most successful and known solar schemes in India –
Jawaharlal Nehru National Solar Mission (JNNSM)
The Jawaharlal Nehru National Solar Mission also called National Solar Mission is one of the eight key National Mission's comprising India's NAPCC. The objective of this solar scheme is to establish India as a global leader in the solar sector by creating the policy conditions. The Mission has set the ambitious target of deploying 20,000 MW of grid-connected solar power by 2022, which was revised to 1,00,000 MW by 2022 during  June 2015.
Government Yojana: Solar Energy Subsidy Scheme
The Government Yojana explains that a person is eligible for a subsidy if he has solar panels installed on the rooftop. The subsidy is decided as per the capacity of the solar power plant but the good part is that people are going ahead with solar panel installation. Another benefit is that people are able to cut down on their electricity bills and the load on thermal power plant will reduce increasing power generation.
Development of Solar Park Scheme
MNRE has formed a scheme aiming to set solar parks in various states, each with a capacity of above 500 KW. The Scheme proposes to offer financial support by the government to establish and facilitate infrastructure necessary for setting up solar power plants. MNRE is executing a scheme for the development of at least 25 solar parks with a combined capacity of at least 20,000 MW.
UDAY Scheme
UDAY or Ujjwal Discom Assurance Yojna was launched in November 2015 as a revival package for electricity distribution companies of India initiated by the Government of India with the idea to find a permanent solution to the financial mess that the power distribution is in. It aims at reforming the power sector, operational improvement, development in renewable energy, reduction of cost of generation of power, energy efficiency, and conservation.
SECI Scheme
The main objective is to engage in the development of large scale and rooftop solar projects, channelise the investment in the government sector, implement MNRE and VGF schemes, project management consultancy and trading of solar power. SECI has also played a major part in installing rooftop solar power plant. Till date, it has released tenders for 4307 MW of large scale solar projects of which 675 MW have been commissioned. In the rooftop part, it has released tenders for around 200 MW of projects of which 46.5 have been commissioned.
Rooftop Scheme
Under the rooftop scheme executed by SECI, 200MW of projects have been allocated of which 45MW have been commissioned. Special schemes including 75MW for warehouses and 50MW for the CPWD have been launched. Recently, SECI has commissioned a tender which is the largest global one of its kind. It has 132 bidders who bid for a total capacity of 602MW. This tender is a part of the MNRE's initiative to gain momentum for achieving a target of 40 GW rooftop solar capacity by 2022.
SMART Grid Vision of India
A smart grid is the integration of information and communications technology into electric transmission and distribution networks. The smart grid delivers electricity to consumers using two-way digital technology to enable the more efficient management of consumers' end uses of electricity as well as the more efficient use of the grid to identify and correct supply demand-imbalances instantaneously and detect faults in a 'self-healing' process that improves service quality, enhances reliability, and reduces costs.
The emerging vision of the smart grid encompasses a broad set of applications, including software, hardware, and technologies that enable utilities to integrate, interface with, and intelligently control innovations. Some of the enabling technologies that make smart grid deployments possible include: Meters, Storage devices, Distributed generation, Renewable energy, Energy efficiency, Home area networks, Demand response, IT and back office computing, Security, Integrated communications systems, Superconductive transmission lines.
Electric Vehicles (EV) Scenario in India
India with a per capita income of USD 2,134, sells over three million cars annually and has over 50 motor vehicles per 1,000 people. The country has the potential to create a new mobility ecosystem that is green, smart, shared and connected, and Electric Vehicles (EVs) fit the bill.
The Government of India and various state governments have shown through their various policy initiatives and schemes a will to transform the mobility landscape in India. There is an urgent need for a technology agnostic approach towards electric vehicles, putting in place policies that provide an enabling environment to make things happen quickly and trying to find new ways for skill development needed for EV manufacturing in India.
While policy push like National Electric Mobility programme are among the examples of initiates taken by the Centre so far, states like Telangana, Delhi, Andhra Pradesh, Maharashtra, Kerala, Uttarakhand and Uttar Pradesh have drafted medium- to long-term policies to encourage the growth of an ecosystem around electric mobility.
The EV policy of Telangana has three main components — one for manufacturers, another to support for users who want to shift to electric vehicles, and a third on to support infrastructure.
The policy is perfectly geared to promote adoption of EVs and vehicles with cleaner/alternative fuel technologies, using which can save 64 percent of energy demand from the road sector for passenger mobility and 37 percent of carbon emissions in 2030.
Karnataka has emerged as the leading state for renewable energy in India
With a total installed capacity of 12.3 Gigawatts (GW), as of March 2018, Karnataka has emerged as the leading state for renewable energy in India this year.
As of now, it has 5 GW of solar capacity, and 4.7 GW of wind capacity. The remainder of its renewable portfolio (2.6 GW), includes small hydro, biomass, heat and power cogeneration.
Karnataka has been building its wind energy capacity steadily over the past decade and has moved ahead of Tamil Nadu, thanks to a scaling up of solar capacity in 2017-2018. This can be attributed to the installation of more than 4 GW of photovoltaic generation.
According to a report by the Institute for Energy Economics and Financial Analysis (IEEFA), the state generates 27 percent of its power from renewable energy. In fact, The Hindu reports that the state has added 5 Gigawatts in 2017-2018 alone.
Solar energy tops chart of Renewable Energy generation in Telangana
The Government of Telangana has nominated Telangana State Renewable Energy Development Corporation Limited (TSREDCO Ltd.) as the State Nodal Agency. According to N Janaiah, Vice Chairman & Managing Director TSREDCO is taking initiatives for the state to build the renewable energy generation, which include installing solar panels in rooftop of Rajbhavan, High Court Building, Dr MCR HRD Institute of Telangana and depot of Road Transport Corporations across the state.
As per the current status of the Renewable Energy status in the state, the highest resource is solar energy with 3636.38 MW cumulative capacity commissioned, followed by co-generation with Bagasse (137.93 MW) and wind energy (128.10 MW).
Future Focus
The power purchase agreement structure needs to be strengthened further to make renewable energy projects more bankable.
To remain energy positive and to make the most of renewable energy sources, we will have to focus on aggressive promotion of energy efficiency practices.
The government should enforce must-run status as an obligation for all consumers to buy a good proportion of clean and green power.
We need to address some challenges faced by power producers which include high fuel supply risk, time overruns at plants, and the limited paying capacity of the financially weak distribution.
Given its large population and current stage of development any deviation from this objective may significantly derail international efforts towards combating global warming. Realising this, the Government has come out with a comprehensive National Action Plan for Climate Change (NAPCC) as per which, it is targetting an increase in renewable capacity – from 35 GW (up to March 2015) to 175 GW by 2022 (Solar: 100 GW broken into 60 GW of ground mounted and 40 GW of solar rooftop; Wind: 60 GW). This is one of the largest renewable capacity expansion programs in the world. Further the Government has voluntarily communicated to UNFCC, as part of its intended nationally determined contribution (INDC), inter-alia, to reduce emission intensity of its GDP by 33 to 35% by 2030 from 2005 levels and to achieve 40 percent cumulative power installed capacity from non-fossil fuel based energy resource by 2030.