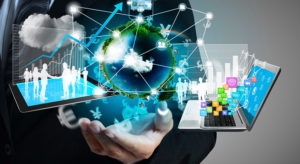 This year India's progress in digitisation and e-governance initiatives has been remarkable. With the launch of Goods and Services Tax (GST), the digitisation drive of the  Government departments  has increased to manifold. The information sector witnessed a plethora of initiatives this year, writes Priyanka Sharma of Elets News Network (ENN).
BHIM-UPI: Bharat Interface for Money (BHIM) is a mobile app developed by National Payments Corporation of India (NPCI), based on the Unified Payment Interface (UPI). It can be used on all mobile devices. There was a steady growth of BHIM-UPI in value of transactions month after month which indicates that Indians are enormously adopting digital payments. In Oct 2017, transactions worth Rs 70.57 billion were made through BHIM-UPI. It rose to Rs 96.79 billion in November this year. In August 2016, only 21 banks were utilising the UPI. But this year more than 61 banks were registered on the UPI platform.
BHARAT BILLPAY: Bharat BillPay is a one-stop payment platform that allows the customers to pay the bills instantly with ease. It rose from six lakh transactions in September to nine lakh transactions in November. In another great initiative, the Government announced that it will bear the Merchant Discount Rate (MDR) charges on transactions through BHIM UPI or Aadhaar-enabled payment systems.  

"2018 will be the year enterprises will work towards harnessing opportunities created by integration of new technologies. We see a huge surge in the adoption and usage of digital workspace technologies, which will create ripples in the earlier established organisational structures,"says Makarand Joshi, Area Vice President and Country Head, India Subcontinent, Citrix.
BPOs IN SMALL TOWNS: More than 35,000 BPO seats in small towns across India not only spread the footprint of IT industry beyond metro cities but were drivers in creating job opportunities for the youth locally.
e-National Agriculture Market (e-NAM)-According to a data released by the Ministry of Electronics and Information Technology (MeitY), more then 470 mandis across 13 states are already on board this portal. Also, 66 lakh farmers have registered themselves on this portal.
Power sector: In view of the growing need of the Indian Economy, the Government of India has embarked upon a massive programme to provide 24×7 power across the country by 2019.
Special focus has been given to rural electrification, under Deen Dayal Upadhyaya Gram Jyoti Yojana (DDUGJY); and urban electrification under Integrated Power Development Scheme (IPDS). The schemes have been now oriented towards individual household electrification by March 2019, under Saubhagya scheme.
The details of year-long achievements for Ministry of Power are as below:
Deendayal Upadhyaya Gram Jyoti Yojana (DDUGJY)
Under DDUGJY, projects with total cost of Rs 42,565 crores have been sanctioned in 32 States/Union Territories.
Status of village electrification in the country
By November, electrification in 1,24,219 villages and intensive electrification in 4,68,827 villages has been completed. Free electricity connections to 277.20 lakh Below Poverty Line households have been released.
Achievement during January to November 2017
Electrification of Un-electrified villages: 3,652

Intensive electrification of villages: 60,218

Free electricity connections to BPL households: 24.55 Lakh
Saubhagya: Pradhan Mantri Sahaj Bijli Har Ghar Yojana
The Government of India has launched a scheme called Pradhan Mantri Sahaj Bijli Har Ghar Yojana (Saubhagya) in September 2017 to achieve universal household electrification in the country at a total cost of Rs 16,320 crore including gross budgetary support of Rs. 12,320 crores from the Government of India. The objective of the scheme is to provide last mile connectivity and electricity connections to all households in rural and urban areas.
It is targeted to achieve universal household electrification in the country by 31st March 2019.
Mobile applications and websites launched to ensure accountability and transparency
URJA (Urban Jyoti Abhiyan) Mobile App-
URJA app offers information on consumer complaints redressal, release of new service connection, average number of interruptions faced by consumer, average duration of interruptions faced by consumer, number of consumers making e-payments, energy lost / power theft i.e. AT&C loss, IT Enablement (Go-live of towns), SCADA Implementation, urban system strengthening etc.
Saubhagya web portal
'Saubhagya' Web-Portal – a platform for transparently monitoring Universal Household Electrification –was launched on 16th Nov, 2017.
National Power Portal
National Power Portal (NPP) – a centralised platform for collation and dissemination of Indian Power Sector information – was launched on 14th Nov, 2017 and would be a single point interface for all power sector apps launched previously by the Ministry.
Swachh Bharat Mission: To accelerate the efforts to achieve universal sanitation coverage and to put focus on access to safe sanitation, Swachh Bharat Mission (SBM) was launched in 2014. SBM aims at achieving Open Defecation Free (ODF) nation and a Swachh Bharat by 2nd Oct, 2019 thereby paying a befitting tribute on Mahatma Gandhi's 150th anniversary.
Behavior change is the primary focus and fundamental tool for achievement of ODF outcomes. The Ministry is doing it by its focused Information, Education and Communication (IEC) programme. It promotes gender sensitive information, behaviour change guidelines and various mass education activities. The Ministry issued gender guidelines in 2017 and Menstrual Management Guidelines on 2015.
Sanitation Coverage at the launch of SBM(G) on 2nd Oct, 2014 was 38.70 per cent. This has increased to 74.15 per cent as on 18th Dec, 2017.
Swachh Iconic Places (SIP)
The goal of the initiative is to improve the cleanliness conditions at these places to a distinctly higher level. This initiative is in partnership with Ministries of Urban Development, Tourism and Culture with MDWS being the nodal ministry. So far in first two phases, 20 iconic places has been taken up. All these 20 iconic sites have designated PSUs or corporates for financial and technical support.
Follow and connect with us on Facebook, Twitter, LinkedIn, Elets video