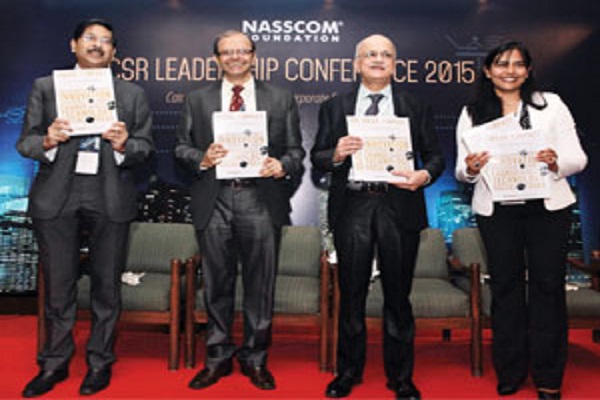 'Digital India' programme is all set to get the Corporate Social Responsibility (CSR) boost, making the initiative more effective as well as people-friendly
Using technology to add to the social good was one of the primary objectives of the NASSCOM Foundation's "CSR Leadership Conference 2015", held in New Delhi on 26th March, 2015. It registered attendance of over 200 leaders from the IT sector, government and NGOs. The meet also looked and discussed various initiatives and ways to create social impact through CSR programmes.
With the Government of India mandating 2 per cent of profit to be spent on CSR activities, the event enabled a dialogue between relevant stakeholders on making collaborative use of technology for national good by plugging gaps in India's social development. Prime Minister Narendra Modi-led NDA Government after coming to power had announced several schemes that would make India a technology hub and one of them is the 'Digital India' initiative.
"Our Foundation's focus is on how we can leverage technology for good and create models which can be replicated and scaled. The key areas of focus for us are digital literacy, NDLM or DISHA, and we are also in the space of digital libraries. Last year, we did a pilot project with the Bill and Melinda Gates Foundation where we got two libraries, in Patna and in Ghaziabad, and created them as public spaces, helping them with an IT centre and creating a knowledge hub," shared Shrikant Sinha, CEO, NASSCOM Foundation.
Primarily aimed at addressing key national imperatives of health, education, skill and sanitation through CSR initiatives, the Conference also focused on helping corporates scale their CSR efforts through effective strategies and partnerships. The Conference also saw R Chandrashekhar, President, NASSCOM, release "Ideas That Impact", a compendium of real-world stories that showcase the use of technology and innovation for creating scalable social impact.
Speaking on the occasion, Dr Ganesh Natarajan, Chairman, NASSCOM Foundation, said, "Most of the Indian companies have been undertaking social initiatives proactively, driven by a desire to give back to the society. With a concerted approach, it is possible to channelise these energies towards sustainable and inclusive growth, and this Conference aims to propel the same."
He further emphasised on the larger agenda, which PM Modi had talked to NASSCOM about, and which the Foundation has been implementing. "In areas like eWaste, Digital Libraries and National Skills Mission, our role has been of digital literacy," added Natarajan.
Dr Ajay Kumar, Secretary, DeitY, Government of India, emphasised the need for collaborative approach under the Public Private Partnership model for creating collective and sustainable Digital India. The National Digital Literacy Mission, aimed to create digital literacy in one member of each family, is one of the great examples of collaborative approach for effective collective impact, he said.
Apart from Dr Kumar, the Conference was attended by N S Parthasarathy, Co-Founder and COO, Mindtree; Debjani Ghosh, VP-Sales & Marketing Group, and MD, South Asia, Intel; Kiran Karnik, Member, MCA Monitoring Committee; P Balaji, Director, Vodafone; Prof Jeremy Williams, Director, APCSE, Griffith University, Australia; Mohan Reddy, Founder & Executive Chairman, Cyient and Vice Chairman, NASSCOM; Vijay Chadda, Head, Bharti Foundation; and Susmita Malik, Global CSR Leader, Genpact, among a host of other CSR leaders, policy makers from the Government and Heads from NGOs.