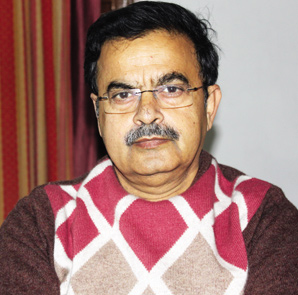 "The induction of new technology has led to vast improvement in the way the police functions today. We should try to bring in even better technology in the times to come," says Abhayanand
You joined Police Service in 1977 and occupied several key positions during your career of four decades. Your contribution in academics as well as in policing has been appreciated. In your opinion what are the major areas which need our focus?
In last 8-9 years, we have been able to make substantial progress in the area of law and order. Police being part of the government has the mandate to restore peace and order in conjunction with justice. Earlier kidnapping for ransom was a major issue afflicting the state of Bihar. In fact, it was an issue all along during the election campaign also. We wanted this menace of kidnapping for ransom to be checked at all cost. Now this menace has been curbed to a large extent. The next area that we need to focus on is corruption; we need to stem the tide of black money that keeps getting generated in our country. Black money is the root cause of much of this country's problems; we need to curb all instances of it.
Every social indicator shows that there has been a significant improvement in law and order. But cyber crime is one area where we are seeing many new challenges. Is the police in Bihar equipped to deal with instances of cyber crime?
Technology keeps evolving all the time and to some extent, police forces are not able to keep pace with the advanced systems that some cyber criminals are deploying. But during the last two years we have made some serious efforts to train our personnel in dealing with cyber crime. I am happy to say that now we have with us things like cyber forensic and data analytics. We have also entered into the area of big data analytics with the purpose of countering the menace of cyber crime.
Some pockets of state have been affected by Maoist related violence in the past. What is your strategy to control them and how successful have you been?
Maoist problem is a very old. It has changed shape and has expanded into various parts of the country. We first tried to understand the problem so taht we may be able to device the right kind of policing solutions to combat it. The government has also come up with policies for tackling Maoism. The police is trying to deal with the problem by improving its intelligence gathering operations. We want to ensure that in the name of Maoist operations, we do not end up harming the innocent citizens who are living in that area. The better the intelligence, the more effective will be the police response.
You have spoken in length about the strict adherence to Indian Penal Code (IPC) while dealing with the cases related to women or women modesty. Where do you put Bihar when it comes to women security?
According to statistics and data, we are fairly well placed in terms of women security. I am saying this after taking into account the fact that this is such a populous state and still even when it comes to women's perception about their own security, they put us ahead. The very fact that in places like Patna, Gaya or Bhagalpur which are our towns in the state, you can find girls moving around late in the evening and moving not necessarily with their parents, this only indicates that the fear among the women and the girls are not as much as it used to be about 10 years ago.
"We have Entered into the Area of Big Data Analytics for Development of Effective Systems for Better Law and Order"
Most experts on policing agree that India cannot have high quality law and order until there is extensive policing reform. What is your view of the issue of police reforms? What steps do you think should be most urgently taken by the government?
At a very personal level, I would suggest that if the purpose of the police reform is to improve our law and order situation then a better idea would be to go for reforms of the entire criminal justice system. If the purpose is to just improve upon the functioning of the police, a police reform concept is useful. Right now, I personally feel that the country needs criminal justice system reform in which police would be part of that reform process. And just police reform does only a part of job. The entire job of reform has to be done through criminal justice system.
Experts are advocating a separation of the investigative machinery from the rest of the policing system. Many advanced countries, which have better law and order, follow this system. What is your view on this issue?
I wholeheartedly agree with this concept of separating investigation from normal day-to-day policing. In fact, I have already implemented it in the towns of Patna, Bhagalpur and Gaya on experimental basis. The results of such separation have been quite good. Many more crimes have been detected with cooperative or team effort of the officers. Earlier what we use to do was to get case investigated by a particular Investigating Officer (IO), but team work of Investigating Officers give definitely better results than individual IO.
Modern technology is playing seminal role in the area of governance. Do you agree that in policing technology has huge role to play?
The induction of new technology has led to vast improvement in the way the police functions today. We should try to bring in even better technology in the times to come. We have practiced it in the area of forensic science and in the area of gathering intelligence, interrogation of the people, and analysis of data that we have collected. Huge data is collected every day and that needs to be warehouse, processes and analysed. We have already entered into this area.
In his book Imagining India, Nandan Nilekani talks about population dividend which India enjoys because of its younger population, but one of the challenges is to channelize their energy in right direction. Since you have been guiding our youth with various initiatives, Let me ask you, in your opinion are we on right track or do we need to shift the gear?
I think shifting gear is the very mild word; this nation needs very drastic change. Our system wherein we groom young children lacks imaginative process; it is incapable of inculcating the inquisitive spirit in our children. I have been in the field of teaching young people and guiding them in the fields of Physics and Mathematics. As a teacher, I know that the youngsters should not be made dependent on bookish learning; they have to be encouraged to think for themselves. That is what we have not been able to impart in our young minds through whatever the process we have in this country.