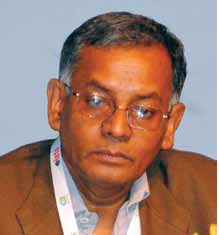 M Moni, Deputy Director General, National Informatics Centre (NIC), Government of India
Farm Health Management System is important for improving the state of Agricultural sector in India. Farm Health Management systems include: Plant Health management through Integrated Pest management (IPM), Animal Health Management of about 143 OIE listed Infectious and contagious disease and also noninfectious diseases, which are of economic loss to farmers, Soil Health  management through Integrated Nutrient Management (INM) and Input Management (Pesticides, Seeds and Fertilisers), and above all, Water Quality Management (Ground water and surface water) for agricultural development.
ICT interventions are neededICT interventions are needed at farmer levels, farm level, animal level, crop level, animal feed & fodder level, and water-body level, to establish appropriate database based advisory system to overcome these management issues. The time
has come to have a discipline on "Farm Health M Moni, Deputy Director General, National Informatics Centre (NIC), Government of India Integrated Pest Management
• Seed Treatment
• Pests & Disease Surveillance and Forewarning
• Production and Distribution of Bio Agents
• Farmers Fields School
• Package of Practices: Use of Biological, Mechanical methods to control the pest below Economic Threshold Level
• Use of safe use of Pesticides for immediate control beyond ETL level
• Global sharing of information for warning and preparedness for controlling locust occurrence through Pesticides
• Plant Quarantine ensures that biotic pests do not make entry into the country through International and Domestic quarantine services
Managing the Health of Agricultural Farms M Moni sheds light on the ways by which ICT can be used to bring about improvements in India's agriculture sector Management", in the similar lines of "Agricultural Business Management", so as to usher in Management practices among the agricultural graduates and the farmers (producers), to overcome the problems of spurious inputs being applied on farms, and also health related issues.
Preventing crop losses

Different sources have estimated that crop losses to an extent of over `90,000 crore per annum as pesticides drops by farmers in the country is the most unwise and non- judicious, which has been harming 20 percent of Indian agrarian land in terms of its yield and fertility.
Insects and Pests surface to eat standing crops. Weeds affect the growth of crops. The biggest challenge facing the Indian farmers is the knowledge gap that is, the communication of agriculture technology to them and its instant practical benefit. The loss could be due to either "poor quality of pesticides" as expressed by ASSOCHAM or "poor use of pesticides" as expressed by Haryana Pesticides Manufacturers and Formulators Association.
Fertilisers should be used judiciously for sustainable soil health as well as plant health. Advisories to farmers to use fertilisers based on soil health and plant health is essential. At farm level, Good Agricultural Practices (GAP) eliminates food safety hazards from indiscriminate use of farm inputs; besides ensuring compliance with hygiene measures like proper waste disposal, personal hygiene, environment production, and pest control. Soil and Water are the most important resource to support growth of plants.
Range of initiatives

It requires strong and vibrant Databases and Informatics, and application of demand Supply-Chain Models. The issue of "farm health management" is being addressed through the Service-1 (IPM), Service-2 (INM) and Service- 3 (GAP) / Service -6 (electronic certification of exports and imports) of the proposed Agriculture Mission Mode Project (AMMP), launched under the National e-Governance Programme (NeGP), and also through the NADRS (National Animal Disease Reporting System) project of the Department of Animal Husbandry, Dairying and Fisheries (DADF), of the Ministry of Agriculture. The Plant Protection Informatics Network (PPIN) has already networked (a) 35 Plant Quarantine Stations and 125 PSC Offices (http://plantquarantineindia. nic.in), (b) 31 Central IPM centres, and On-line Registration of Pesticides (http://cibrc.gov.in) . Under the AGRISNET programme of the MOA, States like West Bengal and Uttar Pradesh have computerised on-line registration of Input Dealers. The National Project on Management of Soil Health and Fertility (NPMSF) of the Department of Agriculture and Cooperation (2008) (http://www.agricoop.nic.in) is expected to strengthen databases and informatics associated with Soil health and fertility required for enhanced and sustainable agricultural productivity.
Training farmers of tomorrow
The modern farmer needs ICT solutions on crop specific, location specific for all seasons during the entire crop-life-cycle. India has about 300 Agricultural Colleges, 62 Agricultural Universities, 95 ICAR Institutions, 600 KVKs, 600 ATMAs, 85,000 PACS, 7,500 Agricultural Wholesale Markets, more than 3.5 lakh Inputs dealers, 2000 Computer Science and Engineering institutes / colleges, IITs, NITs, Central Universities, 150 Departments of geography, 550 State Universities / Deemed universities, etc. ICT applications penetrations (diffusions and infusions) are not that appreciable level at farmer level and farm level. There are challenges and but a large scale opportunities to make agricultural turn-around in the country. Each Institution of higher learning should adopt one District for "agricultural developmental planning" for a long term period, say 25 years.
We have proposed establishment of a "Centre for Excellence in Agricultural Informatics and Communication" in NIC, in the 10th and 11th Plan. NIC must consider it in future plan, though not included so far, for promoting informatics research and development. To make Agricultural informatics as a discipline, we have been instrumental in starting a course at M.Tech level in SHOBHIT University for Agricultural Sciences Graduates. We wish all Agricultural science Graduates to come out as "Agricultural Informatics Professionals", which requires a 3600 change in existing curriculum.
We have been trying to promote establishment of "Agricultural Polytechnics" and "Agricultural ITIs" (one in each block) to make 10th
Pass students in the Rural India to provide "just-in-time" S&T services to farmers. What is being produced in a block needs to be processed in Agricultural ITIs to get more money for farmers. Branded products are to come from Agricultural ITIs. In Manipur, there are a lot of potential to establish "Fisheries polytechnics" to train youths of Manipur in fisheries development and marketing, which will generate productivity rise, income rise and employment growth. Livestock Polytechnics are required in Bundelkhand region of  Uttar Pradesh. All these Polytechnics and ITIs shall be "ICT enabled" and "Informatics based".
Issues that need to be addressed
• To leverage on a mix of emerging and existing technologies for effective and inexpensive ICT penetration in agricultural development;
• Systematic overhauling of entire agricultural statistical system through ICT enabled process from "farm-household level" and "farm-level" to Panchayat, Block, District, State and Centre;
• Strengthening of Rural ICT Infrastructure for Agricultural e-Governance System by networking computational centres through NKN, PII, National GIS, Open Source Technology and Standards, Open Government Platform, application softwares for information service delivery through local languages etc;
• ICT enabled Supply- Chains; ICTs Diffusion and Infusion through stakeholders participation, through "Access layer", "Distribution layer" and "Network layer"; (spanning the breadth of the agricultural industry, at all scales of organisation from farmer to cooperative and professional bodies, from farm machinery vendors, fertilizer and chemical companies, insurance, regulators, and commodities, to agronomists, consultants, and farm advisors)
• Strengthening of Digital Networks for Farming (DNF);
• Operationalisation of recommendations related to Databases and Informatics of the National Mission on Sustainable Agriculture (NMSA) – Agricultural Resources Information System, Soil Resource Databases and DISNICPLAN Databases at Village level;
• Interlinking of Agricultural Mission Mode Projects of the Ministry of Agriculture and Ministry of Rural Development;
• Interlinking with about 450 National Agricultural Research System (NARS), CGIAR and CABI etc to strengthen knowledge bases and advisory systems;
• Capacity Building through extension and training;
• Establishment of a National Centre for Agricultural informatics and Computing to prepare about 100,000 Agricultural Graduates ready, through agricultural informatics, for undertaking S&T based agricultural development and to rejuvenate and usher in agricultural dynamism in the country, by 2020.
Soil Health Card & Soil Fertility Maps have been Undertaken in States
• Gujarat (AGRISNET Programme) – executed through Anand Agricultural university;
• West Bengal (AGRISNET Programme) – executed through NIC, Kolkata;
• Tamil Nadu (State Government sponsored) – executed through Tamil Nadu Agricultural University, Koyambuthur;
• Maharashtra (State Government Sponsored) – executed through NIC, Pune;
• Haryana (State Government Sponsored);
• Karnataka (State Government sponsored) executed through NIC, Bagalkot;
• National Software standardisation—a joint exercise between IISS (Bhopal) and NIC
Integrated Pest Management
• Seed Treatment
• Pests & Disease Surveillance and Forewarning
• Production and Distribution of Bio Agents
• Farmers Fields School
• Package of Practices: Use of Biological, Mechanical methods to control the pest below Economic Threshold Level
• Use of safe use of Pesticides for immediate control beyond ETL level
• Global sharing of information for warning and preparedness for controlling locust occurrence through Pesticides
• Plant Quarantine ensures that biotic pests do not make entry into the country through International and Domestic quarantine services
Follow and connect with us on Facebook, Twitter, LinkedIn, Elets video