The myriad components of government-to-citizen services are existing in silos. We need to separate the silos and integrate them into a single, homogeneous whole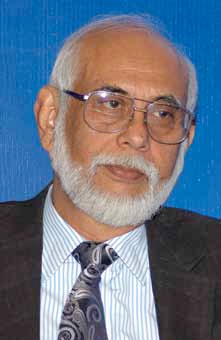 B K Gairola,
Mission Director, e-Governance, Department of Electronics and Information Technology (DeitY), Government of India
Today everybody has accepted e-Governance as an essential component of progress. We don't hear from any quarter – be it political, bureaucratic, technical or business – that e-Governance is not required. This recognition has taken place over the last seven to eight years and now the road is clear for us to move forward in a rapid mode.
Integrating government departments
e-Governance targets are moving targets and they have the acceleration components – the speed tomorrow is going to be faster than the speed yesterday. Therefore, it is extremely important that we don't plan for five years, but for two years. At every stage we need to optimise and keep track of the goals, because expectations are changing fast, and hence, technology has to keep pace.
The myriad components of the government-to-citizen services are existing in silos. From the citizen's perspective, the government is a single entity. Our back-end systems are not integrated and are in silos. We need to separate these silos and integrate them into a single, homogeneous whole. The user can log into the cyberspace without having to worry about the security, the operations and the implementations.
We have issues on infrastructure, mindset, processes, data standards and meta data standard operations. Unless and until we have integrated systems, citizens cannot get the holistic view of e-Governance. e-Governance can be considered to be complete only when all the 1.2 billion people are able to interactwith the government directly and have transparency, openness and participation in the governance process.
Landmark initiatives
In the last two years, we have taken up two new projects, namely National Knowledge Network and National Optic Fibre Network System. The National Knowledge Network is a `6,000 crore project, whereby we have connected 5,000 knowledge institutions / universities into a single gigabit backbone network. We know that knowledge economy is the economy of tomorrow and equipping people with knowledge will empower everybody to earn his livelihood. This networkis a unique network, one that encompasses research and development, governance and , R&D into a single entity.
The National Optic Fibre Network System is an `20,000-25,000 crore project, which will give connectivity up to Panchayat level. This
network will provide you a seamless network across 20-25 lakh government employees who can do their workflow and service  delivery in a seamless manner. The idea is to understand how an ecosystem can be built at the Panchayat level by making technology accessible.
We have not focused ourselves on developing appropriate standards. It has taken us two years to define what we call standard for identity. There is the UIDAI, which has uniquely defined identity for Indian citizens. We are also working on making sure the banking structure is rolled out to the last mile. The identification system, the banking system and the workflow system of this application is going to give us the framework in which we will be able to provide effective services and participative governance to the citizens.
The other area we are working on is information. Information can be used by industry as well as the common man. So now every government department is making all its data available in open domain called data.gov. in. You can use this data in finding out what  ishappening in village,; you can also use to find out which are the vehicles which have done more accidents and hold more LIC policy, etc. We are now looking at making the data, which is developed by the government for the citizens, is owned by the citizens and public. This will bring in transparency, openness and democratisation of information.
So now we are working on three components – creation of a national information infrastructure where government can work homogeneously; generation of a platform for the service delivery which has Aadhaar on one side, banking system on the other side  and application in the middle; and ensuring that bulk of data which is not confidential is made available to the people of the country.  This cannot be done by central government or state government alone.
There are issues that are yet to be resolved in technology, in mindset and in process but we have to proactively work with the citizens, allowing them to participate, create capacity and enable them to exploit and utilise the resources that we are making.
Follow and connect with us on Facebook, Twitter, LinkedIn, Elets video