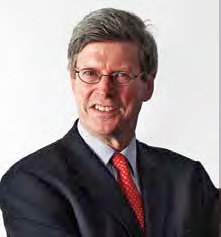 Rene Baas, Senior Vice President, Strategic Sales Engagements for Atos
Rene Baas currently leads the company's Strategic Sales Engagement teams worldwide. In this interview with Nikita Apraj, ENN, Rene Baas talks about the plans that Atos has for the Indian market.
Please provide us with an overview of the key focus areas for Atos.
Public sector is one of major five markets for Atos. In UK, Atos is helping Ministry of Defence and the Ministry of Justice to fully integrate their IT services and thereby bring about improvements in productivity and efficiency. We are also doing similar works with governments of France and  Netherlands. Atos provides solutions to develop smart cities. We also work in areas like security  to make life of citizens more secure. In USA, we have large engagement with the city of San Diego  where we have implemented Smart City solutions; these are fully integrated IT solutions for the  city. Atos has also developed solutions for defence. Our solutions work by integrating infrastructure solutions, they lead to standardisation, and harmonisation. We are doing this in Germany, Netherlands and now, also in France and Belgium.
With its rising population, India is in need of modern urban solutions? What kind of role can Atos play in India?
In India, we look forward to using our experience across the world. Indian public sector is in need of better infrastructure. We are also
focusing on the development of solutions for e-Governance. There are good opportunities in smart city segment with respect to transportation and security as well. India is already providing better security to the people residing in its wide geographical area. We can contribute by developing solutions for better governance and security. We also see the possibility of working for India's Ministry of Defence.
How does the Indian market compare with the public sector market in other countries where Atos is providing its solutions?
If I compare Indian market with the European and UK market, I see lot many similarities in  terms of public need of solutions.  However, India is a very large and complex country; the decision-making process here is very different from what we have in other international markets. UK is the largest public sector business for Atos. We are currently trying to identify sweet spots in India where we can bring in replication in the initial stages.
Please provide us with your ideas on the business strategy that Atos will be following in India?
We have long-term strategy and short-term strategy. In short-term strategy we are looking at e-Governance initiatives like  e-Municipalities, e-Districts and other new upcoming projects. We have implemented e-Municipality projects in the MCGM few years back. We are one of the early entrants in the government market. In collaboration with our partners and also by making use of our own expertise, we will penetrate into Indian market. We are very focused on the e-Governance sector. Atos has a large bouquet of offerings, so there is a lot that we can bring to the e-Governance vertical. We have large expertise globally in the fields of civil and national security, emergency management, traffic management among others and we are trying to leverage all that in India. Our strategy will be to implement solutions that we have developed in different parts of the world.
What key areas of investment has Atos outlined for India in the coming years?
In India we are focusing on five major areas – public health enterprise, financial services, energy, media and technology services. India
is a very interesting market and we are keen to make a mark here.
Atos is setting up a new Innovation Centre in Pune. What role will it play in Atos product portfolio India and global
markets?
The Innovation Centre in Pune will play a very important role for Atos. The centre reflects the importance that Atos gives to   innovation. The Innovation Centre has been set up in association with Siemens. The new campus in Pune will also serve as the Indian headquarter of Atos. We consider this place to be a sort of innovation hub of new solutions for areas like smart grid solutions,  community-enabled services, business delivery solutions, enterprise community solutions like zero-mail. We are aiming very high in India.
Follow and connect with us on Facebook, Twitter, LinkedIn, Elets video