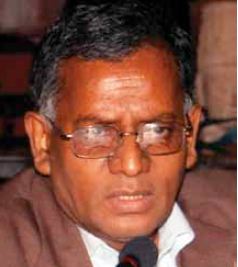 M Moni
Deputy Director General, National Informatics Centre (NIC), Government of India
Main barriers, witnessed for ICT adoption in the agriculture segment, are: Power non-availability, ICT infrastructure non-availability, ICT illiteracy, lack of relevant content and standardisation, non-integration of services, non-availability of advisory services, and issues of localisation
AgRIS represents Agricultural Resources Information System.In India, natural resources accounting is essential to usher in sustainable agricultural and rural development at grassroots level. For sustainable agricultural growth, agricultural resources accounting is required. There is no database available now, farmer wise. Farmer and Farm are the two entities on which the entire agricultural administrative institutions (Central, State, District and Block and Village) have been established for inputs and outputs management, and National Agricultural Research System (NARS), since decades. But there are "No" farmer database and "No" farm database, existing as of now. To facilitate e-Governance in Agricultural sector, these two databases are essential. AgRIS aims to achieve this.
The Mission Document of National Mission on Sustainable Agriculture (NMSA) 2009, one of eight missions announced under the National Action Plan on Climate Change (NAPCC), has dealt with "Information and Data Management" issue, in great details and also recommended database development projects (Agricultural resources Information System – http://agris.nic.in and Soil resources Information system using the template available in http://disnic.gov.in) for Operationalisation during 2012-2017. NIC and ICAR (IASRI and NBSSLUP) are the main agencies, recommended to develop necessary Databases and DSSs.
The NMSA Document has suggested, among the others, that (a) development of 'detailed Soil Resource Mapping' and 'Land use Planning', in 1:4000 / 12500 scale, involving Department of Agriculture & Cooperation (DAC), ICAR Institutes, National Informatics Centre (NIC), National remote Sensing Agency (NRSA), National Rainfed Area Authority (NRAA), Department of Land Resources (DoLR), State Land Use Boards, Agricultural Universities and Colleges, Departments of Geography and Common Services Centres (CSCs), in five years timeframe, and (b) development of Agricultural Resources Information System (AgRIS) in eight years timeframe.
This will be the basis for undertaking integrated Land Use Planning for sustainable agricultural and rural development at grassroots level. I have been pursuing this aspect vigorously for years now. In general, there have been 'organisational promotional' issues for such projects. All my publications on AgRIS have become source for informatics research.
Digital Network for Farmers
Digital opportunities have emerged as 'power tool' for fostering agricultural growth, poverty reduction and sustainable resources use in developing countries. Rural India requires to be given a chance through DNF for moving towards 'faster and more sustainable, inclusive growth' during the 12th plan period, i.e. 2012-17. The ISDA-95 (Informatics for Sustainable Agricultural Development) Conference, organised by National Informatics centre (NIC), provided the informatics blueprint, way back in 1995, for digital networks for farmer (DNF) and digital inclusion for fostering rural prosperity and reducing spatial disparities in India.
In 2006, on the initiative from the Department of Agriculture and Cooperation (DAC), Agricultural Informatics Division of NIC developed  the SeedNet (http://seednet.gov.in) portal, as a national initiative for providing information on quality seeds. Seed supply chain within the government system (Centre and States) has been automated from state indenting. The Portal has information about 5900 seed varieties (notified/ released) since 1966 onwards, and details about 39000 seed dealers. All stakeholders including research and educational institutions use this Portal. A Seed Management Information System (SeedMIS) has been operationalised.
NIC has been given the responsibility to software development for service delivery. The SeedNet Portal and its associated Service 1 (seeds) forms the 'National Seed Grid' to provide information on availability of different varieties of seeds with production agencies, their locations, quality etc. It is required to undertake establishment of 'National Seeds Map' to identify potential, alternative and non-traditional areas for seed production of specific crops, and also appropriate database on utilisation of available seeds in every block by networking with seed dealers.
National Rural Informatics Policy
Rural India faces problems related to Agri-advisory services, Agro-met advisory services, Agriinput services, and the demand is for accurate, reliable information regarding agriculture and its allied subject in the lingua franca.
Rural India, particularly the Farming communities, need effective and inexpensive ICT penetration in agricultural development, by leveraging on a mix of emerging and existing technologies, and also by strengthening of Rural ICT Infrastructure for Agricultural e-Governance System in India. Rural India requires 'Digital Network for Farmers (DNF)' viz., AGMARKNET, DACNET, SeedNet, HORTNET, ARISNET, PPIN, AGRISNET, FISHNET, NADRS, APHNET, AgRIS, DISNIC- PLAN, NeGP-A, etc, for moving towards faster and more sustainable and inclusive growth.
The ICT triggered rural knowledge revolution is helping to break the barriers that stand between 'Localized Rural Economies' and 'Globalised Market', through contents and networks. Breaking the language barriers is like providing an essential infrastructure for Good Governance, peace and prosperity at the grass root level. Digital Network for Farmers (DNF) is a strength, wealth and prosperity
for about 125 million farming households in India. To facilitate this, India requires a 'National Rural Informatics Policy', which is the need of the hour and further, a step towards achieving 'Rural India to Smile, Shine and Roar.' The definition of 'Rural' is as adopted by FAO of UN.
Weather related information
It is a well known fact that variable weather plays a dominant role in year-to-year fluctuation in crop production; both in rain fed or irrigated agriculture. Complete avoidance of farm losses due to weather is not possible, however, losses can be minimised to a considerable extent by making adjustments, through timely agricultural operation and accurate weather forecasts. Weather forecasts are of four types, viz., now casting (4 to 5hrs), short range forecast (valid for 48 hours), medium range (valid for 5 days to a week) and long-range or seasonal forecast (valid for month to season).
1. ICAR
a.
All India Coordinated Research Project in Agro-Meteorology (AICRPAM) of
   CRIDA, ICAR : 30 Centres in Regional Research        Stations and Centre for Agro-Met
Research in State Agricultural Universities/State Veterinary Universities, for
Location-specific weather forecast anytime when Farmers wants;
b.

All India Coordinated Research Project in Dryland Agriculture (AICRPDA) of 
CRIDA, ICAR : through ICAR Institutions and SAUs;
c.

Krishi Vigyan Kendras (615), one in each district, of ICAR;
d.

National Initiative in Climatic Resilient Agriculture (NICRA) Centres – 200
 Centres;
e.

District level Contingency Plan for Weather vagaries in India;

2. IMD
a.

Integrated Agromet Advisory Services (IAAS) through 130 Agro-Meteorological 
Field Units (AMFUs), located in SAUs/Regional Research Stations; Involvement
 of Private / Public Sectors to strengthen IAAS, through MOU; Involvement of
    IITs, IITs, IISc, NITs, State / Central Universities, etc;
b.

E-AGROMET : ICT enabled Agro-met Advisory services through IIIT, Hyderabad 
(Automating Advisory preparation using    Date warehousing/data mining
 techniques etc)
c.

Block level IAAS in pilot scale;
d.

Gramin Krishi Mousam Sewa during 12th Five Year Plan;

3. INCOIS for Marine Fishermen
Generalised forecasts have, however, limited use in farming. Weather information for agricultural operations shall be a tailored product that can be effectively used in agricultural planning and its management. A comprehensive weather based farm advisory is an interpretation of how the weather parameters, in future and present will affect crops, livestock and farm operations and, suggests actions to be taken. The Agro-Met Advisory Services (AAS) will be more effective if they are given in simple and local language that farmers can understand. In order to make the Agro-Met Advisory Services more successful and continuous process, it is to be supported with: (a) agro meteorological database, (b) crop & livestock conditions, (c) real time weather, research results on crop-weather relationships, and (d) skilled manpower in multi- disciplinary resources and users interface. The Ministry of Earth Sciences (MoES) operationalised 'Weather Services for Marine Fishermen' through its INCOIS Programme. The INCOIS Services can be also made available through 'RealCraft' project (http://fishcraft.gov.in), through its 166 base locations, for marine fishermen.
According to the NCAER Study report (2010) on 'Impact Assessment and Economic benefits of Weather & Marine Services', reveals that the economic profit estimates can vary between `50,000 Crores (where 24 percent farmers receive weather information) to Rs. 211,000 Crores (where all farmers receive weather information).
A number of private firms, namely, Reuter Market Light, Handygo, Vritti Solution, IFFCO Kisan Sanchar Limited (IKSL), and Nokia are disseminating the Agro-met Advisories generated under IAAS through SMS and Interactive Voice (IVRS). The National Centre for Medium Range Weather Forecasting (NCMRWF) of MoES provides 'forecast on Tuesdays & Fridays'. Based on these weekly-twice forecasts, the following organisations undertake Agro-Meteorological Advisories, as depicted in Figure-1. The Agro-Met Advisory Services need to be taken to the doorsteps of farmers, by using the latest emerging IT and web technologies: Mobile services, e-Post, Community Radios, AIR stations, 450 Indian TV Channels, and theproposed 2.65 lakhs Bharat Nirman Common Services Centres at Panchayat level.
Follow and connect with us on Facebook, Twitter, LinkedIn, Elets video