GIFT, a Public Private Partnership between GUDCL and IL&FS, is currently giving shape to a new dream, one that is marked by audacity, and is focussed on making Gujarat one of world's most hospitable places for living and conducting business
By R K Jha, Director, GIFTCL & Prakash Gaur, Vice President, GIFTCL
The Government of Gujarat is developing a globally benchmarked hi-tech International Financial Services Centre in Ahmedabad-Gandhinagar region through a joint venture between Gujarat Urban Development Company Limited and Infrastructure Leasing & Financial Services Limited (IL&FS). The venture known as GIFTCL(Gujarat International Finance Tec-City Company Limited) is empowered to undertake the development and implementation of Gujarat International Finance Tec-City (GIFT) Project.
GIFT will sprawl across an area of about 886 acres and its total built-up area will be about 92 million square feet. It will have a high-quality city environment and world-class infrastructure.
The project has been globally benchmarked with International Financial Centres and is expected to become a hub for IT/ ITeS for Financial Services and other multi-service sectors. It has the potential for generating around 0.5 million direct jobs and an equal number of indirect jobs.
Considering the global status and recognition to be achieved by GIFT, the project would inherit some unique identities by way of its planning and scalability factors.
The preliminary design envisages development along the Sabarmati River. There will be green belts interspersed with the concrete structures. With lot of green areas, the city will be bewitching to the beholder. A common theme will run along the entire landscape, while maintaining the individual character of different zones.
Mostly it will be the Movement Axis and a Recreational Axis that will define the city's structure. The Movement Axis will divide the city into SEZ and non-SEZ regions and Recreational Axis will demarcate the areas between SEZ Processing and SEZ Non-Processing areas.

GIFT Infrastructure Development

To maintain the quality of life and facilitate the functioning of the myriad businesses, GIFT will have access to high quality infrastructure and services. It will be equipped with amenities like:
Multi-modal transport with modern design
24×7 power supply with a host of power backup arrangements
District cooling system for supplying chilled water for cooling the buildings
State-of-the-art water supply system,
An advanced sewerage treatment plant that will ensure maximum water conservation
A city-wide rain harvesting system
An automated solid waste management system that will entail minimal human intervention
Piped gas to keep all the buildings supplied
An advanced social infrastructure comprising of healthcare, educational, community, recreational, club and hospitality facilities.
Gift ICT
The proposed GIFT ICT Vision is to "Create cutting-edge infrastructure, services and platforms and offer financial services enterprises a significant competitive advantage for operating regionally and globally".
Five major elements that showcase the value GIFT holds for companies include:
Gateway to Financial Markets
Secure and Resilient ICT Environment
Pre-enabled on-demand infrastructure
Cost-effective ICT and the "Best in Class" Customer Experience.
 GIFT USPs
Multi Services Special Economic Zone (SEZ)

Robust Urban Planning (Unique skyline, Urban form and façade and self-sustainable city)

Infrastructure (Modern and multi-modal transportation system, district cooling system, automated solid waste management, environment-friendly water system)

Developed, modern ICT infrastructure (data centre, shared infrastructure, security, scalability)

Energy conservation and environmental measures incorporated in city plan
GIFT provides a unique opportunity to introduce cutting edge technology, unencumbered by the need to preserve legacy services, which often run on obsolete technology. New applications will emerge to take advantage of the cheap and abundant bandwidth that will be available.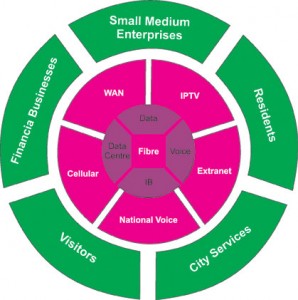 Data services
Data services available at GIFT will encompass the entire spectrum of requirements of potential businesses, residents and visitors. The Managed Data Network Services umbrella will include all the services that are critical for data transfers and communications, whether local, national or international. Public WiFi will enable residents and visitors to access the Internet in city hubs, captive locations and many other sections of the city. Corporate WiFi will allow creation of wireless networks specific to corporate environments.
Financial community extranets will provide access to information and applications related to financial sector. Facilities to establish closed user groups will allow creation of VPNs. Data Centre Managed Services – of both types – tele-housing services and data centre managed – will provide secure, accessible, highly-reliable, high-performance and low-latency environments. These services will also have provisions for business continuity management and disaster recovery. TV services at GIFT will be integrated with the city infrastructure plan and will enable end users to watch free to air, premium and on-demand content.
The core domain includes a number of areas which are critical to the support of the ICT services which include Fibre (in-building and City-wide), Structured cabling, Data centre, Telco rooms.
A financial extranet will enable GIFT to provide global connectivity to tenants who require electronic reach to a desired community of established venues beyond GIFT, ISVs and service providers. It will also allow service providers such as exchanges to connect the financial community to a GIFT-based service provider platform.
Intelligent buildings

GIFT will feature Intelligent buildings, which boast of high level automation and control features for reducing operating costs, and conserving energy. The working environment is enhanced by the constant monitoring and control of factors like heating, ventilation and air conditioning (HVAC), indoor air quality (IAQ) and power.
Traditionally, buildings rely upon multiple autonomous systems and infrastructure to manage everything from ICT to heating, lighting and security. With intelligent buildings (IB), the complexity and cost of having multiple systems gets significantly reduced. In practice, IB boundaries can be defined by two distinct and complementary functions. These are:
ICT infrastructure: facilitating the connectivity of sensory data from an IB to an intelligent building operations centre.
Facility management: providing maintenance and management of IB using an integrated IB management system.
An IB solution helps reduce capital and operating costs through shorter commission time and simpler management.
Central Command and Control Centre
The GIFT Central Command and Control Centre (CCCC) will be developed to control various services and provide security and assistance to users. The Objectives of the planned CCCC are:
Ensuring efficient services to the users
Ensuring safety and security
Co-ordination and integration among various service providers & users
Disaster management & emergency services
Record keeping / documentation.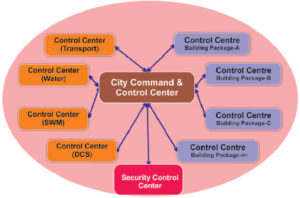 City Services
The GIFT domain encompasses all of the IT and communications requirements of the city, not only for the introduction of services to attract customers and generate revenue, but also to support the efficient and secure running of the city itself. These services will include the monitoring and management of core services from the verticals (transportation, power distribution, solid waste management, district cooling, intelligent buildings, landscape and water distribution.)
The ICT needs of City verticals will vary, but most will need to communicate to/from remote sensors, monitoring units, such as closed circuit television (CCTV) cameras, alarms, temperature sensors and other devices to a central management station. The infrastructure would be synchronised with the introduction of city services in terms of its availability, capacity and capability, and that connection and usage guidelines would be produced for the verticals and service providers.
Environmental Focus

By adopting several means, such as ensuring technical design considerations and procurements are based on constrained power and cooling demand; designing and operating the complete platform at peak utilisation capacities; innovative use of technologies such as virtualisation and liquid cooling, and through implementing globally recognised green standards and achieving associated certifications, GIFT hopes to be a truly green city.
Urban Infrastructure Integration through GIS
It is intended to create a technology platform that enables creation of spatial data information system as a part of Urban Information Infrastructure by GIS application.
The overall objective shall be to develop an advanced urban information infrastructure and digital framework of the urban system by integrated GIS and Information & Communication Technologies (ICT). It shall also serve for real time monitoring, database creation, effective information exchange, service convergence and centralized management bringing operational effectiveness.
This would enable to improve working efficiency, make intelligent and sound development and management decision, Improve quality of the services to the public and enhance city efficiency to ensure sustainable urban development.
A Gamechanger

Gift will be fully integrated Geographical Information Systems (GIS), which will facilitate planning, designing, development, management, operation and maintenance and future expansion. GIS will also serve the purpose of real time monitoring, database creation, effective information exchange and service convergence. The operation will be centralized as far as possible to make the operation effective.
GIFT is going to be a game changer in the story of India's urbanisation. It is expected to create a new benchmark for urban development in the country. Hopefully India's future urban areas will be more or less like GIFT – friendly to residents, beneficial to businesses and benign to environment. GIFT, in every sense of the term, is Gujarat's gift to modern India.