Introduction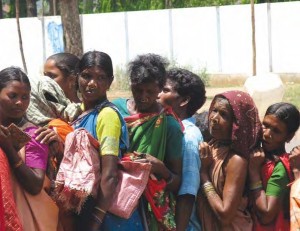 Public Distribution System (PDS) is a national program that distributes subsidized food to the poor population of the country. Major commodities distributed under this system include rice, wheat, sugar and kerosene, These food grains are partly procured from Food Corporation of India (FCI) which is a central body and partly contributed by the state from its own produce. It reaches the end consumers through Fair Price Shop (FPS) spread across the nation. This is the largest distribution network in the world operated with collaborative efforts of Union and State governments in India.
Since the system is huge and operational task is mammoth, it is no hidden fact that the entire network is exploited by corrupt and anti-social elements in every link of the distribution chain. A 2003-04 data reveals that, 14.07 million tones of subsidized grains were issued to the 16 large states for delivery to Below Poverty Line (BPL) families of which only 5.93 million tones were actually delivered and a whopping 8.14 million tones of subsidized food grain did not reach the poor. Therefore, State Governments are looking for solution to overhaul the distribution system.
Maharashtra Government is one of the front runners in this initiative and intends to repair the flaw by introducing technology solution in this food supply and distribution system. An Expression of Interest (EOI) was published by the state government which attracted interest of five bidders that included TCS, CMC, CMS and ECIL along with Spanco. TCS and Spanco were short listed as the final contenders on technology grounds and the project was bagged by Spanco (PPP model) on BOOT basis for 3 years.  The total size of the project is about INR 250 crores. The scope of the contract is to computerize the entire ration distribution system and introduce new technology in order to stop pilferage in the system, so that the subsidized item reaches the needy. Once implementation starts the entire project will be completed in a span of one year and shall be operated by Spanco for 3 years along with having the provision  for extension by another one year.
The project will require 1100 individuals for deployment across state to operate the project for 3 years

Spanco Ltd (Spanco, BSE: 508976) which has emerged as a preferred "Government Transformation ServiceTM" provider, has been entrusted with the task of transforming the current supply and distribution chain into a technology driven system. Once complete; the new model will solve issues related to pilferage in transit– godown – ration shops, fake ration  cards, manual transaction records, and unreliable data. Apart from revenue savings by state  government, this solution will directly benefi t 30.7% of Maharashtra's population living  below poverty line (BPL) who cannot afford food grain in open market.
Coverage
The project covers the entire distribution network of 1,06,740 Fair Price Shops spread across  354 Talukas, in 33 district supply offi ces that reports to 5 regional offi ces in state. Apart from  the above, all the 474 Food Civil supplies (FCS) offi ces including HO, Divisional Offi ces  and Taluka offi ces will be computerized and networked using MPLS/VPN broadband  connectivity. A hightech Data center will be deployed which will connect with the rest of the  department offi ces across the state.
The project will require 1100 individuals for deployment across state to operate the project for  3 years. Also 1500 data entry operators will be required for the data entry and  digitization of all the existing ration cards. It means that the project will generate direct employment for as many individuals at Taluka level and rural Maharashtra.
Current System
Each FCS serves approx. 700 ration cards (equivalent to number of households) and the  allotment for food and kerosene is done according to the number of ration cards. The sum of all  the requirements of FCS in 354 talukas is the procurement size of the state government  from FCI. State government buys these food grains at market price and sells it through FCS at  subsidized price incurring a defi cit on the budget. The entire process is manual and there is no real time record of the actual distribution, benefi ciaries of the subsidies and actual number of  ration cards excluding the fake ration cards.
Pilferage may occur at different level in the distribution network. There is currently no  automated system to track the total number of active ration cards in each FCS.Middlemen typically try to take advantage of this by procuring on the basis of the registered cards which  may not directly correlate with the actual number of active cards. The entire system needs  tracking and effi cient real time data to reach the core of the issue and establish new  architecture assisted by technology.
Technology Assisted Distribution System
FCS and Consumer Protection (CP) aim to tackle the above issue with the assistance of technology. Spanco Ltd, intends to transform the entire distribution process. The new system will have the following features:
Existing ration card will be converted into a bar code based laminated ration card
All the ration cards will be digitized
Biometric fi nger prints will be used for the identifi cation of card holder
Entire rationing process will be automated with real time transaction records
POS terminals with in-built Smart Card Reader, Magnetic Stripe Reader and Bar Code Scanner will be deployed at 1,06,740 Fair Price Shops (FPS)
Deployment of Data Center and Disaster Recovery System
Deployment of GPS instruments in trucks carrying food grains for effi cient tracking
Development of 33 different Software Applications on a SOA architecture
Benefits of Technology Assisted Distribution System System
Control on Pilferage: Vehicle tracking through GPS instruments will assure delivery of goods  from FCI godown to the state godown. Pilferage in transit can be avoided with this solution. At  Fair Price shops (FPS) every transaction will be recorded in encrypted manner through the  Point of Sale (POS) device which will enable the higher authority for decision making. This  will ensure the right allotment of food grains for FPS based on the active ration card users.
Elimination of fake ration cards (duplication): Biometric record of the ration card holder  (head of the family) will help in the identifi cation process. As per record, Maharashtra  government has discovered 4.0 million fake ration cards in state. Also    interstate migration rate in India is more than 30%. Study further reveals deeper malaise in the public distribution system which indicates that there can be as many as 50 bogus ration cards under each ration shop and the fi gure may go up to 150-200 per ration shop in Mumbai and other large cities. Bogus card holders get subsidized commodities leaving nothing for those who really need it. Biometric identifi cation process will immediately identify the duplicate ration card as well as non-existing ration cards and block them as bogus thus eliminating malpractices and reduce burden on government PDS budget.
Transaction recorded in Real time: The New proposed system will track each and every transaction in the state and deliver the status of every ration card and FPS stock to the higher authority. All this exercise will be done in real time.

Data centre / Disaster Recovery site: The project scope involves building a data center which will be linked with various other departments. With the data gathered, stores will provide required business intelligence for budgeting and other activities. The data centre site will be equipped with redundant server to avoid losses and will be further strengthened by a Disaster Recovery Site (DRS) which will be built at a alternate location.
Accountability: The new system will identify and plug the loopholes and the leakage in the present distribution network; and also create an environment of accountability at each level.

Conclusion
The project is going to start in the month of June 2009 and will set a new benchmark in transformation of a complex government business.
Follow and connect with us on Facebook, Twitter, LinkedIn, Elets video