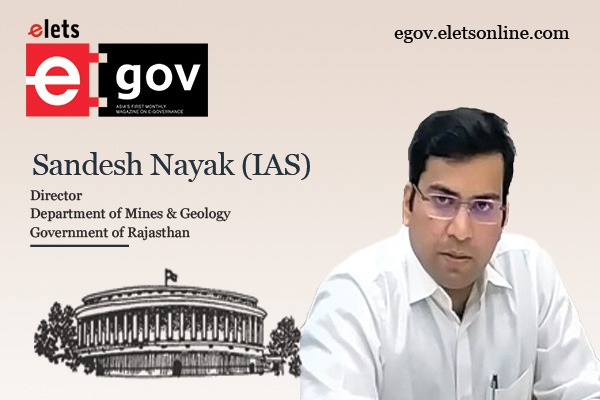 The efforts of the Mines Department to promote new mining leases and industries are not merely economic in nature but also have far-reaching social and developmental implications. These initiatives play a pivotal role in contributing to the holistic development of both local communities and the state as a whole, shares Sandesh Nayak, Director, Department of Mines & Geology, Government of Rajasthan in an exclusive interaction with Krishna Chandra Mishra of Elets News Network (ENN). Edited Excerpts:
As the Director of Mines in Rajasthan, could you elaborate on the state's efforts to optimize revenue generation from the mining sector while ensuring sustainable practices?
The State Government is putting enormous efforts into optimizing revenue generation from the Mining sector. Some of the noteworthy initiatives include:
1. Exploration of New Mineralized Areas: The state government is actively engaged in the exploration of previously untapped mineral-rich areas. This proactive approach involves geological surveys and assessments to identify potential mineral deposits. Once these areas are identified, they are strategically opened up for mining activities. This not only expands the resource base but also creates new revenue streams for the state.
2. Auctioning of Mining Rights: To capitalize on the newly discovered mineralized areas, the government conducts competitive auctions. Through this process, mining rights are allocated to qualified companies or individuals, who pay fees, royalties, and taxes to the state. The revenue generated from these auctions contributes significantly to the state's finances.
3. Focus on Debt Recovery: In parallel with the expansion of mining activities, the state places a strong emphasis on recovering outstanding dues from mining operations. This includes unpaid fees, royalties, and penalties accrued by mining companies over time. The government has initiated special campaigns aimed at streamlining the process of debt recovery.
4. Amnesty Scheme: Recognizing that a proactive approach is needed to resolve outstanding dues, the state has introduced amnesty schemes. These schemes provide mining companies with an opportunity to settle their pending payments under favorable terms. By offering incentives and flexibility, the government encourages companies to clear their dues, thereby boosting revenue collection.
5. Enhanced Compliance: The state's efforts to optimize revenue generation also involve improving compliance among mining operators. Stricter monitoring, enforcement of regulations, and penalties for non- compliance contribute to a fair and transparent system that ensures mining activities benefit both the industry and the state.
6. Sustainable Mining Practices: While maximizing revenue is a priority, the government also upholds the importance of sustainable mining practices. Stringent environmental standards, reclamation requirements, and community engagement initiatives are in place to minimize the negative impact of mining operations and ensure long-term sustainability.
7. Investor Confidence: By actively addressing outstanding dues and streamlining mining operations, the state government enhances investor confidence. This, in turn, attracts more investments in the mining sector, leading to increased revenue potential in the future.
How is Rajasthan leveraging technological advancements and digital solutions to enhance transparency, efficiency, and revenue collection within the mining industry?
The Mines Department's dedicated online management system has revolutionized the way the mining sector operates in the region. A few of the notable initiatives include:
1. E-Rawanna and E-Transit Pass: The Mines Department has introduced an innovative system known as E-Rawanna and E-Transit Pass. These digital solutions have transformed the way mineral transportation is managed. Instead of traditional paper-based permits, miners and transporters can now obtain electronic permits online. This streamlined process not only saves time but also reduces the administrative burden associated with issuing and tracking physical permits. It enhances transparency by providing real-time tracking and monitoring of mineral transportation, ensuring that minerals are sourced and transported legally.
2. Online Revenue Deposition: The department has also facilitated online revenue deposition. This means that mining companies can submit their revenue payments through an online portal. This digital approach simplifies the payment process, eliminates the need for physical visits to government offices, and accelerates the revenue collection cycle. It benefits both the government and mining entities by ensuring efficient and timely financial transactions.
3. E-Auction of Mineral Blocks, Plots & Contracts: To promote transparency and efficiency in the allocation of mining resources, the Mines Department has implemented
E-Auction for mineral blocks, plots, and contracts. This digital platform allows interested parties to participate in competitive auctions online. It replaces traditional manual auction processes, reducing the potential for human error and manipulation. The online platform ensures that the allocation of mining rights is fair, open, and accessible to a wider range of stakeholders.
4. Enhancing Transparency: The introduction of these online systems significantly enhances transparency in the mining sector. Stakeholders, including government authorities, mining companies, and the public, can access real-time information on mineral transportation, revenue collections, and auction outcomes. This transparency not only builds trust but also helps combat illegal mining activities by closely monitoring mineral movements.
5. Efficiency and Convenience: By digitizing various aspects of the mining process, the Mines Department improves overall efficiency. It reduces paperwork, simplifies procedures, and minimizes delays, benefiting all parties involved. Mining companies can obtain permits, make payments, and participate in auctions with ease, while government agencies can efficiently manage and monitor the mining sector.
6. Data Accessibility: The online management system also creates a comprehensive database of mining- related activities. This data can be used for analysis, reporting, and decision-making. It provides valuable insights into the state's mineral resources, revenue generation, and mining trends, enabling evidence- based policy formulation.
Rajasthan has a rich mineral resource base. Can you shed light on the innovative approaches being undertaken to maximize revenue potential from these resources?
The State boasts significant untapped potential in terms of its mineral resources. To harness this potential, significant regulatory changes were made through an amendment notification dated 09.08.2023 to the Mines and Minerals (Development and Regulation) Act, 1957 (MMDR Act). This amendment now allows private entrepreneurs to obtain exploration licenses, opening the doors for comprehensive exploration and prospecting activities in previously untapped areas. Additionally, esteemed organizations such as the Geological Survey of India (GSI) and the Mineral Exploration Corporation Limited (MECL) are actively involved in exploring and identifying crucial mineral deposits within the state. Recognizing the importance of efficient mineral exploration and utilization, the State Government has established the Rajasthan State Mineral Exploration Trust. This trust is dedicated to systematically exploring and assessing the state's mineral resources and subsequently making them available for auction, fostering responsible and transparent utilization of these valuable assets.
Considering the evolving regulatory landscape, how do you envision the future of revenue management and compliance enforcement within the mining industry in Rajasthan?
In addition to its conventional compliance enforcement methods, the department has embraced cutting-edge technological solutions for revenue management and compliance enforcement. This includes the utilization of advanced tools such as Drone Survey, Google Earth Pro, and Satellite Imagery. These technologies have revolutionized the department's capabilities to monitor mining activities, assess land use, and verify compliance with regulations.
Furthermore, the department is forward- looking and has strategic plans to incorporate even more advanced technologies into its operations. This includes the integration of Geo Tech Management systems, RFID (Radio Frequency Identification) technology, and GPS (Global Positioning System) on mineral-carrying vehicles. These innovations will further enhance the department's ability to track and manage mineral transportation, ensuring that minerals are sourced and transported in accordance with established guidelines. By staying at the forefront of technological advancements, the department aims to improve transparency, efficiency, and overall governance in the mining sector, promoting responsible mining practices and optimizing revenue collection.
How has the Directorate of Mines aligned with Rajasthan's broader development goals to ensure that revenue generation from mining directly contributes to the state's overall progress?
The Mines Department is making comprehensive and dedicated efforts to conduct auctions for new blocks and plots containing a wide range of industrial minerals and decorative stones. These auctions are a critical part of the department's strategy to expand mineral extraction activities. Through these successful auctions, new mining leases are anticipated to be granted, which will, in turn, usher in a host of opportunities for the establishment of fresh mineral- based industries.
These newly established industries have the potential to make a substantial impact on local economies, particularly in remote areas that may have previously lacked significant economic opportunities. As these mineral-based industries take root, they are poised to generate employment opportunities for the local population. This employment generation not only reduces unemployment rates but also contributes to enhancing the living standards of the local inhabitants.
Furthermore, the ripple effect of these developments extends to the broader societal context and the overall progress of the state. As local economies thrive and living standards improve, there is a positive domino effect on various aspects of society. This includes increased access to education and healthcare, improved infrastructure, and a better quality of life for residents in these areas. In essence, the efforts of the Mines Department to promote new mining leases and industries are not merely economic in nature but also have far-reaching social and developmental implications. These initiatives play a pivotal role in contributing to the holistic development of both local communities and the state as a whole.
"Exciting news! Elets eGov is now on WhatsApp Channels 🚀 Subscribe today by clicking the link and stay updated with the latest insights!"
Click here!