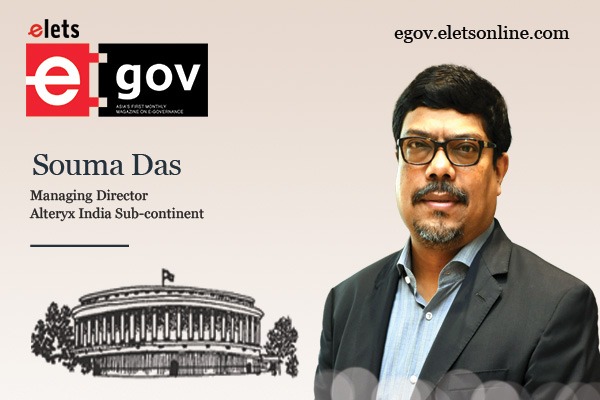 "AI is fast becoming a strategic imperative for many businesses, providing a whole new business opportunity for delivering decision intelligence at scale," said Souma Das, Managing Director – Alteryx India Sub-continent in an exclusive interview with Garima Pant, Associate Editor, Elets News Network (ENN).
Alteryx is known for its self-service analytics and data science platform. How is the platform innovating and evolving to meet the changing needs of data analysts and data scientists? What new capabilities or features have you released recently?
Alteryx has been at the forefront of evolving data analytics technology for many years, and our underlying goal is to abstract the complexity associated with data analytics for the masses. You don't need to be a data scientist to use Alteryx, a coder, an IT analyst, or a data engineer. A general knowledge worker can fully embrace everything the Alteryx platform offers to unlock data across the stack and with a breadth of advanced analytic tools. Cloud introduces a whole new level of complexity for businesses to manage the increasing flow of data around the business, and we significantly accelerated our cloud platform innovation roadmap over the past year.
We introduced our Alteryx Analytics Cloud platform in 2022. The Alteryx Analytics Cloud Platform allows everyone to participate in the decision intelligence process regardless of job role, skill level, or department with an intuitive self-service drag-and-drop user experience (UX). The Alteryx Analytics Cloud Platform also includes Alteryx Auto Insights and Alteryx Machine Learning capabilities. Auto insights include intuitive root cause features allowing users to rapidly uncover the trends in their results. Analysts and business users alike use Auto Insights to move beyond understanding "What Happened" and spend more time understanding "why" results have occurred. Auto Insights tells users what factors most likely impact results so that actions can be taken for optimal outcomes in the future. Our cloud-native AutoML product includes an education mode that teaches advanced analytics methodology and best ML practices throughout the process. By also bringing fully guided AutoML using best-in-class models to everyone, Alteryx Machine Learning optimizes time-to-value for model creation while it teaches. This takes ML projects off overloaded data science teams and enables the workers with industry and business knowledge to uncover answers to their most pressing business problems.
As the Alteryx Analytics Cloud Platform continues to gain traction, we recently introduced cloud-native geospatial analysis capabilities and expanded cloud-connected experiences to allow users to drive business decisions together by creating a workflow on Alteryx Designer, saving their work to the Alteryx Analytics Cloud Platform, and running and executing their workflow in the cloud. Our technology partnerships with cloud-based data warehouses like Snowflake, Databricks, and Google BigQuery are also helping us assist customers in accelerating cloud-based digital transformation initiatives.
We have long been incorporating AI and machine learning capabilities throughout our platform, but we have expanded these further by recently announcing AiDIN – a new brand of enterprise-ready generative AI technologies capabilities. Alteryx AiDIN is the industry's first engine that combines the power of artificial intelligence (AI), machine learning (ML), and generative AI with the Alteryx Analytics Cloud Platform to accelerate analytics efficiency and productivity.
What are some of the most significant innovations Alteryx has brought to the e-Governance sector? How have these transformed the way governments operate?
The world of business is changing. The volume of data available has grown exponentially, and savvy business leaders across all industries and sectors have been leveraging analytics to drive real, tangible value. Alteryx has been implementing analytic solutions for enterprises for over 25 years, enabling governance in 46% of the global 2000 companies and 19 of the world's top 20 banks.
When you think about Governance, it can mean many things, ranging from adequately enabling and training users to ensuring analytics is ethical and accurate to governing data or building in workflow checks and controls that would be subject to an Audit or Compliance review with the goal of having an audit trail that will aid with appropriate approvals. Enterprise-ready and enhanced governance capabilities within the Alteryx platform make analytics more scalable so all users can get insights faster, while improving control and reducing risk.
Alteryx provides the necessary tools to ensure data compliance and security across the entire analytic journey via a comprehensive data governance framework that helps organizations manage their data securely and efficiently. These include:
Efficient Data Management: The Alteryx platform enables data analysts to manage data from different sources, automate workflows, and ensure data accuracy, reducing the time and cost of collecting data.
Improved Data Security: The Alteryx platform provides data security features such as user authentication, role-based access controls, and data encryption to safeguard data assets.
Compliance with Regulations: The Alteryx platform supports compliance with regulations such as GDPR, CCPA, HIPAA, and other data protection laws, ensuring that organizations meet regulatory requirements.
No matter the fragmented ecosystem of data types or data sources, organizations can easily implement their environment of choice using private data handling, govern and secure data connections with new options for authentication, and better manage large deployments with plug-and-play Enterprise Utilities.
As more organizations adopt analytics and data science, what do you see as some of the biggest roadblocks or challenges to widespread adoption? How is Alteryx helping organizations overcome these challenges?
Over the past decade, we've seen the volume of data available to decisionmakers grow exponentially. While this data surge provides new opportunities for delivering decision intelligence at scale, many businesses struggle to deliver the insights they need at the required speed and scale to transform decision-making. So, what's stalling this journey? According to recent Alteryx commissioned research into the current state of decision-making across global enterprises, sharing data has clear benefits for making intelligent decisions at scale, but some business leaders are still hesitant. Respondents saw the benefits of using data in their careers; 80% said that the ability to access and analyze data positively impacts their decision-making. But interestingly, 65% of respondents don't think employees who make decisions for the organization should have access to data for decision-making.
Delivering the decision intelligence required to solve fast-evolving problems in real-time requires employees who can effectively work with data. These workers aren't necessarily the ones with advanced coding skills but instead the in-department experts. Knowledge workers in the line of business are the often-untapped resource. With hardwon domain expertise and the ability to effectively combine this knowledge with code-friendly and/or code-free selfservice technology, they can creatively address their data problems.
Whether the data is on-premises, in the cloud, or somewhere in between, the combined approach of accessible self-service data platforms and dataliterate knowledge workers can make data-literate workforces a reality. Cloud analytics are the key to democratizing data. The Alteryx platform enables automation of analytics at scale, allowing all employees to use data and make data-driven decisions with speed. Recognizing that the people best placed to predict and prevent risk are those working closest to it, the platform bridges the skills gap and arms domain experts with the analytics to see around their own corners and then collaborate to meet potential threats.
How do you see the analytics and data science field evolving in the coming years? What impact will emerging technologies like AI and machine learning have on this field? How is Alteryx preparing for and leading this evolution?
AI is fast becoming a strategic imperative for many businesses, providing a whole new business opportunity for delivering decision intelligence at scale. According to Forrester, "Companies across all verticals and maturity levels are finding opportunities to implement AI." From text mining to PDF data extraction and natural language processing (NLP), generative AI and large language models empower everyone to ask analytical questions and break down silos to engage the world's imagination in how we understand data.
Alteryx is already blending generative AI technologies into the analytics stack, we recently launched Alteryx AiDIN to empower the business user – the accountant, the supply chain analyst, the merchandising analyst – to solve critical data challenges in new and effective ways. From healthcare and financial services to manufacturing, CPG, and retail, decision-makers across every industry want to utilize generative AI innovations to improve efficiencies and customer experiences. As Generative AI capabilities evolve, Alteryx is developing a slate of new applications for AI that continue to harmonize the value of generative capabilities with the guard-railed applications enterprise needs.
Alteryx partners with many academic institutions. How are you working with universities and colleges to develop a data science curriculum and help prepare students for careers in this fast-growing field?
We launched the SparkED program in 2021 to expand data literacy and analytics skills among all learners so that they can use this skill set to solve real-world problems. SparkED is a no-cost, self-paced data analytics educational program designed to put its easy-to-use, end-to-end analytics automation platform in front of higher education students and individual learners in the workplace and on the job market.
Now working with over 1,000 institutions globally, and more than 150,000 learners in over 50 countries, the SparkED program enables educators to craft lesson plans that engage students with modern, real-world tools to solve business issues by providing educators with a comprehensive teaching and learning program.
"Exciting news! Elets eGov is now on WhatsApp Channels 🚀 Subscribe today by clicking the link and stay updated with the latest insights!"
Click here!