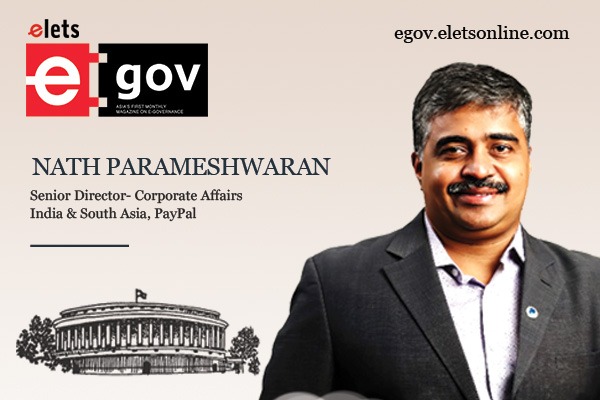 Traditionally, international trade was solely the domain of the largest businesses that could take on the capital costs, establish regional contacts, and comply with regulatory requirements associated with international trade. The internet and the power of digital have levelled the field. Today, much like large businesses, MSMEs can also use an eCommerce platform with a host of other online service providers and engage in trade at a global scale, along with Government and regulators acting as catalysts with an enabling policy stand.
A study by Zinnov has shown that the internet has helped small business owners in major economies to engage in international trade, reporting double sales revenue compared to those who only sell domestically¹. In India, where MSME and small services exporters are engines of the local economy, the exports and potential for job creation through the eCommerce-led democratisation of trade provides tremendously positive development, inclusion, and growth opportunities.
On a positive note, small services exporters in India have been early movers and placed India as the leader globally² leveraging online/eCommerce channels for exporting services such as IT/ITES, wellness, EduTech services. This accelerated during the pandemic.³
A USD 300 Billion opportunity knocks at India's door
The latest Foreign Trade Policy 2023 (FTP- 23) sets out as a North Star, charting a clear roadmap for Indian exports. FTP -23 aims to take Indian exports to USD 3 Trillion by 2030, with eCommerce-led exports acting as a booster with a stated target of USD 200-300B in the same period.⁴ While FTP- 23 set the direction for the overarching policy, equally important to acknowledge are the Government's steps on ease of doing business (EODB), digitization, and trade facilitation measures to support an eCommerce export ecosystem to grow and expand over the years.
Our Foreign Trade Policy-23 aims to take Indian exports to USD 3 Trillion by 2030, with eCommerce-led exports acting as a booster with a stated target of USD 200-300 B in the same period.
Some noteworthy examples are eCommerce centres of excellence, DGFT's 24×7 helpline for exporters, customs department CSB-V form to enable single item/small shipments via courier mode. Then there is the simplified process for jeweller exports via eCommerce, loan in 59 minutes and RBI's forward-looking 2011 OPGSP cross border payment guidelines, that have been purpose-built for small value online exporters.
Complementing the Government is the role of the digital economy service providers. In recent years, we have seen a vibrant ecosystem of cross border-focused eCommerce marketplace, payment providers, digital tool providers, storefront solutions, SAAS solutions, express courier companies providing choice, right solutions to help Indian exporters go digital and global.
With Government and regulators as catalysts, a world-class digital public infrastructure, record export numbers, an ecosystem of service providers, India is in the perfect position to leverage eCommerce and boost its exports. This has been proven from an entrepreneur and MSME business perspective. As compared to traditional channels, eCommerceled exports provide an expressway for MSMEs to tap into a global opportunity. It presents potential for better margins for their products/services, de-risk from only the domestic market, earn status as an exporter, access to finance at better terms, and future geo expansion of the business.
eCommerce exports and MSME – a perfect alliance
There are some points that can be considered as MSME embark on their journey, which can serve as broad guideposts to sharpen their presence in new markets.
Businesses must begin with research to understand their target markets and consumers in terms of their preferences, local language, privacy, regulations, etc.
For new MSME exporters, it is critical that they understand the trade policy, regulations, incentives, taxation rules in India. This will help take advantage of policy measures to make the exports competitive and compliant.
Selecting appropriate digital channels to reach and serve the right set of consumers is key and it is an important step to catch the customer and transform them from 'looker' to a 'buyer'. For this, having a multi-channel approach with the right kind of talent, skills, and secure digital infrastructure is essential.
Furthermore, an important aspect is a digital payment platform which is trusted by global consumers, provides appropriate protection from fraud and chargebacks, and quick access to export payments.
Views expressed by: Nath Parameshwaran, Senior Director – Corporate Affairs, India & South Asia, PayPal
---
References:
1. Digital SMBs – Key Pillar Of India's Economy 2019 | Zinnov
2. International labour organisation report 2021 – Digital transformation of Industry and world of work
3. Need innovative policies targeting growth of MSMEs
4. Foreign Trade Policy 2023
"Exciting news! Elets eGov is now on WhatsApp Channels 🚀 Subscribe today by clicking the link and stay updated with the latest insights!"
Click here!