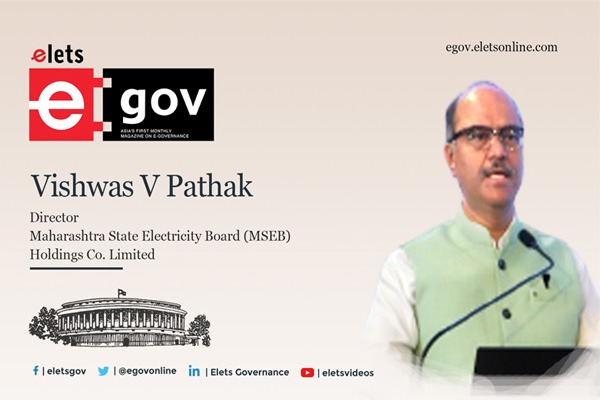 Since 1991, there had been globalisation, liberalisation adopted by the universe and therefore the entire business community got an opportunity to deal across borders, stated Vishwas V Pathak, Director, Maharashtra State Electricity Board (MSEB) Holdings Co. Limited at the 4th National Energy Summit, Mumbai.
Delving deep into the discussions, he stated, "We moved on, but in 2019, the pandemic really realigned the business world again. India has poised itself in the driver's position under the leadership of Prime Minister Modi."

He further added, "He has dreamt to achieve an economy of five trillion U.S. dollars by 2030. When he dreamt of it, we were unsure, because, till 2014, we achieved an economy of just 2 trillion U.S. dollars. But, in the next 7 years, we achieved one trillion economy making the total economy three trillion, which means India jumped from 11th rank to 5th rank in the economic world, and therefore achieving a five trillion economy by 2030 is possible."
But to achieve that, the power sector has got a tremendous role to play. Indian energy requirement, especially for the industrial sector, is increasing by three per cent year on year which is very huge out of total requirements. We are depending largely on coal-based power plants to the extent of 70 per cent but we have to reduce our carbon emissions, which means reducing the dependence on coal plants. We are going a big way for nuclear power generation, so not only solar, wind, or other renewables but nuclear is also going to be a big opportunity.
Accordingly, the government of India as well as all state governments are amending their laws in such a way that they are investor friendly, their governance level is going up and financial sources are also being provided.
While speaking at the summit, he also gave an example of how Maharashtra was poised to receive an investment of around 43,000 crores through the RDSS scheme. He elaborated that the augmentation of the system, improvisation of the system, upgradation of the system, smart meters, reduction in losses, everything is going to happen not only in Maharashtra but across India.
At the same time, he stated that coal-based plants are also going to stay there for some more years because our requirement is so huge that renewables alone cannot replace its requirement. Therefore, the coal based requirement is also going to go up.
Also Read | Stelmac aims to be significant partner in the growth of power sector 
"Today, India's domestic production of coal is 700 million tons which is going to rise to 100 million tons (i.e) one billion. All the power sectors whether it is fuel-based or renewable, have an opportunity for the next 10 to 15 years in a big way", he concluded.
Views expressed by Vishwas V Pathak, Director, Maharashtra State Electricity Board (MSEB) Holdings Co. Limited.