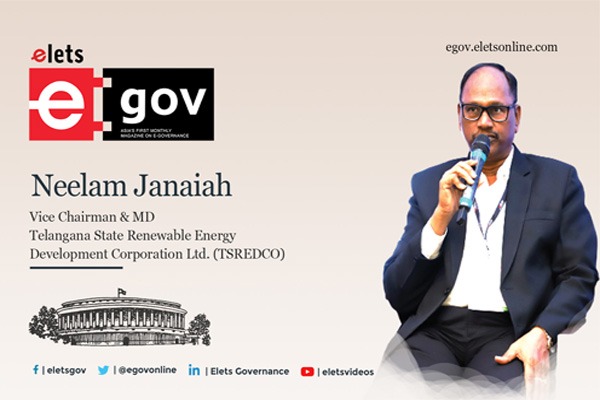 Energy transition is a must and an inevitable reality and especially as per our honourable prime minister's vision, by 2070 – Net Zero and by 2030 – 500 gigawatts of the renewable energy power transition have to take place. Consequently, all the states are now moving towards to the targets assigned by the Ministry of Power and in the similar line, Telangana is also exploring all the best possible practices regarding the development of the renewable energy and energy transition by constantly following what are the initiatives initiated by the government of India and what are the things which can be adapted by our state. In such a scenario, we are also adapting to the latest technologies available and also bringing various policy initiatives which are required for the better implementation of the policy in the state of Telangana.
Actually, energy transition takes place with the optimum utilisation of e-mobility. The public transport system which utilises a lot of diesel and petrol has to make the transition. In light of this, TSREDCO is implementing more than 400 to 500 charge point locations in this state of Telangana especially in the Hyderabad and all the national highways connecting towards the other states from Hyderabad like Nagpur, Vijayawada, Bangalore – all these National highways have been pinpointed to have charging point for each 50 kilometers. Initially, we were targeting one charging point location for each 25 kilometers. More than 1000 points were identified and the tenders were finalised and service cost also defined by our TSREDCO which was also adapted by the Ministry of Power recently under the frame 1 and frame 2 and also the PPP model. So, under three aspects we are developing the ecosystem so that all the end users can make transition towards e-mobility. Through such efforts, decarbonisation can take place at the mass transport level.

Also Read | India leapfrogging Energy transition
Our Telangana State Road Transport Corporation has also given us 20 locations – 10 in Hyderabad and 10 in other locations for e-mobility. They are procuring a thousand electric buses and are already operating with the 100 electric buses. Also, an interesting feature we are developing is the retrofitment of world RTC IC engines where more than seven to eight years-old diesel buses are being retrofitted with the new electric kit where we will be spending more than 40 to 50 lakh for the 250 kilowatt hour battery and 15 to 18 lakhs for the kit that has been developed by Medha Servo which is Hyderabad based company and the same drives being utilised in the Vande mataram trains.
Views expressed by Neelam Janaiah, Vice Chairman & MD, Telangana State Renewable Energy Development Corporation Ltd. (TSREDCO).