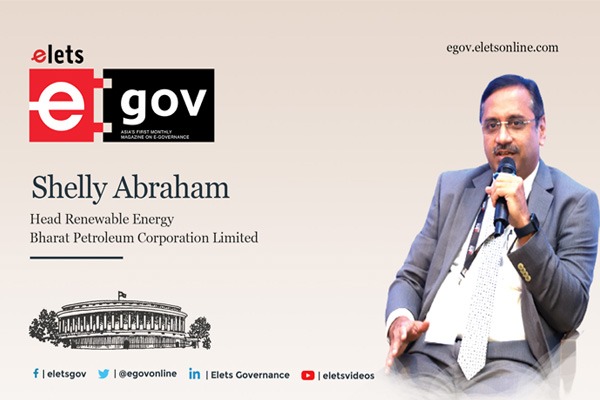 Today, the world consumes approximately 100 million barrels of oil per day, and we have been hearing for several years that oil demand will decline as it has already reached its peak but we must see this in two brackets, one for developed countries and other for developing countries.
Developed countries such as Japan and certain European countries have seen oil demand going at its peak and then gradually declining, or going to decline in a couple of years. But in countries like India it is still rising, and oil will play a critical role in the coming decades.

Nonetheless, we are all aware that the transition is taking place, and we are preparing by taking all necessary precautions. The first is to deal with the energy transition, and the second is to meet our country's decarbonization/net-zero ambitions.
We, as a firm, have taken the initiative to become a net-zero corporation by 2040, and we have explicitly laid out a plan to attain this goal. We've also identified the leavers, and we know what our organisation needs to do over the next 20 years to achieve net-zero emissions by 2040.
In terms of energy, the government has already stated its green hydrogen mission policy, and we as refiners consume a substantial amount of grey hydrogen today. There is now a requirement that a specific amount of that grey hydrogen be converted into green hydrogen.
In the state of Madhya Pradesh, we are putting up our first electrolyzer green hydrogen plant. It is a 20 MW electrolyzer. Once we have a clear mandate from the government, we will increase the capacity of the electrolyzers to produce more green hydrogen.
When it comes to hydrogen, there are plenty of challenges in terms of technology, as it is still evolving, and technology suppliers are difficult to find. Technology for such huge electrolysers is imported from elsewhere. Such issues are there but we are trying to circumvent those challenges.
We are also trying to replace our normal power wherever we are using grey by renewable energy. We also want to decommission our existing gas turbines, which will be replaced by renewable energy in another 10-15 years.
The energy sector is going into green energy, and we are seeing that gas could be a transition fuel as it forms today around 6 per cent of India's primary energy basket. Government is encouraging it to push it to 15 per cent.
Also Read | Faster Energy Transition holds key: Neelam Janaiah, MD, TSREDCO
In the longer-term, the combination of solar and wind is the future, and green hydrogen will play a significant role. There is an abundance of solar radiation and renewable potential in India, and the cost of producing/generating renewable energy in India is substantially lower when compared to other nations such as Japan. So, the potential to produce green hydrogen for usage in mobility, industries and for export is huge. The Government of India is also targeting production of 500 million tonnes of green hydrogen per annum by 2030.
We believe that over the next 15-20 years, oil will continue to play a significant role, and BPCL will be a key player in that industry. The importance of diversification of crude oil supply is paramount because we were severely reliant on the Middle-East for more than 75% requirement of our crude oil a few years ago. This has always posed a significant threat due to the region's ongoing geopolitical tensions. As a result, all oil corporations have made a concerted effort to diversify their supply sources in the past few years. We have been importing in large quantities from the United States, Brazil, Mexico, Canada, Colombia, and other countries. So, by diversifying our supply source, we hope to de-risk the geopolitical tensions and its effects on the oil supply chain.
Views expressed by Shelly Abraham, Head Renewable Energy, Bharat Petroleum Corporation Limited at the 4th Elets National Energy Summit.