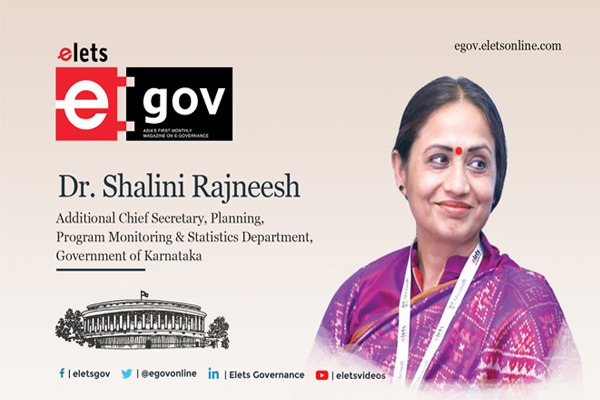 Karnataka has always been at the forefront of leading by example and setting paradigms for other states to follow. Be it pioneering IT initiatives, bold steps in minimising single use plastic or incentivising industries to move towards sustainable and circular business models, Karnataka has led from the front. Highlighting this, Dr. Shalini Rajneesh, Additional Chief Secretary, Planning, Program Monitoring & Statistics Department, Government of Karnataka spoke at the Future Ready Bharat – Digital Governance Summit, Karnataka.
People, Planet and Productivity are three things that are very important for future readiness, informed Dr. Shalini Rajneesh, Additional Chief Secretary, Planning, Program Monitoring & Statistics Department, Govt. of Karnataka. "We need to have the maximum growth and productivity of our people, but it should not be at the cost of the environment," she added.

Also Read | Technology making industry sustainable with real time benefits
"While we want every cubic centimetre of the air we breathe to be clean, every gallon of water in our oceans to be pollution-free, every person on the planet to be productive, we must also ensure that whatever we're doing, we're doing it with a sense of responsibility towards our planet," she added.
Talking about the initiatives the Government of Karnataka has taken, Dr Rajneesh said, "It makes me very proud to say that IT initiatives take place in Karnataka and then get scaled up across India. So, it is in the fitness of things that we make more innovations and more IT initiatives in this IT and startup capital of the country and we make the country future-ready."
Dr Rajneesh also talked about how we have islands of excellence but the integrative part is missing. "We are coming up with a concept called data lake, wherein we're trying to take the databases of all departments. We've got an MoU with IIIT Bangalore, wherein we're trying to make sense of that data, monetise it, make it more application-oriented and management- friendly," she said.
Talking about technology's role towards de-bottling obstacles or challenges, she said, "Technology is indispensable for de-bottling the obstructions. I think one of the major transformations in governance should be that people need not come to the offices. The offices should serve the public to their doorsteps or wherever they are. The convenience of the citizens has to happen."
Also Read | Enhancing educational equity & quality with technology
A very new and bold initiative has been taken by the Karnataka Chief Minister Basavaraj Bommai, Dr Rajneesh informed. The chief minister has announced the setting up of the State Institute for Transformation of Karnataka on the lines of National Institute for Transformation of India (NlTl Aayog). He had said that the institute has been set up to realise the mission of building a new Karnataka for a new India. The state government will provide an annual amount of Rs 150 crore to enable the SITK to function effectively and achieve its goals, he had informed. It would have eight domain experts representing the fields of planning, economics, social welfare, rural development, education, health, agriculture, science and technology, skills development, employment and clean energy as advisers.
"Let's look forward to SITK to transform Karnataka and then show the way to the rest of the country and the globe," Dr Rajneesh concluded.