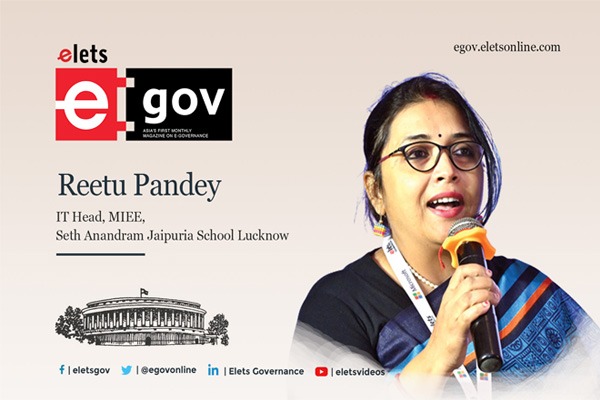 'Gamification'– a word that has gained a lot of traction these days and has been making headlines for quite some time simply refers to the use of gaming elements in making learning and teaching more interesting and engaging. Studies indicate that the strong pedagogical properties games have for learning render them an attractive medium to transmit knowledge. Focusing on Leveraging innovation and technological solutions, Reetu Pandey, IT Head, MIEE, Seth Anandram Jaipuria School Lucknow, spoke at the Future Ready Bharat – State Education Summit, Uttar Pradesh.
Reetu Pandey, IT Head, MIEE, Seth Anandram Jaipuria School Lucknow, said that the schools in India have to keep up the pace with technological developments shaping the education sector. She said her school – Seth Anandram Jaipuria, had been proactive in recognising that chalkboard education or traditional education would not last in the long run, in the face of imminent technological innovations. She further said that "instead of just merely teaching the child, or finishing the academic course, we have to instigate their curiosity and thinking skills so that they can come up with their own ideas and innovations."

Also Read | Technology and the democratisation of education
Highlighting the association of Microsoft with her school, Pandey said the partnership which entered the sixth year has been an amazing journey. Explaining the importance of various skilling and certification courses, she said, "Certification has helped professionals in upskilling and upgrading their work experience and it is playing an excellent role in upskilling individuals." She has done over 100 courses and feels the kind of change technology has brought is liberating.
Expressing condolences for the COVID sufferers and how her school bypassed that cataclysmic phase, Pandey said, "I really have my deep condolence for all the sufferers of the pandemic, but it turned out to be a boon for our school. We didn't close for a single day, immediately switched on TEAMS- a great tool for communication, collaboration, and classes and started in the same way with the same timetable."
Pandey said her school organised many webinars and sessions, for students as well as teachers, to upgrade their skills. "Due to that, even during COVID, whether it was hybrid or online mode, we were able to take all the challenges in a very simple and easy way," she said.
Highlighting the importance of international exposure for students, she said, "We had a very interesting concept, in which, with the help of geographical conditions, students had to find out which country they are interacting with. Consequently, our students have travelled to 12 countries, which has given them first-hand international exposure."
Also Read | Technology transforming education
On gamification and its assimilation into education, she concluded with the thought that "if we impart gamification into normal teaching, it could become very easy for children to understand and assimilate." She said that through graphic and virtual video, teaching is going to have a lasting impression on children's psyches. She emphasised that technology like Microsoft is helping in this regard.