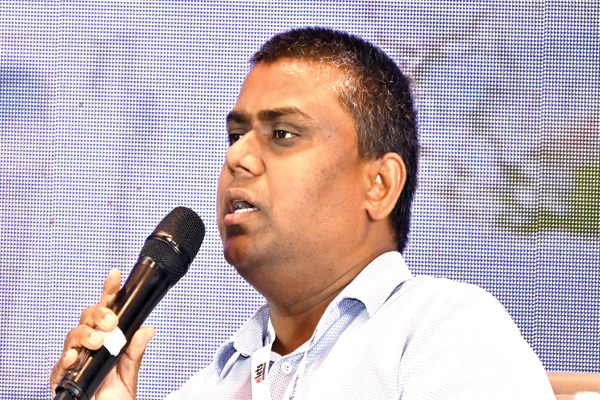 Sharing his experience as relief commissioner, Ranvir Prasad, Commissioner, Housing Awas Evam Vikas Parishad, Lucknow, Government of Uttar Pradesh said that his department had designed an end-to- end beneficiary management system and connected it to the BhuLekh system because due to floods and incessant rain, most of the disaster sufferers happened to be farmers and agricultural labourers. So technological assistance became quite crucial in providing input subsidies to them, he said.
He also said that earlier, mapping and surveys of disaster-affected areas would take a lot of time as it was done manually. It would create mismanagement as most of the time, beneficiaries' names would not match with their land records. "So, during data entry itself, we linked it to BhuLekh, so that data perfectly matches. We also employed Aadhaar biometrics to help in identifying beneficiaries. Therefore, by leveraging such technologies, we could do away with deduplication problems and reach the right targets," he added.

Talking about the time when heavy rains caused severe flooding in several districts of UP in 2021, he said the state government was able to start relief works within the first week itself, which earlier would take around a month, as those relief works used to employ manual surveying and verifying. He said the government was able to distribute Rs 600-crore worth relief to approximately 53.4 lakh farmers in a month. He further said that this year also there was excessive water logging in the state due to water coming from the Chambal river and within 7 days only, the state government managed to start relief works and help around 1.4 lakh farmers in the state.
Also Read | Digital governance for a resilient future
Throwing light on a GIS-based platform, he said that the Revenue department in UP has decided to use it to map all the pedestal maps. "There are around 1 lakh revenue villages in UP. Each of these will be connected to geographical coordinates which will help in effectively identifying any land. It is being developed and will get completed in six to seven months from now," Prasad said.
Prasad concluded by saying that by leveraging technology, his department was able to reach more beneficiaries in a very short span of time, without any kind of malpractices.