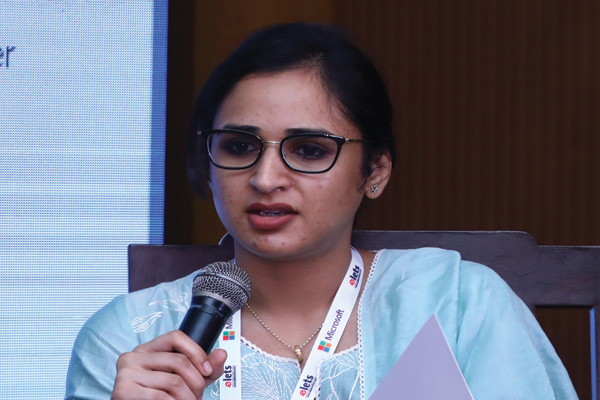 Highlighting Karnataka's journey, Preeti Gehlot, Joint Director, Karnataka Municipal Data Society (KMDS) Directorate of Municipal Administration (DMA), Government of Karnataka, said that the state's last 10 years' journey has been phenomenal and it looks forward to leveraging future technology like artificial intelligence, data analytics, robotics, etc to further transform the governance in the state. "Karnataka has been a pioneer in the usage of technology or e-Governance for 20 years. Unlike other states, the rural sector of Karnataka has done exceptionally well in terms of providing citizen services. However, in the urban sector, there has been a challenge. Urbanisation is something very messy and chaotic as cities mushroom very fast," she said.
Talking about the e-Aasthi portal, she said, "It is an online service portal where people apply for property or tax-related documents. The documents we issue are Form 2 and Form 3- the most important documents for citizens living in the urban local body. These documents are further used in registration, application, or transaction of loans, etc."
"We started e-Aasthi in 2016. It's been 6 years but still, it has not been completely implemented. The reason we have not been able to reach out to every person in the city is that we have more than 300 local urban bodies in Karnataka and these are self-governing bodies. So, their monitoring is quite challenging," she added.
She said that to sort out the problem, the government has started calling domain experts from across Karnataka to take their help in mitigating the hindrances. They have started training people, especially Revenue Officers so that the digitalisation drive gets accelerated.
Also Read | "Data-driven decisions ensure better governance"
"Lately, we have understood that whatever service delivery we offer, we need data analytics, we need to organise data. But for that, we need to have data first. Data is the oil that can take us forward," she said.
She said her department has introduced a citizen module where citizens themselves will be able to upload their documents. Once the data is uploaded, they will be cross-checked at the data entry level and get verified. Citizens sitting anywhere can retrieve that data.