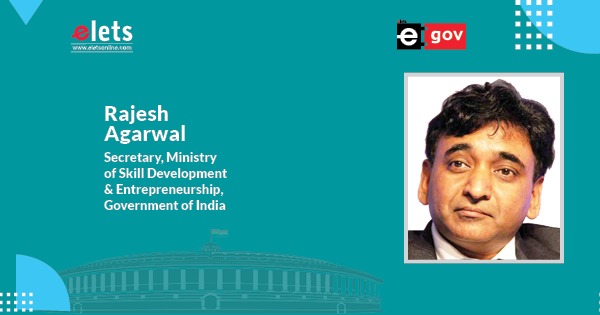 Rajesh Aggarwal, Secretary, Ministry of Skill Development and Entrepreneurship, Government of India, at the Elets India Transformation Summit spoke about how being 'Atmanirbhar' is necessary for all the nations in today's time. He also talked about our education system and how it should produce not only job seekers but also job givers.
Talking about being self-reliant, Rajesh Aggarwal said, "In the last two decades, the focus in jobs shifted from manufacturing to secondary sector, IT, finance etc, but COVID again showed all the nations that global supply chains can be fragile and being self- sufficient is necessary for all the nations."
Highlighting the dynamic job market, he said, "When we talk of industry 4.0, we talk about Artificial Intelligence (AI), Robotics, Internet of Things (IoT), additive manufacturing of 3D printing, drones, renewable energy etc. There's a lot of talk on 3D these days, the demographics, the decarbonisation and digitisation."
Aggarwal talked about industry 4.0 and how soft skills have become important in a job nowadays. "Soft skills like logical thinking, language and communication skills, teamwork, and EQ are becoming more and more important," he said. He talked about how times have changed. Earlier, employers, while hiring employees, used to look for hard skills such as confidence. Now, they look for people who have the ability to learn, to adapt to new situations. "This is what we should focus on in our whole education system. Our schools, universities, IITs, IIMs should produce not only job seekers but also job givers," Aggarwal said.
Highlighting very little women participation in STEM courses, he said, "When I joined IIT Delhi in 1983 in computer science, we had only one girl in our batch. After 27 years, my daughter joined a college in computer science and there too, she was the only girl in her branch. So nothing has changed over the years."
"We need to dramatically change this. It requires all ITIs, IITs, NITs, regular universities, skills universities, even the schooling system all to work together," he added. Aggarwal highlighted that we have a disconnect of our education system with the job role requirements. "Our engineers and technicians after spending 2-4 years turn out to be unemployed. You talk to any employer and they say we have to basically retrain the person to meet our requirements," he said.
Aggarwal also talked about working very closely as secretary skills with secretaries of school education and higher education, with the three regulators UGC, ICT and NCERT. "We all are working very closely for a unified credit framework, so that across the system, credits should flow and there should be multiple entry options," he said.
Highlighting skills and education both being important, Aggarwal said, "Our skilling students in ITIs or diploma courses or polytechnics, they should parallely get 12th class certification or even graduation. So, we have tied up with open school and IGNOU but it has to be vice-versa also. A student doing BA, BSc etc, should be able to get skill certifications."
Aggarwal talked about the varying changes we need to adopt in order to produce 'job-ready' students. "The school system, the university system, our skilling system has to adopt varying changes – changes in syllabus, changes in labs, the way we appoint teachers, the way we design classrooms. Frankly, classrooms are designed like prisons. The student is forcibly made to sit for one hour in a very classroom kind of fashion, which is not actually very conducive for two-way communication," he said.
"Therefore, we need to talk about those things very openly and bring out the changes. We all have to work together to produce students who are actually job ready when they come out and provide them pathways to keep on learning new things, keep on changing jobs and then ultimately finding jobs which fit their passion and their capability," he added.
"Let's all work together to build a new India and a new world," Aggarwal concluded."
"Exciting news! Elets eGov is now on WhatsApp Channels 🚀 Subscribe today by clicking the link and stay updated with the latest insights!"
Click here!