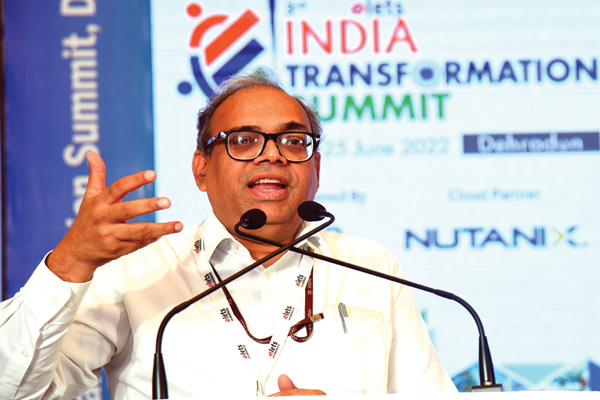 "The depth of a democracy is best understood by the width of its footpaths." Sudhendu J. Sinha, Adviser (Infrastructure Connectivity & Electric Mobility), NITI Aayog, Government of India, shared the above quote while delivering his special address at the Elets India Transformation Summit. He shared a broad framework about the future action plan that the government has envisioned with regards to mobility and urban planning.
Highlighting how the cities of India cover 3 per cent of land but contribute about 98 per cent to the country's GDP, Sudhendu J Sinha said, "We need to make our cities best in class and liveability. Our solution should be such that it must not become a problem in itself. It must be sustainable and digitally enabled."
He talked about replicating the European model of customised cities. "No city of India or Asia is in the top 100 cities when it comes to liveability index. The top positions are mostly acquired by the European or Western cities. Therefore, we need to learn from their core strengths, which are mobility and transport, " he added.
Sinha mentioned about the MOVE summit, held in Delhi in 2018, which was the biggest summit ever held on mobility in the world, where PM Narendra Modi gave the idea of 7C's to be the paradigm of future mobility in India. PM Modi had said that mobility should be common, connected, convenient, charged, and must be of cutting edge technology. Accordingly, the National Mission on Transformative Mobility and Battery Storage, which was given the task of implementing the program, was launched within six months in March 2019.
"17 countries of the EU worked together to launch only 2300 electric buses whereas India alone launched around 5450 electric buses and now, we are aiming to take this number upto 50,000. We aim to completely transform the public transport in India from the traditional fossil fuel drive to the new and clean e-mobility. For this, the government has launched a production linked incentives (PLI) scheme for 2 components of e-mobility – Manufacturing and Advanced Chemistry Cell." Sinha said while detailing the benefits of intended domestic manufacturing of lithium ion batteries by 2024-25, which will save huge costs.
"To further boost electric mobility, we launched a 10,000 crore package program– FAME (Faster Adoption and Manufacturing of Electric Vehicles). We set a target of incentivising one million two-wheelers, but could only achieve a meagre fraction of 35,000. Same was the case with cars and buses. So, we restrategised the target of each vehicle's segment and found better outcomes," he said, while adding that the faster pace of adoption of electric vehicles in India has generated the interests of global investors in the Indian market.
He further said that IITs are encouraged to undertake research work in mobility. A full fledged BTech course on mobility is being taught in Delhi. As many as 15 IITs have opened separate research centres in their campuses.
Sinha quoted Gustavo Petro, Mayor of Bogotá, who said, "A developed country is not a place where the poor have cars. It's where the rich use public transportation", while detailing out the futuristic outlook of mobility in India. He opined that more emphasis will be placed on cycling and jogging tracks. Referring to the European model of cycling and jogging tracks, he said "we need to emulate their policies and awareness drive for our micro mobility."
"We didn't create a policy, we created a program for mobilily, hoping to get the states onboard smoothly. Government policies, sometimes, invite unwarranted criticism or protest from the states. Today, almost every state in India has created a policy on mobility and is attracting domestic as well as global investors," he said while mentioning about the proactive role being played by the government in it.
He concluded with the belief that mobility would undergo transformational changes in the next 3-4 years and change the face of urban transportation and living in India.
"Exciting news! Elets eGov is now on WhatsApp Channels 🚀 Subscribe today by clicking the link and stay updated with the latest insights!"
Click here!