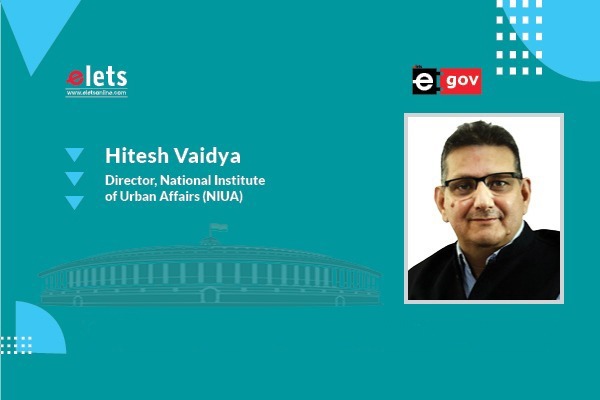 Climate change and sustainable development are inseparable. Global warming is producing negative impacts on natural and human systems is impeding the progress towards SDGs. The ambitious climate goals and climate action plans produce new opportunities for the economy, environment and society. But, these are contingent upon national governments in adopting climate-resilient pathways into urban planning and practice, writes Hitesh Vaidya, Director, National Institute of Urban Affairs (NIUA).
The United Nations Conference on the Human Environment of 1972 also known as the Stockholm Conference placed the need for management of the environment in the global agenda. The Conference established 26 principles which underpinned the environmental discourse, and initiated dialogue between industrialised and developing countries on the link between economic growth, environmental pollution, and the well-being of people.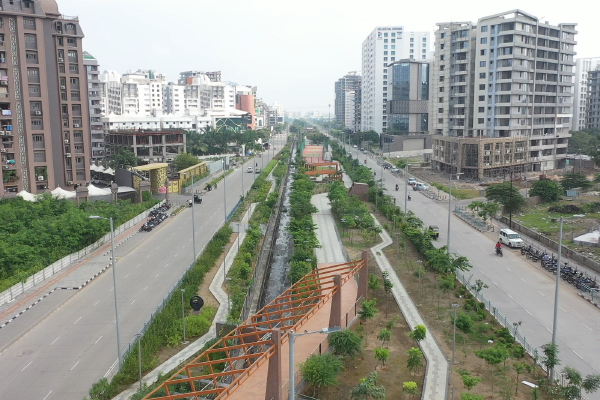 Since the Stockholm Conference, the concept of sustainable development started developing with a focus on the goal of socially inclusive and environmentally sustainable economic growth. The Brundtland Commission (1987) defined the term sustainable development as the development that meets the needs of the present without compromising the ability of future generations to meet their own needs. In 1992, the UN Conference on Environment and Development published the Earth Charter, which outlines the building of a just, sustainable, and peaceful society. The Agenda 21 for sustainable development identified information, integration, and participation as key building blocks to help countries achieve development.
The Sustainable Development Goals (SDGs) set-up by the UN General Agency in the year 2015 are the blueprint to achieve a better and more sustainable future for all. They address global challenges including poverty, inequality, climate change, environmental degradation, peace, and justice. In the SDG ranking, the Scandinavian countries are at the top with Sweden (84.5), Denmark (83.9), Norway (82.3) and Finland (81) at the leading positions.
India has been one of the key movers on the SGD agenda and has continued to make gains on SDG targets. The country's overall SDG score improved from 60 in 2019 to 66 in 2020–21. India has made significant progress in the SDGs related to clean energy, environment, and addressing human health risks.
Also Read | One Earth, One Life…Save It!
The SDG India Index 2020-21 indicates that there has been an increase in forest and tree cover in 14 States/Union Territories which include Andhra Pradesh, Chhattisgarh, Haryana, Himachal Pradesh, Karnataka, Madhya Pradesh, Maharashtra, Odisha, Tamil Nadu, Uttarakhand, Andaman and Nicobar Islands, Chandigarh, Delhi, and Jammu and Kashmir. Various tech-fueled initiatives such as Carbon Credits are helping to sink and offset India's sizable carbon emissions, while also providing additional income. Indore is the first city in India to earn an income of ₹9 crore by earning about 70,000 carbon credits during the year 2020-21. Indore Smart City Development Limited (ISCDL) has engaged with over 30 cities on Aggregator Business Model for the Carbon Credit Monetisation. With more awareness, capacity building and scaling up processes, carbon credits could help India reach net-zero by 2070.
Additionally, the Ministry of Environment, Forest and Climate Change (MoEFCC) notified the Regulation of Persistent Organic Pollutants Rules on 5th March 2018 under the provision of the Environment (Protection) Act, 1986. The regulation inter alia prohibited the manufacture, trade, use, import, and export of seven chemicals which were listed as POPs (Persistent Organic Pollutants) under the Stockholm Convention. Ahmedabad, Chennai, Gangtok, Kolkata, Mumbai, Rajkot, Siliguri, and Udaipur are some of the cities which have developed Climate Action Plans in meeting the objectives of the Paris Agreement.
Under the Ministry of Housing and Urban Affairs (MoHUA) various programmes such as Swachh Bharat, AMRUT 2.0, ClimateSmart Cities Assessment Framework, The World is looking to you COP26, etc. are at the core of the SDGs. However, degrading air quality index, rampant environmental degradation, loss of biodiversity, urbanisation in the Himalayas, loss of resilience in ecosystems, lack of waste management, depletion of resources (land, air, water), and growing water has challenged the progress towards sustainable development.
Climate change and sustainable development are inseparable. Global warming is producing negative impacts on natural and human systems and is impeding progress towards the SDGs. The ambitious climate goals and climate action plans produce new opportunities for the economy, environment, and society. But, these are contingent upon national governments adopting climate- resilient pathways into urban planning and practice.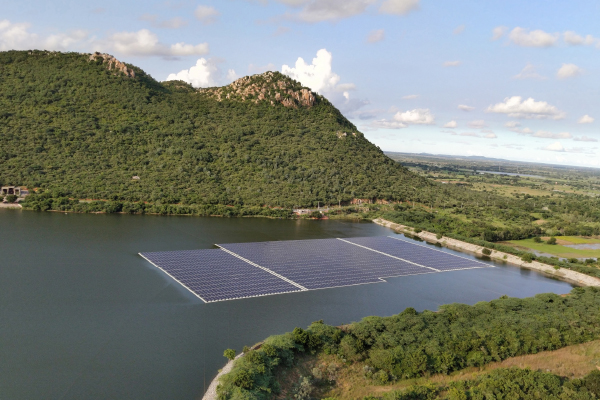 NIUA is committed to aligning its programmes towards achieving the Sustainable Development Goals (SDGs). With a vision to build climate actions in cities, the Climate Centre for Cities (C-Cube) at NIUA focuses on synergising climate actions by:
a) Incorporating climate variability and climate change considerations in urban development
b) mainstreaming climate actions through improved collaborations with stakeholders, improved planning, infrastructure resilience, and monitoring impacts.
The Centre takes a four-step approach to enabling climate action:
i) Developing policy recommendations.
ii) Developing planning toolkits for cities to incorporate climate change considerations in land use planning, master planning, housing, and urban development.
iii) Implementing demonstrative local climate actions.
iv) Supporting the national programme related to climate change.
The Centre supported MoHUA in implementing the ClimateSmart Cities Assessment Framework (CSCAF) 2.0. CSCAF is a first-of-its-kind national assessment framework on climate-relevant parameters for Indian cities. 126 cities participated in 2020-21 to assess their development in 28 indicators across five thematic areas – Urban Planning, Green Cover and Biodiversity, Energy and Green Buildings, Mobility and Air Quality, Water Management, and Waste Management. The indicators are progressive in nature to encourage cities to develop a roadmap for adopting appropriate actions for building climate resilience.
The Centre also aims to build national and global partnerships for strengthening advocacy, knowledge management, capacity building, innovation, and financing to address the increasing climate risks in Indian cities. C-Cube is the secretariat for the Climate Alliance. It has over 65 partners which include multi-lateral and bi-lateral organisations, CSOs, academic and training institutions, and philanthropic organisations. At a city level, C-Cube has developed a Climate Practitioners India Network (CPIN) wherein over 550 members are, at present, co-creating an operational plan to support 126 cities.
Also Read | World Environment Day 2022
Early this year, C-Cube organised a climate change awareness campaign which reached more than 2.5 lakh people from over 110 cities. The campaign included Municipal Commissioners and key heads of urban local bodies (ULBs) and Smart City CEOs to create awareness across educational institutions including schools and colleges within their cities to align young minds to the challenges and solutions associated with Urban Climate Change and Sustainability. Moreover, developing the capacity of urban practitioners and public officials on ways to use the climate lens during project conceptualisation and planning will help cities in reducing future risks and enhancing urban resilience. To enable that, C-Cube has initiated various training programs to build conceptual, technical, administrative and innovation capacities across the ULBs. So far, 52 mentoring sessions on Urban Planning, Green Cover and Biodiversity; Energy and Green Buildings; Mobility and Air Quality; Water Management, and Waste Management have been conducted to train more than 1200 officials around the ClimateSmart Cities Assessment Framework (CSCAF).
A 10-part learning series in association with WRI-India was conducted in 2021 which saw the participation of over 200 practitioners and young professionals. The learning series focused on Urban Resilience, Air Pollution, Nature-based Solutions, Green Buildings for Resilient Cities, Innovation in Climate Change, Urban Freshwater Ecosystems, Inclusive Climate Action Planning, EV Charging Infrastructure Deployment in Cities, Local Climate Action Plan, Prioritisation and Market Outlook, and Active Mobility Systems – Pandemic and Beyond.
As many as 25 dedicated technical training aligned to the CSCAF have been developed and delivered in association with Climate Alliance partners, wherein over 350 officials from across 40+ cities have been trained in the pilot phase. Presently, these training sessions are being scaled up through eight regional and academic institutions wherein 129 training sessions are expected to be delivered in the next few months.
The Climate Data Observatory (C-DoT) is another platform designed by C-Cube that aims to address the challenges in localising SDGs by empowering city officials, policymakers, climate champions, practitioners, and other stakeholders with climate-relevant data, visualisations, and resources they need to gather insights on the city level and national progress on climate actions. The C-DoT brings together dozens of datasets for the first time to let users analyse, synthesize, and compare national climate pledges under the COP26, discover how climate actions of cities can help achieve sustainable development goals (SDGs), understand vulnerabilities and readiness for climate impacts, and use models to map new pathways to a lower-carbon future. The objective is to showcase the progress of Indian cities in building climate resilience and help in developing a roadmap through data-informed decision making. This is enabled by – telling the story behind figures through observatory maps, demonstrating data as a reference tool for standards and guidelines, developing a toolbox of solutions, and fostering collaboration for innovation.