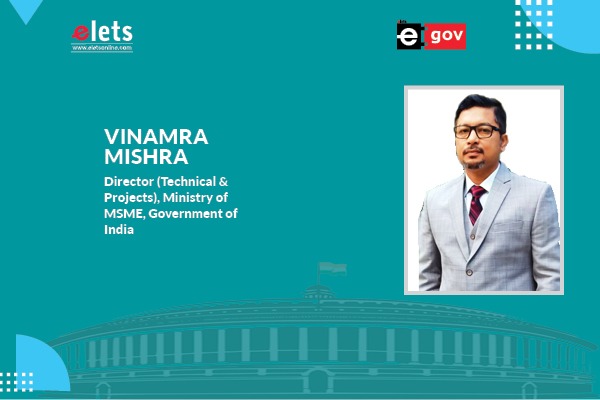 The Micro, Small & Medium Enterprise (MSME) sector in India has an enormous economic, social and environmental impact and the potential to create new economic opportunities to strengthen its long-term competitiveness. Innovation in business processes, product development and technology up- gradation can further play a vital role in the overall development, sustainability and well-being of the organisation, writes Vinamra Mishra, Director (Technical & Projects), Ministry of MSME, Government of India.
It is a known fact that MSMEs, in India, with innovative ideas often work in isolation. Hence, to become an innovation-driven economy and to enable the MSME sector of the
country with a competitive edge, the Union Ministry of MSME has restructured the whole strategy to bring this sector at parity with large organisations. The Ministry created the MSME Innovative Scheme which is a combination of Incubation, Design intervention and IPR protection initiatives to enhance MSME competitiveness and transform them as National and International Champions. The scheme acts as a hub for innovation activities facilitating and guiding development of ideas into viable business propositions that can benefit society directly and can be marketed successfully.
Incubation
The primary objective of the Incubation scheme is to promote and support untapped creativity. Also, it promotes the adoption of latest technologies in MSMEs that seek the validation of their ideas at the proof-of-concept level.
Institutions such as Technical Colleges, Universities, other Professional Colleges/ Institutes, R&D Institutes, MSME-DIs/ Technology Centres or any Institute/ Organisation of Central/State government may apply for registration as a Host Institute (HI) and act as a Business Incubator (BI) for nurturing of ideas from the initial stage of conceptualisation to the commercialisation stage through HIs/ BIs. MSMEs, individuals, students who want to develop their innovative ideas may apply through registered HIs.
Financial Assistance of up to Rs 15 lakhs per idea to HI is available under the scheme for developing and nurturing the ideas. Also, financial assistance of up-to Rs 1 crore is available for procurement and installation of relevant plants and machines including hardware and software etc. in BI for R&D activities and common facilities for incubatees of BI.
Design
The objective of this component is to bring the Indian manufacturing sector and design fraternity onto a common platform. It aims to provide expert advice and cost-effective solutions on real time design problems for new product development, continuous improvement, and value addition in existing/new products. The design scheme will help MSMEs to avail advice on all aspects of design. It helps MSMEs realise and achieve their design-related objectives. This specialist advice will be provided by experienced designers for new product development as well as enhancing existing product portfolio.
For the design projects approved for any MSME, 75 per cent (Micro) and 60 per cent (Small & Medium) of the total project cost will be contributed by the Centre up to a maximum of Rs 40 lakh. For the student design projects approved for any MSME, 75 per cent of the total project cost will be contributed by the Centre up to a maximum of Rs 2.5 lakh.
The implementing agencies for the scheme, presently are Indian Institute of Science (IISc), Bengaluru, IITs (Kanpur, Indore, BHU, Roorkee, Ropar, Bhubaneshwar), NITs (Tiruchirappalli, Warangal, Silchar, Arunachal Pradesh, Jaipur, Allahabad, Jammu & Kashmir, Bhopal, Nagpur, Calicut, Kurukshetra, Surathkal, Raipur). More implementing agencies such as Indian Institute of Technology (IIT), National Institute of Technology (NIT), Reputed Industrial Design Institutes, Tool Rooms, etc., may also be included.
Intellectual Property Rights (IPR)
This component offers legal and intellectual property filing support including patents, trademarks, copyrights, designs, geographical indications (GI), etc. The programme also provides IP advisory, consultation, patentability searches, technology gap analyses, and IP commercialisation through the establishment of Intellectual Property Facilitation Centres (IPFCs) across the country.
The objective of the scheme is to improve IP culture in India with the following interventions:
➤ To enhance the awareness of Intellectual Property Rights (IPRs) among the MSMEs and to encourage creative intellectual endeavour in the Indian economy.
➤ To take suitable measures for the protection of ideas, technological innovation and knowledge-driven business strategies developed by the MSMEs for their commercialisation and effective utilisation of IPR tools.
MSME-Development Institutes, Technology Centres, and any other associated Field Organisations directly or indirectly under the administrative control of Ministry of MSME and government bodies/departments/ autonomous organisations being run on autonomous or commercial lines, MSME Industry Associations, Societies/ Cooperatives/Firms/Trust and other profit and non-profit bodies, NGOs representing or working for MSMEs, Research/Technical & Educational
Institutions, Universities/colleges with a track record of assisting MSMEs, etc. are eligible for registration as Intellectual Property Facilitation Centres.
A grant of up to Rs 1 crore to an IPFC in milestone-based (three or more) instalments is available under the IPR scheme.
The maximum financial assistance to eligible applicants under the IPR component is as follows:
➤ Foreign Patent: Rs 5.00 lakh
➤ Domestic Patent: Rs 1.00 lakh
➤ GI Registration: Rs 2.00 lakh
➤ Design Registration: Rs 0.15 lakh
➤ Trademark: Rs 0.10 lakh
Interoperability arrangements
The MSME Innovative scheme is designed by integrating three components viz., Incubation, Design & IPR schemes wherein each component can have interoperability with other components during the phases of intervention to enhance capacities/capabilities of champion MSMEs. MSME can have the opportunity to suitably interlink benefits among three components during the period/stage of implementation. One scheme may enter from one completed gate to the gate of another scheme as per the requirement of the MSME, while ensuring that the original scheme is enrolled for and taken to the natural conclusion. At the time of applying for the next scheme, the applicant should adhere to the respective scheme guidelines for that particular scheme.
Seed capital support fund for supporting MSMEs
To encourage MSME/others to stimulate the commercialization of their Ideas/ Designs/Patents and facilitate preparation for pre-investment series funding, financial assistance of up to Rs 1 crore as equity for the Seed Capital Support is available under the MSME Innovative Scheme.