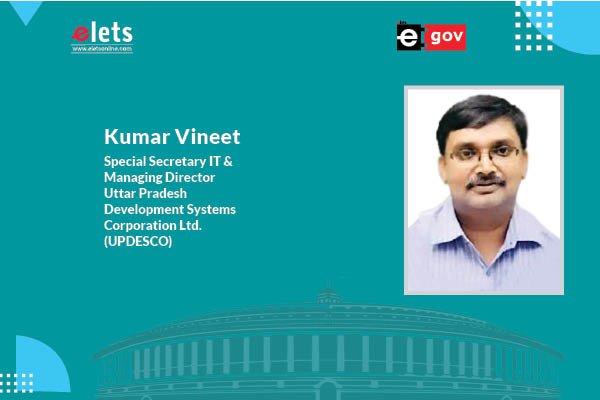 Modern technology has advanced at a breakneck pace, from the earliest usage of simple tools to high-tech machines. With this, the technology also plays a crucial role in driving the Government of India's vision of AatmaNirbhar Bharat, writes Kumar Vineet, Special Secretary IT & Managing Director, Uttar Pradesh Development Systems Corporation Ltd. (UPDESCO).
India has, time and again, proven its ability to overcome obstacles and seize possibilities. To make India a self-reliant nation and fulfill the dream of achieving a $5 trillion economy, Prime Minister Narendra Modi gave a clarion call highlighting the Government's vision of building an AatmaNirbhar Bharat. The vision has been greatly admired and has inspired many.
The current era, however, is the era of the digital revolution. If India wants to achieve true self-reliance in all fields, it must begin with the fabrication of digitalisation.
Also Read: Kochi Metro Exemplifying Sustainable Mobility
Owing to the COVID-induced lockdowns, daily life has been disturbed and social interaction has been restricted. As a result, millions of people are meeting and connecting online. Families and friends are increasingly keeping up with each other and socialising digitally. Educators, health clubs, and other organisations are offering programs online. Even businesses are using video conferencing platforms for their daily communication.
It has been a life-changing moment for people around the world, which we have gradually adjusted to and are attempting to fully adopt the new normal. AatmaNirbhar Bharat aims for inclusive growth in the areas of electronic services, job opportunities, products, and manufacturing. It is the vision of our Prime Minister to transform India into a digitally empowered society and knowledge economy.
The primary motto of Digital India's mission is "Power to Empower". Aligning with the Digital India vision of the Government of India, the Government of Uttar Pradesh has recorded quantum leaps in governance and service delivery with the introduction of a single-window platform for all the citizen-centric government services under the e-District. Over 1,50,000 CSCs are delivering Government-to-Consumer (G2C)/ Business-to-Customer (B2C) services to citizens. Ushering digital transparency in the procurement process, the path- breaking initiative of e-tendering has been implemented across all the government departments.
The three core components of the Digital India Mission include; the creation of the digital infrastructure, digital literacy, and digitising services. The core objectives of the Digital India Mission with regard to the AatmaNirbhar Bharat vision are as follows:
1. Digital India aims to combine a large
a number of ideas and thoughts into a single and comprehensive vision to make them a part of a larger goal that is to make India self-reliant.
2. To provide high-speed internet in all the Gram Panchayats.
3. To provide easy access to the common service centres in all the localities.
4. To reconstruct all the existing schemes to implement them in a synchronised manner.
Uttar Pradesh, the State with the largest number of engineering graduates empowered in the field of IT, Electronics & Communication has approximately 36 universities, 3104 colleges, 1500 ITIs, 197 B-Schools and 320 engineering colleges and is home to many premier institutions such as IIT, IIM, IIIT, and BHU. The current policy initiative reflects the determination of the State government in making Uttar Pradesh an Electronics & IT Manufacturing Hub. Some of the noteworthy initiatives from the UP government are:
E-tendering: The process of procurement has been made entirely transparent through the implementation of e-tendering across all departments. This reform ushers in fairness, accountability and healthy competition for government and private players.
Citizen Service Delivery: Provision of e-services is being made through the internet and Common Service Delivery outlets such as Jan Seva Kendra, Lokvani, e-Suvidha, etc.
E-office: E-Office is being implemented across the state departments for improving the operational efficiency, reducing the turnaround time enhancing transparency and accountability of the state departments.
M-governance: Government shall promote m-governance across government services through building mobile-based applications and citizen services. Various mobile applications such as m-Sehat, m-Swasthya, UPOne,
UP-BUS, etc. have been developed and implemented by the state departments.
Digital Payments: The Government of India promotes digital payment options, which is an integral part of the Government's strategy to transform India into a cashless economy. Uttar Pradesh plans to undertake tremendous reforms, including IT readiness, payment infrastructure and capacity building to achieve the state's digital payment target of Rs 312 crore transactions.
Following are the government services that are introduced under the Digital India Initiative:
1. Policy – Cyber Security Policy (in the making), UP IT & Start-UP Policy, Condemnation Guidelines, UP Electronics Manufacturing Policy, UP Data Centre Policy.
2. Technological Interventions – IoT, Chatbot, Artificial Intelligence (AI)/ Machine Learning (ML).
3. CM Helpline – Citizens grievances at their doorstep with a "Single Toll-free Contact Number 1076"
4. Digilocker is another initiative launched under the Digital India Programme aiming to eliminate the usage of physical documents and enable sharing of e-documents.
5. UMANG is a mobile application that is home to numerous government services for all citizens.
6. Common Service Center 3.0 – Two DSPs in each district (1.5 lakh CSC centres are established) and a special focus under Mission Shakti for Women VLE.
7. E-District State Portal – e-District UP intends to provide government services through Citizen Service Centers (CSC) to minimise effort and time to provide prompt effective services to the public 260+ G2C Services of departments available on the e-District Portal.
8. Health Department Initiatives
Covid Bed Availability, Mera COVID Kendra App, COVID sample collection centres
COVID Lab Report/Result, Telemedicine (e-Sanjivani and Arogya Setu), COVID Vaccination, CSC Centres for registration of vaccination in the rural areas registration.
Uttar Pradesh was the first state to administer 17 crore COVID vaccination shots.
9. Technology Playing Big Role in Streamlining Mining Activity
The Geology and Mining Department has decided to use technology in a big way to keep a tab on illegal mining in various districts of the state. Therefore, an AI-based Integrated Mining Surveillance System (IMSS) has been established by the Directorate of Geology and Mining to streamline the mining activity in the state. It is being integrated with all mines in the state from where all mines will be monitored using PTZ/CCTV cameras and drones by AI-based software. We are ensuring that all the mines have installed PTZ cameras equipped with night vision capabilities and weighbridges linked with the Unified Revenue Command Centre.
Also Read: India's Internet Scene: Today & Tomorrow
During the pandemic, technology has proven to be a game-changer. Despite not being able to go outdoors, people all across the world have made great use of the lockdown period. They've pushed the boundaries of creativity and we want India to follow suit. In general, I am confident that if we take proactive steps to learn how to be self-sufficient through technology, we will be able to meet our PM's vision and serve as a role model for the rest of the world.