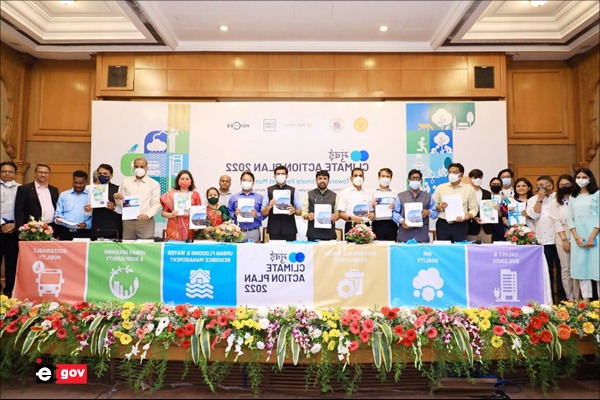 Taking a leap towards making Mumbai carbon-neutral, the Brihanmumbai Municipal Corporation (BMC) unveiled its first-ever Climate Action Plan on Sunday, March 13. The civic body is eyeing to achieve net-zero carbon emission by 2050, much ahead of India's commitment to becoming carbon neutral by 2070. BMC is looking to constitute a Climate Cell for the successful implementation of the ambitious Mumbai Climate Action Plan (MCAP).
For the successful implementation of the MCAP, the civic body is working to strengthen its existing environment department, update greenhouse gas emissions inventory, climate & air pollution risks, and vulnerability assessment. The entire process will be repeatedly done every two years followed by a review of the plan and revisions required.
Sharing his views on MCAP, Chief Minister of Maharashtra Uddhav Thackeray said that Maharashtra is committed to leading India's path to fight against the impending climate crisis through policy reforms and the establishment of the culture of climate action. The BMC's climate action plan is designed to fulfil the Paris Agreement's aim of reducing global warming to 1.5 degrees Celsius. With this, Mumbai will begin its journey to be a climate-resilient metropolis.
Meanwhile, the Environment Minister of Maharashtra Aditya Thackeray highlighted the importance of climate resilience. He cited examples like Cyclone Tauktae, urban floods, and untimely rains and emphasised the need for implementing localised mitigation and resilience techniques. He said, "Our goal is to urge people to take action on climate change at the local level. In a city like Mumbai, achieving climate resilience requires striking the ideal balance between development aspirations and environmental preservation."
Hereafter agencies & @mybmc will work on;
1) Low-carbon electricity & climate-resilient infrastructure
2) Zero-emission public transport
3) Decentralised waste management
4) Increase green cover
5) Steps for cleaner air
6) Urban flooding & water management pic.twitter.com/riWdaVYTHC

— Aaditya Thackeray (@AUThackeray) March 13, 2022
As per MCAP's interim and long-term objectives are concerned, it aims for a 30 per cent cut in emissions by 2030 followed by a 44 per cent reduction by 2040, and a net-zero reduction by 2050 compared to base year emissions (2019). The base year emissions for 2019 were calculated to be 23.42 million tonnes of carbon dioxide or 1.8 tonnes CO2 per person. It is to be noted that, under MCAP, a future emission analysis has been conducted that predicted emissions to reach 64.8 million tonnes of CO2 per year by 2050 under the business as usual scenario (without mitigation activities). This implies that the growth of emissions, without mitigation measures, is likely to be 2.7 times between 2019 and 2050. However, under the existing planned scenario, the emissions are predicted to reach 51.3 million tonnes CO2 per year by 2050 marking a 119.4 per cent increase since 2019.
Also Read: BMC nods for Rs 569 cr Mithi rejuvenation project
The newly launched climate action plan targets six sectors in order to provide sector-specific mitigation and adaptation strategies:
1 Low-carbon electricity & climate-resilient infrastructure
2. Zero-emission public transport
3. Decentralised waste management
4. Increase green cover
5. Steps for cleaner air
6. Urban flooding & water management