1. Introduction

As Digital India driving the digitization of various processes in the government, lots of digital data is getting generated. However, lot of data is locked in silos with various government departments. Over the period, the stored data also become obsolete and redundant without any proper updation and sharing mechanism. Government of India approved the National Data Sharing and Accessibility Policy (NDSAP) in 2012 to facilitate access to Government of India owned shareable data and information in both human readable and machine-readable forms.

The preamble of the NDSAP cites Principle 10 of the the United Nations Declaration on Environment and Development (Rio de janeiro, June 1992). "each individual shall have appropriate access to information concerning the environment that is held by public authorities ……. and the opportunity to participate in the decision-making process. States shall facilitate and encourage public awareness and participation by making information widely available."
And Section 4(2) of the Right to Information Act, 2005 says "It shall be a constant endeavor of every public authority to take steps in accordance with the requirements of clause (b) of subsection (1) to provide as much information suo motu to the public at regular intervals through various means of communication, including internet, so that the public have minimum resort to the use of this Act to obtain information", as the foundational structures of this policy.
The purpose of the NDSAP was to ensure and facilitate the access of all non-sensitive data to the civil society at large, generated either in digital or analog forms but utilizing public funds by various Ministries / Departments /Subordinate offices / organizations / agencies of Government of India. The NDSAP also aimed to leverage this data for national planning and development.
2. Data classification

The policy defined different types of data sets to include both geospatial and spatial data generated by different ministries. Another classification is by type of access:
1. Open Access
2. Registered Access
3. Restricted Access
3. Technology for sharing and access

A state-of-the-art data warehouse and data archive with online analytical processing (OLAP) capabilities is required, where people can find it easily and download. The main features of the system would include:
•  User friendly interface
•  Dynamic / pull down menus
•  Search based Report
•  Secured web access
•  Bulletin board
•  Complete Metadata
•  Parametric and Dynamic report in exportable format
•  Configurable visualisation
•  APIs for data exchange
•  Download facility for heavy data size
4. Implementation

The Department of Science & Technology, Government of India was responsible for formulation of NDSAP Policy, while MeitY is entrusted to implement the policy in close collaboration with all Central Ministries and the Department of Information Technology. The platform, https://data.gov.in is created by National Informatics Centre (NIC) under Ministry of Electronics and IT, Government of India. https://data.gov.in is having metadata and data itself accessed from the portals of the departments/ministries.
5. Open Data Platform – https://data.gov.in

A platform for supporting the Open Data Initiative of the Government of India provides single-point access to datasets, documents, services, tools, and applications published by ministries, departments and organisations of the Government of India. The data is available in non-proprietary format.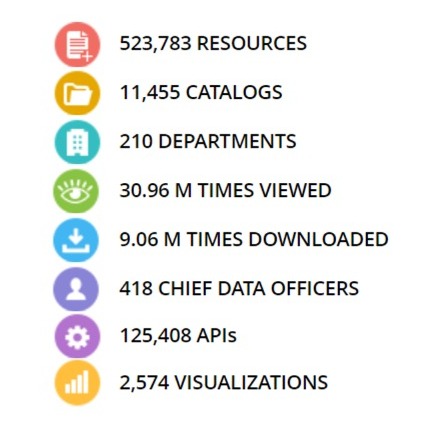 6. API Setu

An 'Open API' policy was notified in 2015 with an objective to develop an open and interoperable platform to enable seamless service delivery across government, thereby providing access to data & services and promoting citizen participation for the benefit of the community. API Setu also known as the Open API Platform project was launched in March, 2020 to address the following issues
• Lack of API availability
• Proprietary standards and protocols
• Absence of common data standards
• Lack of overarching governance structure across departments, common policy, control, accounting and monitoring for APIs
More than 300 major Central and State Government Departments are already available on the API Setu platform and provides access to about 1226 APIs for various data points such as Driving License, Vehicle Registration, PAN, CBSE, e-District in MeitY's DigiLocker. The end goal is to incorporate all APIs under API Setu and make them available for consumption by the Government departments, academia, and industry. The APIs ecosystem will act as fuel in driving the transformational journey under Digital India. The integration of systems through API Setu will lay the foundation of integration of different e-Governance applications. The platform will ensure interoperability of different systems to deliver improved and shared values.
7. Recommended updates to the existing policy based on best practices

The data governance is vital for emerging digital economy. The data economy will be the foundation of the future growth of the IT sector and other sectors and following are the recommendations.
•  The focus of NDSAP should be changed to mandatory sharing of public data by all the departments through APISetu. The system has provision for all the ministries to self-register the data sets. In case any department wants to monetize the data, comprehensive guidelines for pricing of data can be defined for different type of users/organisations. The guidelines should support fair and transparent pricing also. This will help in collation of various datasets and better services and decision making with in government.
•  Further for individual users, Incorporation of the "only-once" principle for data sharing, the government may only ask citizens once for the same information. This means that if the government already knows a citizen's registered address, their education level, their tax identification number, that information should be sought from its issuers. For this to work, agencies started acting as a single source of truth and as custodians of data (individual citizens being the proprietary owners of their data) in government based on their mission and mandate.
•  Improving government public services and reducing bureaucratic load when sharing and re-using data, following the resolution on open data, which allows government databases to be open to the public to encourage technological innovation in the public sector.
•  Preparation of necessary guidelines and regulations for consent mechanism, data privacy, storage and sharing as is coming in Personal Data Protection bill which is advanced stage of consideration in Parliament.
•  Incorporation of AI and other emerging technologies for processing and improvising the services.
•  Legitimate and impartial outlet to lodge formal complaints against any misuse of data.
References:
1. Digital India, vision and ecosystem. https://www.digitalindia.gov.in/
2. National Data Sharing and Accessibility Policy (NDSAP). https://dst.gov.in/national-data-sharing-and-accessibility-policy-0
3. Guidelines for acquiring and producing Geospatial Data and Geospatial Data Services including Maps. chrome-extension://efaidnbmnnnibpcajpcglclefindmkaj/viewer.html?pdfurl=https%3A%2F%2Fdst.gov.in%2Fsites%2Fdefault%2Ffiles%2FFinal%2520Approved%2520Guidelines%2520on%2520Geospatial%2520Data.pdf&clen=437090&chunk=true
4. Data Sharing Platform. https://data.gov.in/
5. Driving Digital Transformation in India. https://apisetu.gov.in/
6. The Social Impact of Open Data. 3rd International Open Data Conference (IODC) At: Ottawa, Canada. May 2015
7. Anneke Zuiderwijk & Marijn Janssen. Open Data Policies, Their Implementation and Impact: A Framework for Comparison. DOI:10.1016/j.giq.2013.04.003
Follow and connect with us on Facebook, Twitter, LinkedIn, Elets video