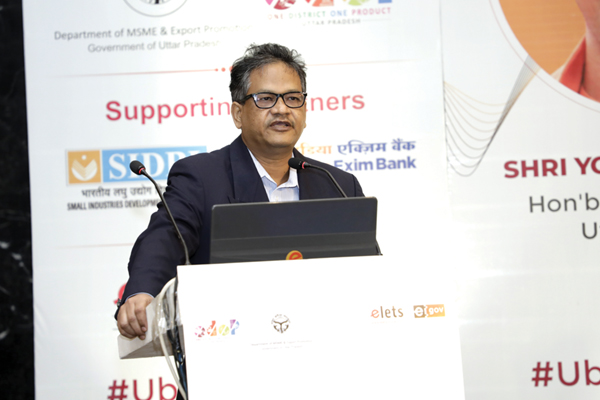 In an effort to support businesses, especially MSMEs and exporters, the Government of Uttar Pradesh in partnership with Indian Exim Bank and SIDBI implemented the Ubharte Sitaare scheme. Addressing the role of SIDBI in augmenting the business ecosystem in the state and implementing the Ubharte Sitaare scheme, Srikant Das, DGM, SIDBI addressed the Ubharte Sitaare of Uttar Pradesh Conference-cum-Expo.
Das said, "If we see pre-COVID and post-COVID, we will be able to understand how alarming the situation was in terms of employment in the country. Hundreds and thousands of migrant workers working in developed states and metro cities faced adversities as the industries, manufacturing units, transport were shut down owing to the nationwide lockdown. This caused a massive exodus of these workers to their home states."

However, after reaching their home towns, these workers realised that the situation there was worse so they returned to the big cities with hopes. Throughout this mass movement, many lives were lost. The situation was complicated, alarming and posed an eyeopener for the government authorities, he added.
Also Read: ODOP Empowering MSMEs of Uttar Pradesh
Highlighting how the COVID crisis pointed out the need for holistic development which is centred majorly in developed states and big cities, Das said, "The situation brought out the flaws in the system and the huge gap in opportunities that are centred in and around metros. This made the government realise the need to develop adequate infrastructure and employment opportunities in every state in the country. So, the number of people migrating to developed states can be reduced significantly."
It is a known fact that after the agriculture sector, MSME is the second largest industry to provide job opportunities in India. And, MSMEs were the worst impacted by the COVID situation.
"If we look at the growth in the economy, we see it is recovering and heading on a positive graph. But, we call it "jobless growth". This is because the economy is growing but no new jobs are being created," Das pointed out.
The government has shifted its focus towards this issue and is taking measures to create more job opportunities. However, the most important factor in raising the number of people getting employed is 'skill development'.
Das mentioned, "There is a huge demand in many sectors but there is a lack of appropriate skills in the population. To address this SIDBI has started organising numerous skill training programmes for different sectors. May programmes are being organised through our grants fund to ensure that people acquire the skills required in the market today."
Also Read: E-commerce Skyrocketing MSME Sales
The microfinance sector in India gives huge employment. In this sector, opportunities are created for poor women in rural areas to empower them and enable them to be entrepreneurs. SIDBI has been supporting such microfinance institutions, self-help groups (SHGs), NGOs on a large scale so that adequate entrepreneurship can be created at village-level, block-level, and district-level so that people work in their home districts to earn a living instead of migrating to other states, Das highlighted.
To Watch Video Click 👇🏻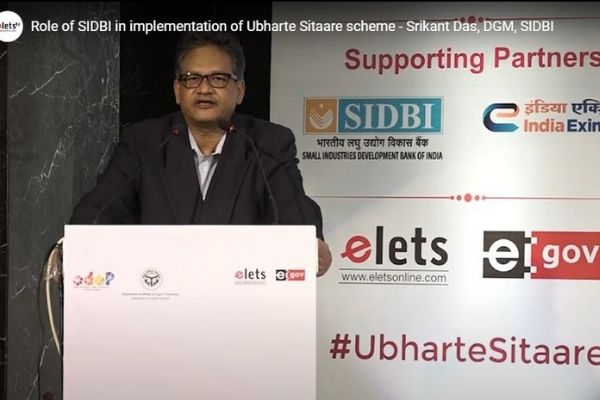 Continuing on initiatives SIDBI is taking to empower people with knowledge and skills, Das said, "We are regularly organising entrepreneurship programmes across the country for women, backward classes, students, and more. We try to reach out to young children and imbibe the idea of being an entrepreneur in them. We share with these youngsters how the government is handholding budding entrepreneurs and uplifting them to do business successfully through various schemes." SIDBI is supporting startups in a big way.
Marketing is another challenge that startups and MSMEs face. "To address this issue we are helping them participate in events, expos, and to develop the quality of tier products." He said, SIDBI extended a helping hand to artisans or craftsmen and provided them stall space for free of cost to showcase their products. Also, SIDBI bore the cost for refreshments of that person who was present at the stall.