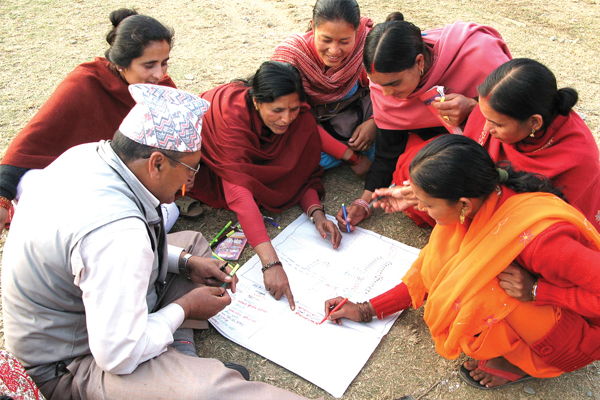 India is one of the world's largest democracies. The country still has a low public participation rate in the process of urban planning. A city can become inclusive and sustainable when its development not only caters local peoples' aspirations and needs, but they participate in decision making. How can public participation be enhanced in the development process of India? This article aims to analyse the cause of low public participation and bring out probable solutions to realise participatory governance in India, writes Adarsh Som of Elets News Network (ENN).
A'Participatory Governance' is a model of governance that empowers citizens to have a voice directly in public policymaking, town planning, implementation of various schemes, etc. The model is being appreciated and gaining acceptance worldwide to bridge the democracy deficits, improve public accountability and bring in transparency in governance¹.
Civic engagement at the local level improves the quality of life of citizens, especially the poor and vulnerable. It gives a platform to citizens to highlight their concerns, needs and demands, it creates opportunities for the people to bring to surface various local issues needed to be addressed, it presents diverse viewpoints from the grassroots levels, raises awareness among people, and builds a space to make partnerships between policymakers, service providers, and local people².

The 74th Constitutional Amendment Act clearly states the mandate of participatory local governance. Despite this, in many towns and cities, it is seen that people are not directly involved in planning and policy-making processes. Women are kept at bay from the exercise, and people from backward and tribal populations are not even considered in the process.
While addressing a conference Urban Dialogues – Amazing Agra in 2018, Dr Harshit S Lakra from the Department of Architecture and Planning, IIT Roorkee, cited an example from Ranchi city explaining the lack of citizens' inclusion. She said that infrastructure development was done on the tribal land for the tribal people, but after the completion, the people expressed dissatisfaction as the infrastructure lacked their cultural and traditional aspects. Further, she mentioned that women empowerment is only translated as making cities secure for women. Whereas, security should not be the only concern. Participation of women in such decision-making exercises and giving them the opportunity to learn can lay out women empowerment in a true sense³.
Also Read: Sustainable Urban Transportation: A Key Enabler for Achieving SDGs
However, the problem is not only limited to the lack of inclusion, it is also related to lack of awareness and education among people. Most population, on average, belongs either to the middle and lower-income class in cities. Those sects of the society that struggle every day to earn their living to run their livelihoods. Many of these, especially those from lower-income levels, are not well educated and remain unaware. This is usually due to inept efforts of raising awareness among the population about policies and planning. Also, the authorities need to devise out ways to make things easier for people to understand, especially when it comes to planning documents, policy documents or any sought of budgeting-related papers.
Probable Solutions
Considering the present-day inclusion of people in governance it can be simply deduced to two major issues – firstly, lack of reach of the government and secondly, low literacy rates and awareness among people. Today, India is experiencing a massive digital transformation with most sectors including the government, education, civic services, administration, etc. operating online. In such a scenario, there are several ways for the government, apart from the traditional methods, to spread awareness among people about their participatory role in governance.
Social Media:
Similar to the Centre's MyGov social media handle, the state governments and the local governments should have a strong presence on social media. Features like "social media group" can be used by urban local bodies (ULBs) to bring the representatives of RWAs on a common platform and share information relevant to the public. Through such bodies, the information can be propagated further to the citizens residing in their respective areas. The mode can also prove to be beneficial for spreading awareness among people on upcoming projects (relevant to the area), policies, etc. As it is a two-way mode, the RWA representatives can also raise serious concerns and grievances on such groups for prompt actions by the ULBs.
Multi-media:
The ULBs can leverage TV channels and radio stations to make announcements for the people regarding upcoming developmental works, meetings to be held with citizens/representatives for policy formation, etc. Also, specific videos can be prepared to be broadcasted on such media to make people aware of the government decisions, agenda of the policy discussions, developmental projects, and more.
Notices:
Notices can be sent to the RWAs and other such bodies to sensitise citizens and hold gatherings for the participatory procedure.
Traditional means:
For small towns and rural areas where the internet penetration is low or the internet consumers are limited, the ULBs or Panchayats can hold a "Janata Darbar" or a gathering of people on a specific day. People can be made aware of the upcoming project, its pros and cons, its probable impact on their daily lives, etc. And, then discussions should take place to know what people want. Such a model, if implemented on a regular basis monthly or weekly, can also be leveraged as an effective medium for redressing people's grievances.
Also Read: Sustainable Transport for Better Tomorrow: Visakhapatnam in Focus
It is imperative for India to improve the level of participation in governance if it aims to work towards establishing "good governance", a concept much talked about but rarely implemented in its true sense. The United Nations Economic and Social Commission for Asia and the Pacific elaborates good governance as "Good governance has eight major characteristics. It is participatory, consensus-oriented, accountable, transparent, responsive, effective and efficient, equitable and inclusive and follows the rule of law⁴."
In conclusion, it can be said that effective and efficient governance that results not only in developing the region under it but also in developing the people and their living standards can be achieved when the elected and the electors join hands to decide for a better future.