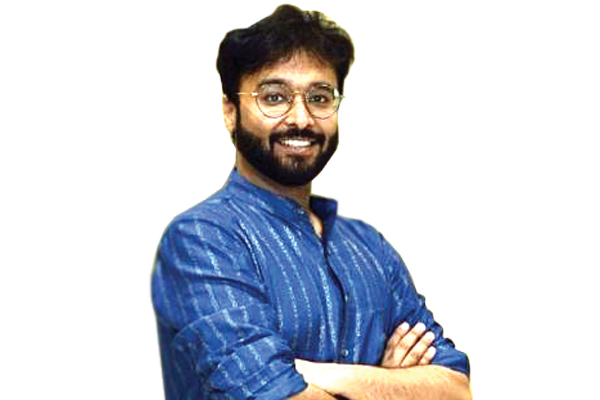 As per the 2011 Census, 0-6 year old population forms 10.93% of the urban population in India. However, this large constituency is often ignored due to the fragmented nature of city planning. Cities are now realising this planning gap and are incorporating child-friendly design aspects into city planning. Focusing on the needs of Infants, Toddlers, and Caregivers (ITCs) in neighbourhood planning can fulfil the goals of sustainability, inclusion, health and safety. This is aligned with SDG 11.3—Enhance inclusive and sustainable urbanisation and capacity for participatory, integrated, and sustainable human settlement planning and management in all countries by 2030 write Mayank Saravagi, Capacity Building, Data Analytics and Management Unit, NIUA and Naman Sharma, Research Analyst, Data Analytics and Management Unit, NIUA.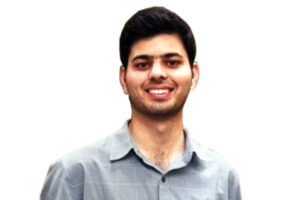 A child (0-6 years) grows up along the spatial scales of the home, the streets, the neighbourhood within a ward and finally to the city. Ideally, they spend a significant amount of their time outdoors in parks, open spaces, and streets in the neighbourhood. As per Urban and Regional Development Plans Formulation and Implementation (URDPFI) guidelines, the total area of a neighbourhood is 60-80 hectares with a population of 15,000 people that contains all the community facilities and amenities within easy access for a young child. The walkability of young children and their caregivers is limited to the services that are within a kilometre from their home.
Focusing on the needs of ITCs in the neighbourhood can help to track child development in an urban environment, which can also serve as an urban planning tool. Since neighbourhoods are the elementary units of urban areas, right interventions done at the neighbourhoods level may yield results that create a resounding positive impact across cities. It can also be advantageous for the municipalities and ward councillors to apply these indicators for assessing their wardsthe minutest organs of governance in the country and advocate as well as support for the needs of young children.
However, in the current scenario, there is a lack of granular data at the neighbourhood level which makes it difficult to plan for data-driven governance at the grassroots level. This article is an attempt to create neighbourhood-level indicators for collecting data that would be useful in planning an ITC friendly neighbourhood. It will help city managers and ward councillors with the language of child development and enable officials to make evidencebased decisions on their own as well as these indicators can be used to measure the performance of the ward. The following framework conceptualises the focus on neighbourhood level ITC needs and connects its relevance for neighbourhood level planning. Real-time data collection on various ITC-friendly indicators will provide a continuous feedback loop to the city authorities and in turn, impact the quality of life of a larger sub-group of the population i.e. resident families in the cities. The methodology to define key elements to be incorporated in neighbourhood level planning would follow the steps below:
Step 1 – Identifying key indicators: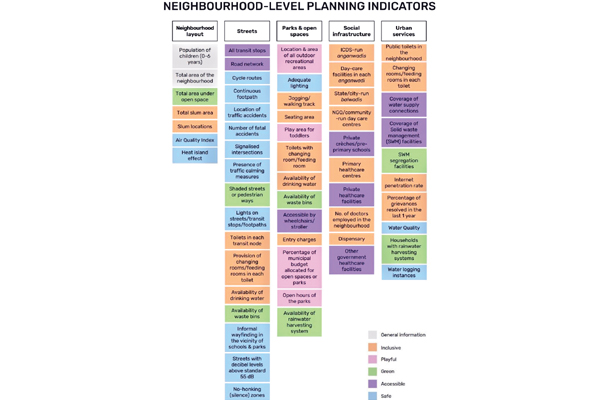 The neighbourhood level indicators for the framework are developed on the foundation of Bernard van Leer Foundation's Vision for an ITC Neighbourhood, which should have five characteristics, viz. Inclusive, Playful, Green, Safe and Accessible.
The indicators are framed as per the ITC-friendly elements within a layout, streets, social infrastructure, parks, and open spaces, and urban services. Further classification is done based on demographic, housing, mobility, environment, education and care, healthcare, outdoor recreation, sanitation, basic facilities, and municipal performance. All these indicators listed in Figure 1 would help the cities to collect ITC focused data at the neighbourhood level. The data will help the cities in planning and implementation of urban services and infrastructure as per the standards/goals of child-friendly cities.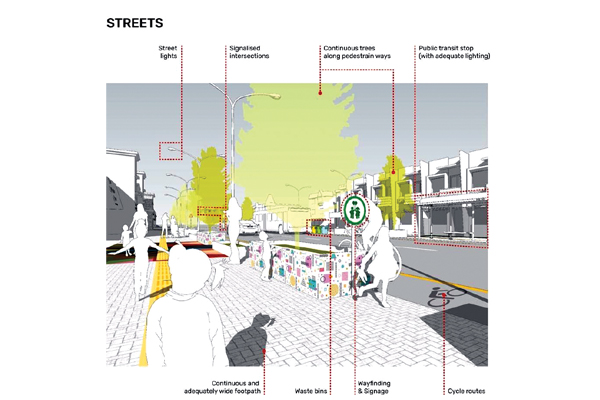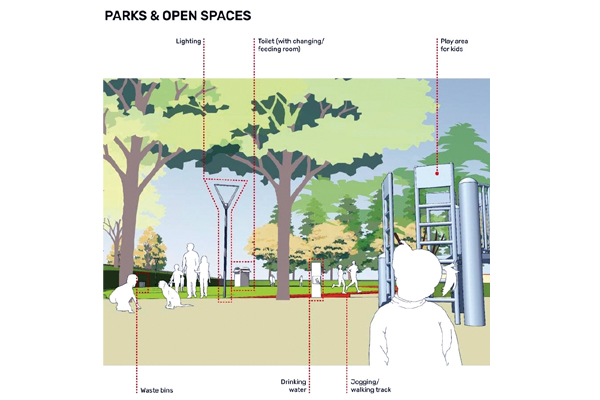 Step 2 – Tools for data collection
Mobile applications, GPS systems and GIS-based interfaces can be used to collect data on urban infrastructure and services. A public participation geographic information system (PPGIS) can be used to collect, analyse and visualise map-based data.
It is suggested that this framework be populated with data collected at the neighbourhood level of sample municipalities. The anchor organisation will be at the urban local body. Later, this data can help policymakers, urban planners and practitioners, and urban local authorities to implement reforms and measures that promote the ideals of an ITC friendly neighbourhood and provide a better quality of life for young children and their caregivers.
Potential Inferences/Conclusion
This planning framework highlights aspects necessary to create a neighbourhood that is safe and encourages ITC to run, explore, play and engage with their built and natural environment. The data-driven learnings from this framework can be utilised as a starting point to initiate better governance outcomes in compliance with the young children's needs. The indicators cover spatial elements at the neighbourhood level that will enable the comparison of data in neighbourhoods within the wards in a city. It will help to review, learn and improve ITC needs at the neighbourhood level and to carry out ITC interventions.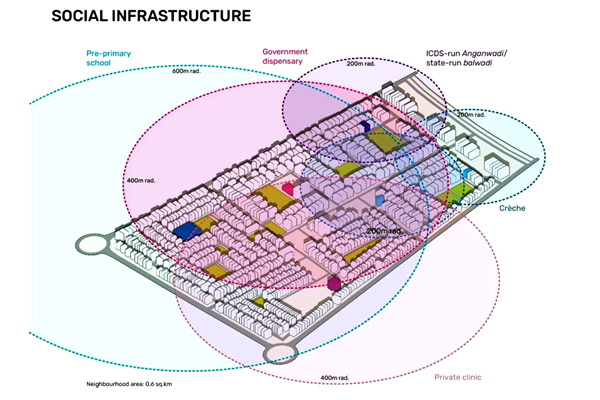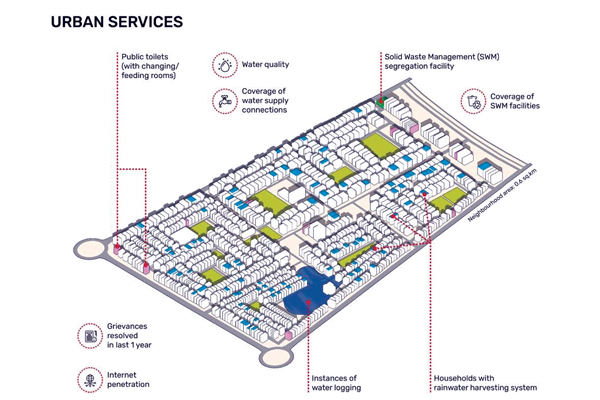 In addition to this, the framework will also enable the stakeholders to reorient their initiatives and allocate adequate budgets for their neighbourhoods and wards for delivering comprehensive care to young children. It will also support in ascertaining and recommending impactful interventions to provide safe streets, playful and inclusive parks and open spaces, efficient urban services, and inclusive healthcare and education facilities for young children in urban areas.
(Acknowledgment: DataSmart Urban 95 project at NIUA is funded by the Bernard van Leer Foundation)