Children are a universal indicator of the level of well-being in a society. Cities not only have a direct impact on children's health but also act as critical facilitators of fundamental thinking on how children perceive and become an active part of their urban environment, reinforcing the importance of balanced development of all groups of children within their urban context through skilful planning of cities. Divya Jindal, Project Associate, Building Accessible, Safe & Inclusive Indian Cities (BASIIC) programme, National Institute of Urban Affairs (NIUA), writes about the role of cities in ensuring their needs are addressed through accessible, inclusive and equitable planning principles and mechanisms.
"A Good City is one in which children can grow and develop to the extent of their powers; where they can build their confidence and become actively engaged in the world; yet be autonomous and capable of managing their own affairs." Kevin Lynch, Growing Up in Cities, 1977.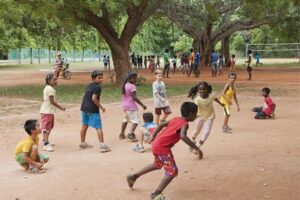 "Childhood is a branch of cartography" as once reflected by novelist Michael Chabon1. Layering the city with micro landmarks and seemingly utilitarian objects that provide physical cues that help shape their understanding of the built environment from their vantage point, giving them a sense of place. Children's exposure to environmental, social and physical changes in the places where they live, play and grow affects their health and overall development during every stage of their life, particularly in their early years.
Although, children form an important part and a large category of people who live in cities – yet they are a demographic group that is often ignored in planning our cities.
India, is home to 472 million children (0-18 years) comprising of 39 per cent of the country's total Population2. 128.5 million Of these children reside in urban areas, constituting around 34 per cent of the total urban population. India being home to the world's largest population of children3, the overall health and safety of children in the country is a matter of great concern. Of the 27 million children born each year in India, nearly two million of them do not live to the age of Five4. 63 million adolescent girls in India live in homes without proper toilet facilities – this means they are forced to defecate on the open risking their l Five5. One in every eight children in urban India stays in slums where infrastructure is insufficient and living conditions are poor.
Although the statistics are daunting, progress has been made in improving children's health in various areas and addressing their rights. The Constitution of India guarantees Fundamental Rights to all children in the country and empowers the State to make special provisions for children. The National policy of children, 2013,6 emphasises the importance of a sustainable, integrated and inclusive approach for development and protection of children, recognising the rights of children to have an appropriate life. Proactive efforts have led to aligning children's needs in urban areas as a part of the national urban development missions such as the Smart Cities Mission7 and AMRUT Mission8.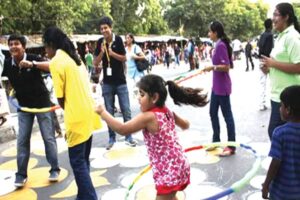 Bhubaneshwar9 was one of the first cities under the Smart cities mission to take on the commitment to become India's first child friendly smart city with support from Bernard van leer Foundation and handholding technical from NIUA under its Child Friendly Smart Cities (CFSC)11 Project. The interventions included transforming green public spaces into child-friendly areas, making healthcare more accessible, supporting parents and using locally-collected data to target resources better.
Following the success and response from citizens in Bhubaneswar, many cities across India have been actively promoting and motivated to implement such interventions. With interventions such as the all-inclusive park in Vishakhapatnam12 have proven to be successful interventions by including basic needs of all its citizens within their interventions and plans. Works of organisations like aProCh13 in Ahmedabad and Rahagiri across India, have supplemented the ways to share public spaces in a more active and engaging way with its citizens.These local community driven practices and interventions have helped understand in detail how children move and navigating the fact that children spend a majority of their time within the home, school and recreational spaces – their needs have to be locally provided and easily accessible. Further establishing that for a city to be inclusive and child-friendly, it must provide a physical environment that ensures children's health, develops their faculties, and fosters their love for community, and for nature.
To encourage more such localised and young children focused interventions, Nurturing Neighbourhood Challenge15 – an initiative aimed at supporting and developing cities that are responsive to the needs of very young children and their families are some of the forward looking interventions that the national government has promoted.
To realise this, innovative methods such as the Popsicle Test16, the toddler walk-shed17, urban9518, are some simple yet innovative methods that cities across the globe are utilising to understand their urban ecosystem from the perspective of their young citizens. These tests are designed to understand the way children traverse within their neighbourhoods and communities and tries to look at the urban realm from their vantage point. As cities in India, find their own customized methods and indicators to better learn and design spaces for children, these tools and methods offer a good head-start for cities more people-centric.
"It is important for children to carry out activities on the streets – such as cycling, walking, running, playing and other common group activities. It is also important for their healthy development that children, from an early age, undertake such activities. For this reason, it is important for the street to be safe so that these activities can be undertaken without the child's safety being put at risk." WHO and UNICEF, 2008 World Report on Child Injury Prevention.
With the understanding that this inter-relationship between urban space and its people is key to ensuring children's everyday freedom, the neighbourhood offers the appropriate scale for a child to be self-sufficient and move about freely, to use daily basic requirements of play, school, and housing. A neighbourhood should be able to cater to all these basic facilities of ensuring a mix of housing typologies, ample play areas, day care facilities and schools within safe, walkable and accessible distances. However, in most Indian cities this has not always been possible, even though planning norms and standards exist. To critically evaluate how neighborhoods and cities can better accommodate the needs of children, it is vital to look at the different scales on which a city functions and how children navigate the spaces between these areas.
As these pro-active urban experiments will help open a discourse, that promotes children's everyday freedoms and choices and links it directly to their local geography, mobility, and safety, cultivating a unique identity for the city and fostering a sense of belonging for its children and youth.
---
1. http://planplaceblog.com/2015/01/20/child-friendly-cities/
2. Handbook on Census 2011 Results, India: Vol. 1
3. The National Policy for Children, 1974. Every fifth child in the world is Indian
4 http://www.friendsofsbt.org/statistics. 1,600 children die every day before reaching their fifth birthday.
5. www.Dasra.org
6. The Policy for Children, 2013.
7. Smart Cities Mission Guidelines, 2015
8. Amrut Mission Guidelines, 2015
9. https://www.childinthecity.org/2018/05/31/bhubaneswar-joins-urban95-child-friendly-citymovement/?gdpr=accept
10. Bhubaneswar Development Authority
11. https://www.niua.org/cfsc/
12. https://www.yovizag.com/vizag-all-abilities-park/
13. http://aproch.org/
14. http://www.livablecities.org/articles/child-friendly-communities
15. https://smartcities.gov.in/Nurturing_Neighbourhoods_Challenge
16. The Guardian article: The popsicle test Link: https://www.theguardian.com/cities/2015/aug/21/city-goodchildren-popsicle-test-crime-property-play
17. http://planplaceblog.com/2015/01/20/child-friendly-cities/
18. https://bernardvanleer.org/solutions/urban95/
Follow and connect with us on Facebook, Twitter, LinkedIn, Elets video