The global urban population is on the rise and is expected to constitute 68 per cent of the world's population by 2050 (United Nations, 2018). India, alone, will add 404 million urbanites, the highest in the world (United Nations, 2014), putting tremendous pressure on the urban transport infrastructure in its cities. As per SDG 11 of the 2030 Agenda for Sustainable Development, adopted by all United Nations Member States, the goal is to 'Make cities and human settlements inclusive, safe, resilient, and sustainable', writes Laghu Parashar, Deputy Project Director, SMART-SUT, GIZ-India.
One of the important aspects to prepare actions on meeting SDG 11 is to look comprehensively the way our urban mobility systems work in cities. With rapid urbanisation in India, the registered motor vehicles in India grew at a compound annual rate of over 10 per cent from 2007 to 2019. Reflecting upon the same, we can paint a picture of the predominant effects of rapid urbanisation on the country's transportation system.
The number of registered vehicles in the country in 2019 alone was 295 million (Statista Research Department, 2021). As a result, various negative externalities like road congestion, air pollution, road fatalities, and social issues of equity have become commonplace and put target 2 of SDG 11 a priority area to focus on. The SDG Target 11.2 states that 'By 2030, to provide access to safe, affordable, accessible and sustainable transport systems for all, improving road safety, notably by expanding public transport, with special attention to the needs of those in vulnerable situations, women, children, persons with disabilities and older persons'.
SDG11 and precisely Target 11.2 are relevant and crucial for directly and indirectly achieving the other major SDGs. However, the COVID-19 pandemic altered life-as-usual and affected people's commuting patterns because of disrupted mass transit services. The exposure to the contagion in crowded public transportation modes raised fears, adversely affected the ridership, and led to a surge in private vehicles and bicycle usage because of their ability to abide by social distancing norms.
One of the critical focuses of Target 11.2 is to provide accessible, affordable, and sustainable public transport. Investing in technological advancements, energy-efficient e-buses, multi-modal integration, and public transport network expansion are necessary steps to meet this target. However, in the wake of the COVID-19 pandemic, the nationwide lockdown and subsequent social distancing policies perturbed the already financially stressed transportation agencies. The two predominant public transport systems in India, i.e., the city buses and the metro-rail, experienced a drastic decline in ridership due to the COVID-19 pandemic.
The Bengaluru Metropolitan Transport Corporation (BMTC) in Bengaluru had a pre-COVID ridership of 3.5 million per day. During the post-pandemic stage, the transport authority recovered only 2.5 million riders by March 2021 (P.K, 2021). BEST ridership numbers in Mumbai showed a similar trend of losing approximately 1 million riders compared to 2019 numbers (Sen, 2020). The limited bus fleet and operational instability will probably yield further financial losses for the already lossbearing state-owned bus companies.
Hitherto they have suffered a combined loss of Rs 16.68 billion in 2017-18 (CIRT, 2018). Impact on the metro was no different as the Delhi metro ridership decreased from 5.7 million (including airport line and rapid metro) in 2019 to only 1 million in 2021 (Economic Survey of Delhi, 2021). Similarly, Namma Metro in Bengaluru could bring back only 0.2 million passengers by 2021 out of the 0.45 million riders in the pre-covid times (Kulkarni, 2021).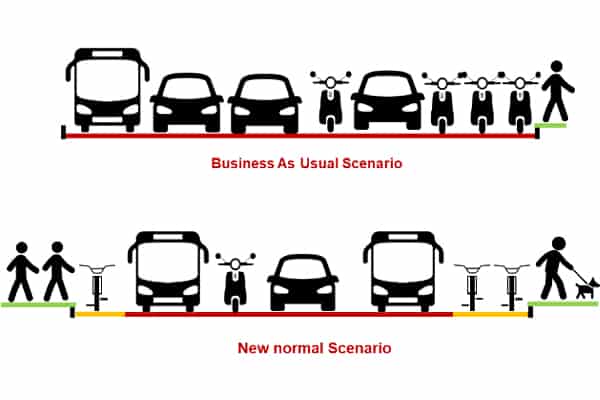 An alarming trend of a shift to private vehicles accompanied the decline in public transport ridership. A survey conducted by TERI in 2020 reported that about 36 per cent of pre covid metro users and 41 per cent of pre covid bus users would switch to other options. The respondents preferred private cars and two-wheelers. Thus, even in the Business-as-Usual (BAU) scenario, the poor patronage of the public transportation system and financial losses will delay the planned investment of fleet expansion and technology advancement towards electric mobility, ITS, etc. The simultaneous growth in the private vehicles on the roads will precipitously increase the need for early and increased investment in infrastructure. The resultant widening of roads and flyovers will only fuel the vicious circle of more private vehicle growth and make it challenging to meet SDG Target 11.2.
Looking on the bright side, during the COVID-19 phase, the increased popularity of cycling as a mode of commute has proven to be a comfort. Retaining the same can undoubtedly aid the achievement of SDG 11. According to AICMA, the Indian bicycle industry grew by 15- 20 per cent in 2020 compared to 5 -7 per cent in 2019. Cycling has emerged as a promising alternative to private vehicles in India. It can help redirect public transport trips to active mobility instead of motorised personal vehicles since a staggering 70 per cent of the population travels less than 10 km for work and educational purposes (CEEW, 2019). Cities like Guwahati, Bengaluru, Chennai, Kochi, Mumbai, and Chandigarh invested in cycling infrastructure such as pop-up lanes, PBS systems, etc., during the COVID-19 pandemic.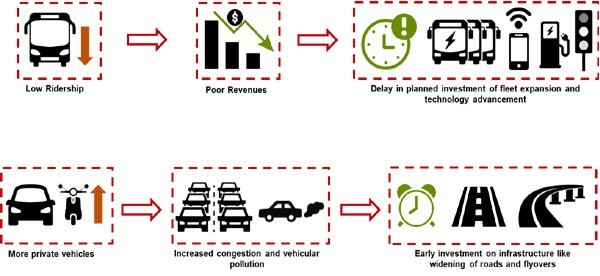 The initial steps from the Government of India to encourage this sustainable mode of travel is visible under the Smart City Mission's 'Cycles 4 Change Challenge'. It is a welcome step to promote cycling in Indian cities. However, to improve the modal share of active modes like walking and cycling, developing a comprehensive network of NMT infrastructure is vital. Road safety at present is dreadful, as, in the year 2019, 25,585 pedestrians and 4196 cyclists' deaths were recorded (MoRTH, 2020). The issue will only exacerbate under the BAU scenario in the absence of significant city-wide investment for NMT in the Indian cities.
SDG 11.2 objectives desired a 'NewNormal' having equitable urban space and higher coverage of the sustainable, affordable, and energy-efficient modes of transport.
To achieve this envisioned 'NewNormal', Indian cities need a paradigm shift in their investment priorities in the urban transport sector. Projects' pipelines need reviewing and reprioritisation. We must re-route the investment allocated to the road and related towards public transport and NMT infrastructure. As per a National Transport Development Policy Committee report, by 2031, urban India would require approximately 1,96,000 buses with an investment of Rs 1,181 billion against the currently operating 46,000 buses. As we advance, India can convert this into an opportunity by leapfrogging the deficit with new energy-efficient buses (e.g., e-buses) that supplement climate goals. Further, additional funds should be raised by imposing the green taxes on ownership and usage of private vehicles and direct this fund towards public transport and NMT infrastructure.
Several countries around the world have earmarked capital funding to promote public transport and NMT. For example, Paris allocated €300 million for a network of cycle lanes, many of which will follow existing metro lines, to offer an alternative to public transport (Taylor & Laville, 2020). Likewise, the U.S. CARES Act included $25 billion in emergency relief for transit agencies to help them from going bankrupt due to the effects of the pandemic (Welle & Avelleda, 2021). Cities worldwide are also investing in technology advancement and energy-efficient transport systems that have various tangible and intangible benefits.
The envisioned post-COVID new normal demands Indian cities to design a well-integrated transportation system that supports walking, cycling, and public transit, creating safer, cleaner, and sustainable cities.
---
1. https://c4dlab.ac.ke/slocat_sdgs/
Follow and connect with us on Facebook, Twitter, LinkedIn, Elets video