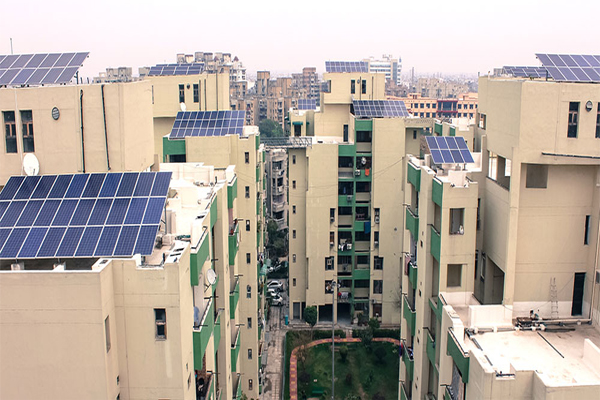 India's growing urban population has also led to the burgeoning growth of the construction sector to meet the increasing demand for residential and commercial buildings in the last decade. An analysis of urban GDP growth to 2035 estimates that 17 of the 20 fastest-growing cities in the world would be in India¹. At the same time, 2018 estimates indicate that 70 per cent of the country's building stock that will be there in 2030 is yet to be built². Raina Singh and T Shravani, Climate Centre for Cities (C-Cube), National Institute of Urban Affairs (NIUA) write about the key role of the buildings sector in meeting India's climate action targets.
Considering the abovementioned estimates, similar trends may be expected in the residential and affordable housing sector as well, in view of the various policy and fiscal incentives that have been rolled out in the last few years. The Pradhan Mantri Awas Yojana (PMAY), a scheme aiming for 'Housing for all' by 2022, has set up a target of constructing one crore houses in urban areas. As of December 2018, about 65 lakh houses had been sanctioned by the Ministry of Housing and Urban Affairs (MoHUA), Government of India. The scheme also recorded a rise of 70 per cent in housing construction between 2017 and 2018.
In India, buildings account for over 40 per cent of the country's total energy consumption, 20 per cent of the raw material use, 20 per cent of water use, and 20 per cent of land use in cities. They are also responsible for 40 per cent of total carbon emissions, 30 per cent of solid waste generation, and 20 per cent of water effluents³. The buildings sector, therefore, have a critical role to play in India's actions towards addressing climate risks and achieving sustainable development goals (SDGs).
Currently, India's 'Green Buildings', though growing consistently, constitute only five per cent of the building market4. However, current evidence shows promising potential in the reduction of energy consumption and emissions through appropriate policies and implementation procedures in place. For instance, through the use of efficient lighting, space cooling methods, ventilation, refrigeration, and appliances, it is possible to save 30-70 per cent of energy consumed at the building level. A study by McKinsey indicates that the national power demand can be reduced by as much as 25 per cent in 2030 by improving the energy efficiency of buildings and operations5. Estimates by the Bureau of Energy Efficiency (BEE) suggest that existing buildings also have the potential to save 30-50 per cent of their energy through retrofit measures for improved efficiency6.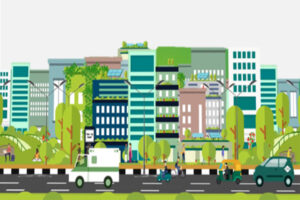 In view of the unique opportunity to lock in low-carbon and resilient urban growth, various initiatives for improving energy efficiency and implementing 'green' measures have been introduced in the residential and commercial buildings sector at the national and state levels in the last few years. The National Mission on Sustainable Habitat (NMSH), National Mission on Enhanced Energy Efficiency (NMEEE) now renamed ROSHANEE, and the Energy Conservation Building Code (ECBC/ ENS both for commercial and residential) provide guidance on building design and construction practices and institutional and fiscal measures to facilitate implementation. The recently launched updated guidelines for PMAY (U)7propose setting up a technology sub-mission to facilitate the adoption of modern, innovative and green technologies and building material for the development of green and resilient buildings. They also provide for the inclusion of rainwater harvesting and solar energy systems in affordable housing projects.
Besides, the India Cooling Action Plan, launched by India's Ministry of Environment, Forests and Climate Change, provides a 20-year perspective and outlines actions needed to provide access to sustainable space cooling in buildings. This becomes extremely relevant with the expected increase in cooling requirement and related energy demand in buildings in light of the projected climate variability and change scenarios for the Indian sub-continent. In addition, various rating systems including GRIHA, LEED, GEM and EDGE8, among others, are available to help assess and manage energy and resource efficiency at the building level. While a large share of green rating is currently taking place for institutional and commercial buildings, there is a growing interest and availability of rating systems specifically for the residential sector.
The ClimateSmart Cities Assessment Framework (CSCAF), launched by MoHUA in 2019 under the Smart Cities Mission, addresses green buildings as one of its key thematic verticals. The Framework serves as a tool for cities to track their performance towards green, sustainable and resilient urban development, and also provide a roadmap to progress on the same. With 28 indicators under five thematic areas – Energy and Green Buildings; Urban Planning, Green Cover & Biodiversity; Mobility and Air Quality; Water Management; and Waste Management. The CSCAF is currently being implemented in 126 cities across the country.
The indicators on green buildings focus on the promotion and adoption of green buildings through the implementation of compliance procedures, penalty/reward schemes and stakeholder cooperation for the promotion of new and existing green and energy-efficient buildings. This would include integrating NBC 2016, ECBC 2017 and ENS 2018 provisions in the general development control regulations (GDCRs) and building bye-laws. The other measures include institutionalizing a green building cell at the ULB level for knowledge dissemination, and a functioning highlevel green building committee acting as a strategic advisory and promotional/penalty schemes available for code compliance, pre-certification, certification of green buildings. It may be noted that many of these measures have been already incorporated at the state level. As the next step, there is a need to translate these measures into specific targets and actions by adopting them at the city level for effective implementation. Undertaking appropriate capacity building, awareness and knowledge dissemination with the involvement of various stakeholders in the system is equally important.
As Indian cities address their present challenges and prepare for future urbanization prospects, the buildings sector will play a pivotal role in the pathway for green and sustainable growth. Studies suggest if all the buildings in urban areas were made to adopt green building measures, the country can save over 8,400 megawatts of power, which is enough to light 550,000 homes a year9. Implementing appropriate interventions for efficient use of building materials, energy and water will not only help in achieving resource efficiency and savings locally but also go a long way in meeting multiple India's targets and commitments towards sustainable development goals and climate action.
---
1.  https://resources.oxfordeconomics.com/global-cities-2035
2.  https://edgebuildings.com/wp-content/uploads/2018/05/India-Green-Building-Market-Intelligence.pdf
3.  https://economictimes.indiatimes.com/realty-trends/nearly-70-of-building-stock-that-will-be-there-in-2030-is-yet-to-be-built-in-india/ articleshow/14732400.cms
4.  https://edgebuildings.com/wp-content/uploads/2018/05/India-Green-Building-Market-Intelligence.pdf
5.  https://www.downtoearth.org.in/news/construction-boom-will-make-cities-unliveable-centre-for-science-and-environment-38542
6.  https://www.downtoearth.org.in/news/construction-boom-will-make-cities-unliveable-centre-for-science-and-environment-38542
7.  https://pmay-urban.gov.in/uploads/advisories/6030db01980b3-Updated%20guidelines%20of%20PMAY-U.pdf
8.  Abbreviations: GRIHA-Green Rating for Integrated Habitat Assessment, LEED-Leadership in Energy and Environmental,GEM-Green and
     Eco-Friendly Movement, EDGE-Excellence in Design for Greater Efficiencies
9. http://bwsmartcities.businessworld.in/article/The-Importance-of-Green-Buildings-in-Contemporary-India/03-07-2020-293584/