Culture, as an element has long been absent from the urban landscape when it comes to devising strategies for future development. However, since the past decade, the global discourse has started recognising the importance of culture and heritage in sustainable urban development, writes Mayura Gadkari, Conservation Specialist, National Institute of Urban Affairs (NIUA).
Realising the significance of culture and heritage in sustainable urban development began with the Executive Bureau of United Cities and Local Governments (UCLG) adopting the Policy Statement on 'Culture: The Fourth Pillar of Sustainable Development' in 2010¹. This was further reinforced in the 2030 Agenda for Sustainable Development 2015² and the New Urban Agenda (NUA) 2016³, where culture was placed at the forefront of debates on urbanization.
The NUA acknowledges the importance of culture and cultural diversity in the sustainable development of cities and human settlements. Culture features prominently in the Agenda 2030; target 11.4 of the Sustainable Development Goals (SDGs) that seeks to strengthen efforts to protect and safeguard the world's cultural and natural heritage. This implies that culture is now firmly recognized by the international community as a key component for achieving sustainable urbanization. Culture and values are crucial in determining policy outcomes, ensuring human-centred, inclusive and equitable development4.
Our cities are ever-evolving systems with countless challenges to address to and what forms their backbone is their cultural inheritance; the tangible and intangible heritage and legacy that they hold within. Some of the oldest cities were planned in ways that can offer insights for sustainable growth. Historic cities of India showcase so much more, where not only is the architecture is at its artistic best, but at the same time they exhibit the most effective indigenous design addressing all major and minor everyday problems. Historic cities in India have played an exceptional role in contributing to the knowledge of the development of urban planning and infrastructure in the world. However, we are at a turning point today with the rural-urban transition and the resultant urbanisation engulfing small historic settlements.
Consequently, the historic cores and cities have become pockets of entrenched poverty, while still being the nuclei of all economic activity. Thus, it is apparent that historic cores and cities throughout the country need a strategic approach for integrating their heritage assets into mainstream development planning principles.
Ahmedabad 'Walled City': A Case Study
In the particular case of Ahmedabad, the walled city is a traditional settlement consisting of densely populated neighbourhoods around main streets that are called 'pols', which typically include 50-100 closely-packed houses, which share side walls and produce a homogenous urban fabric5.
This 535-hectare property was inscribed on the World Heritage Site list of UNESCO6 in 2017 under multiple criteria of 'exhibiting an important interchange of human values, over a while on developments in town planning', 'being an outstanding example of a traditional human settlement', 'land-use which is representative of cultures, or human interaction with the environment especially when it has become vulnerable under the impact of irreversible change' and 'being directly or tangibly associated with events or living traditions, with ideas or with beliefs, with artistic and literary works of outstanding universal significance. The walled city, which is home to approximately 3.5 lakh7 residents, has a large concentration of heritage; tangible heritage, both public and privately owned and intangible heritage such as arts and crafts, practices and festivals.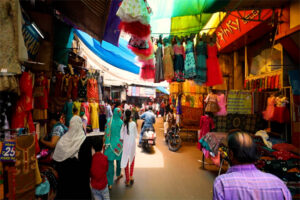 Like every other historic core in India, the walled city of Ahmedabad is an important economic hub, where it provides jobs to a large number of people and is also home to wholesale specialised markets of cloth, jewellery, grains, spices, amongst other things and also few culinary experiences. As evident from the ICOMOS8 criteria mentioned above, the walled city is considered as an excellent example of efficiently designed self-sustained pockets of traditional community housing with necessary utilities and facilities, however, today it is facing challenges of gentrification owing to developmental pressures. Parts of the walled city have also been ghettoised as affordable housing for low-income groups. While there is an efficiently managed and used Bus Rapid Transit System (BRTS) implemented through the walled city, the transport infrastructure faces challenges of its own, with a lack of Right of Way (RoW) for the vehicles passing through the walled city and not sufficient parking areas for private vehicles of the residents.
There is a persistent need to develop innovative solutions for sustained conservation efforts, including working with the community to build ownership of the assets and improve the liveability of the historic cores and cities of India. The city of Ahmedabad plans to address these challenges through a Conservation Plan that is in the process of being prepared by the National Institute of Urban Affairs (NIUA). The Conservation Plan is a significant document that can materialise into a statutory instrument through a Local Area Plan (LAP) for the walled city, to be eventually integrated with the city's Development Plan. Presently, the infrastructural challenges of the walled city are addressed in silos, whereas there is a need for an integrated approach towards the management of historic cities in the rapidly urbanising scenario.
Envisaged Conservation Plan eventually aims to achieve the targets of 'strengthening efforts to protect and safeguard the world's cultural and natural heritage' and 'ensuring access for all to adequate, safe and affordable housing and basic services and upgrade slums' of the Sustainable Development Goal 11 of making cities and human settlements inclusive, safe, resilient and sustainable.
---
1.   World Summit of Local and Regional Leaders-3rd World Congress of UCLG, Mexico City, 2010
2.  Meeting of the Heads of State and Government and High Representatives, United Nations Headquarters, New York, 2015
3.  United Nations Conference on Housing and Sustainable Urban Development (Habitat III), Quito, Ecuador, 2016
4.  WUF 10 Background Paper, UN-Habitat, 2019
5.  ICOMOS inscription document for Ahmedabad
6.  United Nations Educational, Scientific and Cultural Organization
7.  Census of India, 2011
8.  International Council on Monuments and Sites