India is facing the second wave of the COVID-19 outbreak. Since March 2021, the number of new COVID-19 cases has been rising rapidly with 2.75 lakh positive cases reported on April 18, 2021. As a measure of precaution, the Government of India has administered more than 120 million vaccines for COVID-19 as of April 19, 2021. The rapid spread is indicating that the Indian cities are still not fully prepared to manage such pandemics, write Debolina Kundu, Professor, National Institute of Urban Affairs (NIUA); Tania Debnath, Post-Doctoral Fellow, NIUA, Biswajit Kar, Research Associate, NIUA.
In the last two decades, India has been able to improve the quality of housing and access to basic amenities in the urban areas with the launch of several flagship programs, mainly Jawaharlal Nehru National Urban Renewal Mission (JNNURM) in 2005, Swachh Bharat Mission (SBM) in 2014, Atal Mission for Rejuvenation and Urban Transformation (AMRUT) and Smart City Mission (SCM) in 2015. However, in 2018, 77.6 per cent and 75 per cent of the urban households had exclusive access to latrine and bathroom facilities according to the 76th round of the National Sample Survey on 'Condition of Drinking Water, Sanitation, Hygiene and Housing Condition'. Besides, only 57.5 per cent of households had exclusive access to drinking water. Therefore, a quarter of urban households are extremely vulnerable. Moreover, congestion and lack of adequate space affect the quality of indoor living of around 30 per cent of urban residents and pose a challenge to maintain physical distancing. Such inadequacy in access to basic services and quality housing in Indian cities poses challenges to maintain physical distancing and personal hygiene, which are the two important measures to contain the rapid spread of the infection.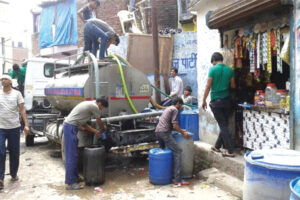 In the present wave of the pandemic outbreak, large urban agglomerations like Greater Mumbai and Pune have been hard hit, followed by Delhi and Bengaluru. Apart from being international travel destinations, mega-urban agglomerations like Mumbai, Kolkata, and parts of Delhi are some of the densest cities in the world, with over 20,000 people cramping within a square kilometer of area. As per NSS estimation, in 2018, close to 30 per cent of households living in metropolitan cities had more than three members per living room. Moreover, 77 per cent of households living in cities of this size had exclusive access to latrine facilities and only 58.3 per cent of households had access to drinking water facilities available for exclusive use. Therefore, a large section of its residents is extremely vulnerable.
Slums and slum-like settlements in Indian cities need special attention in this regard, because of their poor build quality and high dependence on shared resources, which makes the practice of social distancing a distant dream in case of any disease outbreak. In 2018, 54.2 per cent of slum households had more than three members per living room, while 58.9 per cent and 47.6 per cent of households had no exclusive access to the source of drinking water and latrine facilities, respectively. In 2011, around 40 per cent of the 65.5 million slum dwellers were concentrated in the 52 million-plus urban agglomerations. Some of the slums in these big cities are the densest populated in the world. For example, Dharavi of Mumbai is one of the largest and densest slum clusters in Asia with a population density of 3.4 lakh per square kilometer. This explains why slums in these big cities became the hotbeds of the virus.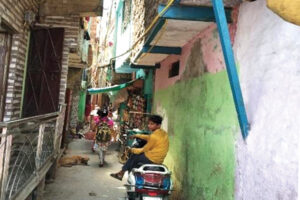 Various policy interventions ranging from the creation of micro-containment zones and community-level health surveillance to the allocation of additional funds have been initiated in the big cities as the COVID-19 outbreak remains concentrated here. However, stark socio-economic inequality manifested in a large section of the population living in poor-quality built-up and with a high dependency on shared resources fueled the rapid community spread of the virus in these cities. Besides, these cities receive a large number of seasonal migrants from the most vulnerable socio-economic strata. These poor migrants, who mostly remain invisible in policy formulation, were adversely affected by the pandemic and the associated lockdown in 2020. Implementing COVID-19 containment protocols without affecting the lives and livelihoods of migrants is still a major challenge to the city officials. Therefore, a more careful approach in providing safe accommodation to this section of the population is the need of the hour, considering the humanitarian crisis our cities experienced last year.
Provision of universal access to adequate, safe, and affordable housing and basic services and upgradation of slums (Target 11.1) under Goal 11 of Sustainable Development Goals (SDGs) has gained the center stage of policy discourse in the country. In addition, there is an urgent need to ensure institutional strengthening and adequate capacity building of urban local bodies across different size-class of cities, especially in the delivery of health services. In fact, the 74th Constitutional Amendment Act 1992 suggested the delegation of health functions to cities. However, even after several decades of the enactment of the amendment, health is still a state function.
An analysis of the Census data points out the fact that small and medium towns do not have adequate coverage of basic amenities. Also, the 2011 Census reported a phenomenal increase in the number of census towns. These census towns came up mostly in the city peripheries. A HSMINIUA (2017) study shows higher urban growth in the peripheries as compared to the city core. Also, the peripheries, dominated by the growth of new census towns, report lower coverage of basic amenities as compared to the city cores. This calls for planning the city peripheries with adequate provisioning of housing and basic amenities. It may be noted that the national flagship programs like Swachh Bharat Mission–Urban and AMRUT have led to wider availability of WASH facilities across the country. However, the small and medium-sized cities and towns, especially the census towns, slums, and city peripheries demand more focused policy attention to ward off challenges thrown up by pandemics in the future.