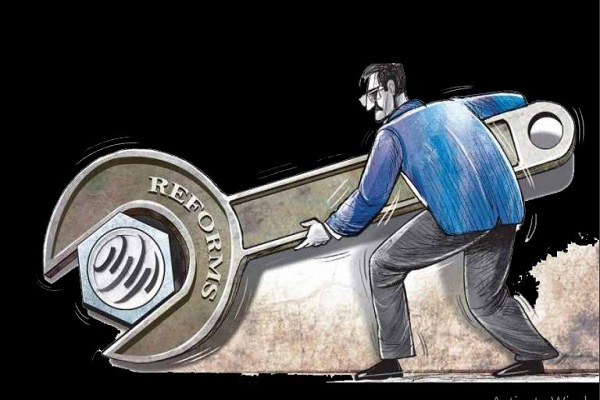 Government is instrumental, while governance is fundamental. In simple words, good governance forms the basis of implementation of policies and norms by a government. Therefore, it these times when almost every sect of the society, government and industry is in troubled waters owing to the infamous COVID pandemic, it will not be wrong to say that what we need is maximum good governance and minimum government, writes Adarsh Som of Elets News Network (ENN).
As we mark the commencement of the year 2021 and a new decade, hopes are to see a better year ahead. Recalling 2020, the year that claimed millions of lives and saw a major economic slump, good governance can open doors to improving processes and outcomes in government, private sector and the lives of citizens.
Back in November 2020, Prime Minister Narendra Modi used the phrase 'Maximum Governance & Minimum Government' while addressing probationary IAS officers through video conferencing. "The turn at which the country stands today, the role of you bureaucrats is of minimum government, maximum governance. You have to ensure how to reduce your interference and also ensure empowerment of common people", he said. Is this mantra of the PM Modi-led Government of India is what we might see in coming times? If yes, let us have a look at some of the initiatives taken by the Centre in this regard which might prove to be corrective measures to improve and lead the country towards growth and development.
In the recent Ease of Doing Business (EODB) 2020 Rankings report, India stood 63rd among the chosen 190 countries. In order to improve the business scenario in the country, the Centre launched an ambitious program of regulatory reforms in 2014 that was aimed at making it easier to do business in India. As a result, India has emerged as one of the most lucrative destinations for investments and also for doing business. Considering the trends in EODB rankings, India jumped 79 positions from 142nd rank in 2014 to 63rd rank in 2019.
There were various parameters that were adjudged under the EODB rankings. India's ranking on the parameter 'construction permits' has improved from 184 in 2014 to 27 in 2019. The massive improvement was seen mainly due to a decrease in the number of procedures and time taken for obtaining construction permits in India. Further, on the parameter of 'getting electricity connection', India's ranking has improved from 137 in 2014 to 22 in 2019. Today, it takes just 53 days and mere four procedures for a business to get an electricity connection in India. Apart from these significant improvements, India ranked 13th in Protecting Minority Investors and 25th in Getting Credit.
Also Read: UP Bolstering MSMEs & Rural Industries for Economic Recovery
Public Grievance Redressal
In order for faster public grievance redressal, the Minister of State, Ministry of Personnel and Training, Jitendra Singh launched Centralised Public Grievances Redress and Monitoring System (CPGRAMS) in Septemeber 2019. As reported by a national daily, to further ease the process, the Minister assured efforts are on to help citizens lodge their grievances on the Centralized Public Grievance Redress And Monitoring System (CPGRAMS) portal in Indian languages and the process will be expedited. He said this during a Facebook Live session.
Infrastructure
Another bright spot in the Centre's record is the growth and development in terms of infrastructure. Infrastructure is the key driver of the Indian economy and realising the fact, the Government of India took noteworthy initiatives to make the most of it. The speeding up of highway construction, the Bharatmala and Sagarmala projects, the building or revival of regional airports and regional air connectivity, and much work on modernising and expanding railways are all achievements adding feathers to government's hat.
As per India Brand Equity Foundation (IBEF), a trust established by the Department of Commerce, Ministry of Commerce and Industry, as the probable way forward for the infrastructure sector India plans to spend US$1.4 trillion on infrastructure from 2019 to 2023 to have a sustainable development of the country. The Centre has suggested investments worth Rs 5,000,000 crore for infrastructure concerning to Railways from 2018 to 2030. Moreover, India has partnered with Japan for infrastructure development in Northeast states. Also, the two countries are setting up an India-Japan Coordination Forum for Development of Northeast to undertake strategic infrastructure projects for the region.
Healthcare
In recent times, the Healthcare sector has been among toppers both in terms of revenue and employment becoming India's one of the largest sectors. Healthcare comprises hospitals, medical devices, clinical trials, outsourcing, telemedicine, medical tourism, health insurance and medical equipment.
According to the data from IBEF, there have been certain significant improvements in the sector including:
As of July 2019, around 125.7 million families enrolled as beneficiaries under Pradhan Mantri Jan Arogya Yojana (PMJAY). The scheme enrolled 16,085 hospitals, including 8,059 private hospitals and 7,980 public hospitals. It included 19 AYUSH packages in the treatment scheme.
About 50 lakh people received free treatment under the Ayushman Bharat-PMJAY, as on September 2019.
Moreover, the count of medical colleges in India increased over 500 in November 2020 from 412 in 2016.
According to the Sample Registration System Bulletin of 2016, India has registered a 26.9 per cent reduction in Maternal Mortality Ratio (MMR) since 2013.
Further, in November 2020, National Telemedicine Services completed 8 lakh teleconsultations since its launch, enabling patient-to-doctor consultations from the confines of their home, as well as doctor-to-doctor consultations.
Looking at future prospects of the healthcare sector, India has become one of the preferred destinations for quality diagnostic services with huge capital investment for advanced diagnostic facilities, therefore, catering to a larger population. Moreover, medical service consumers in India have become more conscious and aware of their health and upkeep.
As per IBEF data, the hospital industry in India is forecast to increase to Rs 8.6 trillion by 2022. With this, the Centre is planning to increase public health spending to 2.5 per cent of the country's GDP by 2025.
Employment & Employability
Labour Minister, Santosh Kumar Gangwar, in March 2020, said employment generation coupled with improving employability is the priority of the government. As per the government data, the employment scenario in the country had recorded an improvement in 2018-19 with the unemployment rate declining to 5.8 per cent, down from 6.1 per cent in the previous financial year.
Also Read: World Day Against Child Labour 2020: Recalling Journey of Nizamabad to become Child Labour free
Moreover, as per the Periodic Labour Force Survey released by the Ministry of Statistics and Programme Implementation, the labour force participation rate in 2018 rose to 37.5 per cent as compared to 36.9 per cent in 2017. Even in the current year, the employment rate is predicted to be growing steadily with one-fifth of the recruiters of the view that hiring will bounce back equivalent to the pre-COVID era in the coming three months. As organisations are adapting to the new normal, they are foreseeing an upsurge in the demand for the right talent to tackle challenges that might surface in the post-pandemic era.
With some of the initiatives listed above and a lot more have resulted in not only nominal but visible growth in various sectors of the government, private and citizens-centric services, we await to see how the Government of India further strides towards minimum government and maximum governance model.