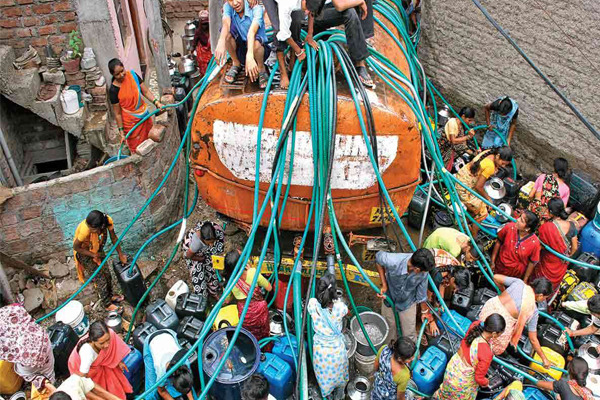 India, a land of nine huge river systems faces daunting challenges when it comes to water security. The country is home to approximately 17 percent of the world's population but has only four percent of the world's water resources. What is further worrisome is that it is ranked 120th among 122 countries in water quality index, writes Adarsh Som of Elets News Network (ENN).
The year 2020 has had quite an apocalyptic start with thousands of dying of the Coronavirus pandemic within just four months. Amidst all the havoc, the focus had only been on mitigating the pandemic sidelining many other significant aspects like sustainable development, water, pollution, sanitation and so on. COVID is a fear among people today. However, another daunting fact is 21 major Indian cities would run out of water and may face a 'Day Zero' shortly, a fact presented by NITI Aayog in its Composite Water Management Index in 2018. 

NITI Aayog cited data of the 21 cities which showed Hyderabad with the worst condition among them. The city has the 'stage of development of groundwater' (percentage of utilisation of groundwater) at 400 percent. Whereas, Chennai's stage of development of groundwater stood at 185 percent. The capital's stage of development of groundwater stood at 127 percent but in some places like Hauz Khas, Kalkaji and Vasant Vihar it crossed the 200 mark. 
Though NITI Aayog put the 21 cities in spotlight, if we refer to the data of Central Ground Water Board (CGWB), it states that more than 60 cities (including tier 1, tier 2 and tier 3 cities) are on the edge of turning water scarce. The 'Dynamic Ground Water Resources of India' report by CGWB states that the percentage of utilisation of groundwater with respect to recharge in these cities is 100 percent. 
The Ground Reality
The ground reality of India's water story presents no rosy picture. According to WaterAid, 163 million people in India do not have access to clean and safe water and 1,40,000 children die of diarrhoea annually. It is estimated that 600 million people in India face water shortages and as many as 2,00,000 die of consuming unsafe water every year. The figures project a gruesome reality of India's water scenario. It is despite various efforts from Government authorities to improve access to safe water supply and it seems the improvement is taking baby steps and there's a long way to go. 
Also Read: Reinvigorating Water Bodies & Promoting Water-Based Tourism
What further deteriorates the situation is climate change. With the onset of climate change, many parts of the country experiences droughts or floods every year. In an interview with Elets Technomedia, Dr BRK Pillai, Commissioner, (Command Area Development and Water Management), Department of Water Resources, River Development & Ganga Rejuvenation, Ministry of Jal Shakti, Government of India said, "India is not water scarce but water-stressed". Now, It raises a question: how is India water-stressed? It seems there is more to it and the atrocious figures are not the only lines defining India's water scenario.
A bodacious fact that completely supports how India is not at all a water-scarce nation is – Every year, India gets 1000 billion cubic meters of excess rainwater. How? According to the Central Water Commission, the country requires 3000 billion cubic meters of water but it actually receives 4000 billion cubic meters of rain on an annual basis. This raises a big question mark in how we capture and utilise our rainwater. Last year in one of the podcasts of 'Mann ki Baat', Prime Minister Narendra Modi himself brought to light the fact that only eight percent of the rainwater is captured and used, the rest runoff.   
Our incompetency in harvesting rainwater has led to massive consumption of groundwater for drinking purposes and agriculture. In fact, India is the biggest consumer of groundwater in the world. Moreover, approximately 85 percent of the total groundwater used in India is used by the agricultural sector only. 
Also Read: Mending Demand & Supply Side Management to Curb Water Crisis : U. P. SINGH
Challenges in Mitigating India's Water Crisis
The reason why India is in dire condition when it comes to water management and distribution is due to the growing population and inability to develop and manage water resources at the same pace to cater to the growing demands. Hence, a major challenge that India faces is in developing and managing enough water resources to balance the demand and supply. 
By looking at the trends and the changing scenarios from the past decade it can be inferred that the grim situation is not a meagre result of growing demands. Declining supplies, at the same time, is also an important factor. The rising population has been inducing a massive pressure on the land resources and large scale encroachment of lakes, ponds and other water bodies have reduced the capacity of surface water immensely to sizable numbers and catering to small population clusters. Moreover, large scale deforestation and alterations in the catchment characteristics have affected the river systems adversely. Also, diminishing surface water bodies along with the impact of other human activities such as paving of ground surfaces, levelling of ground slopes, construction of multiple basement structures, etc. have had adverse effects on the groundwater. 
There are two major challenges that pose – first is the challenge to manage the deficit. Secondly, the challenge to manage the surplus. As Dr BRK Pillai explained, "It seems, at the macro level, the total supply meets the total demand. However, at the micro level the story is different altogether." And, it is a matter of fact that balancing both the demand and supply sides is difficult because of acute spatial and temporal variation in India's rainfall pattern.
Probable Mitigation Measures: A Glimmer of Hope
The water situation of India may not be up to the mark but a positive aspect is that the water woes are atop in the priority list of the Government of India and the Government is taking more integrated and holistic measures towards better water management. The Ministry of Jal Shakti, Government of India in November last year announced the formation of a 10-member committee to revise the National Water Policy 2012. Moreover, the committee will provide recommendations to reform existing governance structures and policy frameworks.
Further, water resource management is a complex subject and needs a strategic and well-planned approach. Hence, to have an effective plan of action, water management approaches need to be integrated with economic, social and environmental perspectives.
Avinash Mishra, Advisor, NITI Aayog in an interview with Elets Technomedia talked about probable solutions stating that one of the effective solutions can be construction, desilting and restoration of lakes, ponds, tanks, and farm ponds. These not only help in creating surface water reservoirs but also recharges groundwater. Further, there is an utmost need of implementing rainwater harvesting systems mandatorily in all the buildings possible. Such a measure will certainly improve the percentage of rainwater capture and its use. Also, will benefit in recharging groundwater tables.
Also Read: Reinvigorating Water Bodies & Promoting Water-Based Tourism : Avinash Mishra
Looking at the industry perspective, the industries can significantly contribute in conserving water and improve the situation. Taking up water audits regularly for industries and putting efforts for water harvesting, recharge, and treatment can be a noteworthy contribution. Secondly, there is a need to adopt the best practices in industrial production with water-saving techniques as prevalent globally. Moreover, to promote new innovative technologies of water-saving and management like rainwater harvesting, watershed management, desalination, water auditing and accounting across water-intensive sectors through projects, workshops, conferences and training programmes. Further, smart water metering is one of the effective solutions to control the usage of water in domestic and commercial spheres.     
The Way Forward
Observing the ground reality of India's water story, it can be easily inferred that the shortage is not the issue but improper management of water resources. The present water crisis calls for holistic handling of India's water resources, which will require specialized knowledge, in-depth understanding of issues, and synergy of mitigation-efforts. Moreover, a course correction can happen only within a proper institutional framework, which will have to be created with matching structural reforms.