Denmark is famous for its effective groundwater management policies and strategies. India's collaboration with Denmark can transform its water management to aid the country in overcoming its water crisis, write H.E. Freddy Svane, Ambassador of Denmark to India and Anshul Jain, Head-APAC, Danish Water Forum.

Denmark has probably the best ground water management in the world as Denmark relies almost 100% on groundwater for all its water uses.
Although water is not a scarce resource in Denmark, we have been able to raise water on thevagenda and create the necessary understanding and respect for the resource and its capability of providing us with enough water with a high and safe quality. We have realised that 'Water is a resource that can not be substituted'.
Water is one of the most precious gifts of nature, however, we disrespect water in many forms; pollution of water resources, waste of water, no treatment or inefficient treatment when delivering the water back to nature and over-exploitation of the resources like groundwater, mainly due to non-understanding the fragile nature of water.
Pricing of water in Denmark is based on the principle of full cost recovery, which means that the user pays a combined price for production, distribution, wastewater treatment and maintenance costs. Fairwater pricing goes hand-in-hand with household meters. Water supply in Denmark includes the costs related to abstraction, treatment, building the piping system and ensuring proper maintenance of all assets.
NRW or Non-Revenue Water (leakages due to nondetection) is one of the biggest challenges in water supply systems. The leaking pipes also result in contamination of the drinking water in the pipes. There is also the massive wastage of energy used to produce this wastewater. While NRW in Denmark is between three to eight percent, many countries have NRW of up to 60-70 percent! As per the Indian Government data, NRW average in India is around 40-50 percent. This means that if NRW can be reduced, double the amount of drinking water will be available for the Indians, without laying any new pipelines and almost negligible cost.
Danish Government, through Danish Water Forum, conducted a feasibility study in Rajkot, Gujarat in 2013 by using the sensor technology, and the study found around 30 percent leaks in a 12-year old township. The main reasons for the leakage were from unauthorised household connections and leaking valves. An important leak-factor comes from household connections, which are made by unskilled people. So the future will require training and reskilling the Indian plumbers at a massive scale to handle the leak detection, the repair and the replacement of pipes.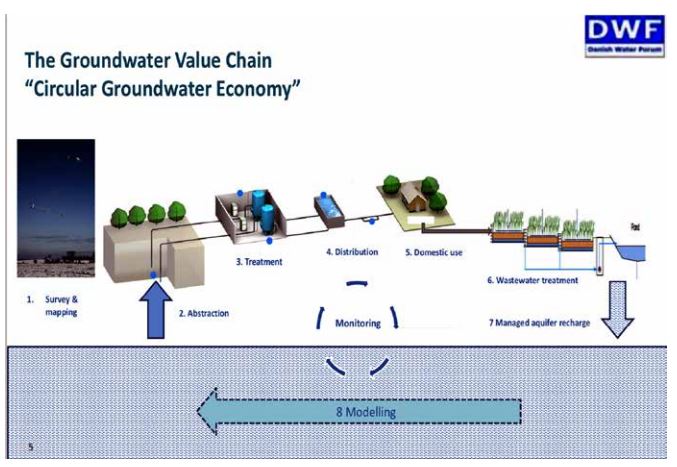 Danish Water Forum, along with Indian Institute of Technology (IIT) is designing a short term skilling course for the Indian plumbers. Also, a proposal is on the anvil to work with the Indian Government through their SmartNet Platform, to share Danish best practices in water with the Indian municipalities.
Danish research institutes and Universities also work closely with the government and industry to share their water expertise. WATEC (Aarhus University Centre for Water Technology) develops sustainable water management and technology – and facilitates research at the highest level to the benefit of society and industry.
Focus areas are groundwater mapping and modelling, wastewater treatment, micro- contaminant transformation and removal, management of natural aquatic ecosystems, management of water in agriculture, sensor development, and socioeconomic evaluations of management practices.
Also Read: INDIA-ISRAEL: Growing Partnership in WATER
Maybe from an Indian viewpoint, the most interesting expertise within WATEC is the detailed mapping and modelling of groundwater resources performed by the hydrogeology group. They have world-leading expertise in mapping the underground down to > 1000 m by helicopterbased remote sensing (magnetic resonance) or ATV-based sensing down to 50 m. The knowledge they obtain can be used not only to find the best locations for water extraction but also to find areas suited for groundwater recharge.
Pressure management is essential to effective leakage management. Demand Driven Distribution, pumps, intelligent components and system surveillance are packaged to build unique pressure management solutions that minimise water losses, reduce energy consumption and minimise operational costs for leaks and pipe maintenance.
Danish companies provide pumps and controls for the entire water distribution system, including main and local pumping stations. Pump optimisation and pressure control solutions increase pump and system efficiency, ensure correct water pressure, high reliability and intelligent surveillance of the water distribution system.
The Demand Driven Distribution controller connected to network pressure sensors via the GSM network allows control of the pumps in accordance with data logged on a daily basis via an adaptive control algorithm. The measured data are then used for adaptive control of the pumping station, keeping the pressure in the network at the desired value, without troublesome analysis and re-configurations of the system to maintain proper operation.
For solutions to efficient water supply, Denmark has the needed know-how and offers a complete range of valves, hydrants, and accessories to fit any need. The applications for water supply includes water distribution, water plant work, and water transmission. The gate valves and accessories, butterfly valves, swing check valves, air valves, control valves, hydrants, couplings, fittings are all approved according to the local standards and approvals of all the operating countries, including the main standards of DIN, BS, AWWA, AS and JIS.
Danish companies have established the Ultrasonic Static water meter concept in Indian water utility market over traditional Non-Static / mechanical meters. The technology has been supplied to various projects in Rural & SemiUrban Municipal Corporation. Smart water meters are a very essential tool in the fight against NRW reduction and Smart City 24 x 7 water supply projects.
Danish water-saving products for bathrooms have been sold in more than 18 countries of the world. Both private and public customers have been using Danish top quality and innovative products reportedly saving 15-40 percent of water daily. The main objective is to provide such products primarily for markets facing water scarcity and long-lasting water stress. After all, water is the most precious resource we need to preserve.
In conclusion, it would be fair to summarise that there are several areas of possible collaboration between India and Denmark in the area of water management. Through its different agencies and partners, the Danish government is under discussion with various Indian stakeholders on the following projects:
 Studying the NRW/Leakage in pipes in several wards/ districts of Maharashtra, Gujarat and Rajasthan.
 Following up with the installation of Smart Water Meters for reducing under-reporting and misuse of water, especially by commercial establishments.
Further installing water-saving devices at building/ household level and mapping the reduction of daily water use by involving researchers from Indian Institute of Technology.
Establishing a training centre for imparting Certificate courses to local water bodies (Pani Samities), plumbers and ITI students.
Suggesting Demand Driven Distribution involving scientific water audits and replacement of inefficient pumps and valves.
Establishing cost-efficient water ATMs providing clean drinking water and also creating 5-10 jobs per ATM all across the country (such a project is under discussion in Ghaziabad, UP).
Follow and connect with us on Facebook, Twitter, LinkedIn, Elets video