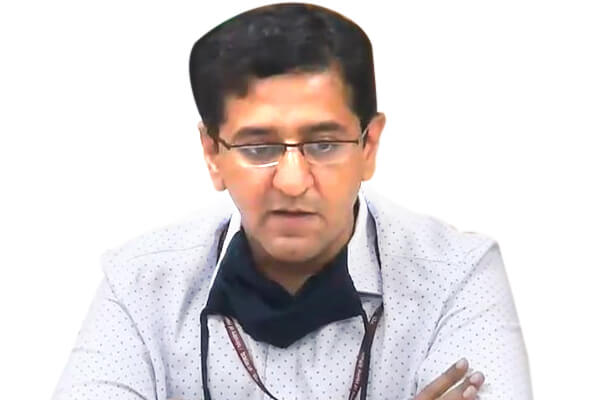 The Coronavirus pandemic has turned out to be an eyeopener for the government, projecting the importance of technology. The government of India has also been proactive at their end. It launched various schemes and programmes to boost the country's IT and Electronics Sector. Highlighting the facts, Saurabh Gaur, IAS, Joint Secretary, Ministry of Electronics and Information Technology (MeitY), interacted in an exclusive interview with Arpit Gupta of Elets News Network (ENN).      
Q. What has been the impact of COVID-19 on the Indian IT and Electronics sector? What mitigation measures are being undertaken?
We know that domestic electronics manufacturing in the country has increased substantially over the last few years. However, domestic value addition continues to be low in the range of 10-20 percent only, which is due to the lack of electronic components manufacturing ecosystem and which is responsible for our excessive dependence on imports. India imports almost US$ 58 billion worth of electronic equipment, assemblies, components and raw materials every year. 
While we are steadily moving from Semi Knocked Down (SKD) to Completely Knocked Down (CKD) level of manufacturing, the pandemic of COVID-19 has halted the process to a large extent as the supply chain is controlled by few economies of the world.
MSMEs are the most affected and bearing the brunt of the disruption in supplies caused due to the COVID-19 since they have limited resources and generally do not have many suppliers or alternative sources.
Also Read: India Spearheading
There are some short-term measures taken by the Government to respond to the immediate challenge. This includes promoting flexible working arrangements, helping in inter-state movement of the essential electronic goods, helping industry in their Business continuity plan and Standard Operating Procedures (SOPs) for the opening of their factory/plant.
You will be happy to know that, apart from the short-term measures taken by the Ministry of Electronics and Information Technology (MeitY), the Government has come up with the trilogy of schemes including Production Linked Incentive (PLI) scheme for Large Scale Electronics Manufacturing, Scheme for Promotion of Manufacturing of Electronic Components and Semiconductors (SPECS), and modified Electronics Manufacturing Clusters (EMC 2.0) scheme to give momentum to electronic manufacturing in the country. 
Q. MeitY has launched three schemes including PLI, SPECS, and Cluster Schemes (EMC 2.0). Can you please elaborate on the benefits of these schemes? How will it help India to ascend in electronics manufacturing?
I would like to say that the Government of India attaches high priority to electronics hardware manufacturing and it is one of the important pillars of both "Make in India" and "Digital India" programmes. The National Policy on Electronics 2019 (NPE 2019) envisions positioning India as a global hub for Electronics by creating an enabling environment for the industry to compete globally. 
The current geopolitical situation and the huge domestic market is offering a great opportunity for India to establish itself as a global manufacturing hub for electronics – both for catering to the domestic demand as well as for exports.
Also Read: MSMEs & Transport Striding Towards Growth : Nitin Gadkari
The three new schemes including PLI, SPECS and EMC 2.0 highly resonate and in line with the NPE 2019. The schemes together will enable large scale electronics manufacturing, a domestic supply chain ecosystem of components and state-of-the-art infrastructure and common facilities for large anchor units and their supply chain partners. It will contribute significantly to achieving a US$ 1 trillion digital economy and a US$ 5 trillion GDP by 2025.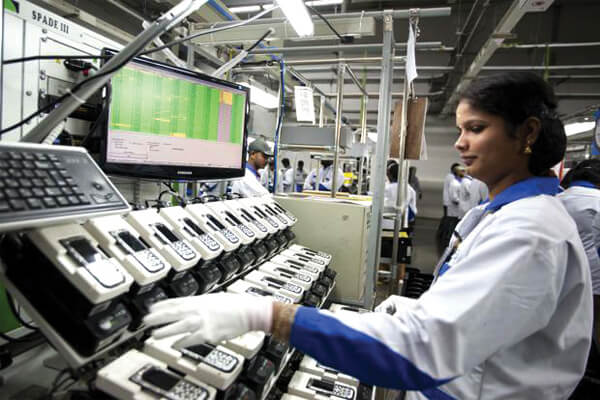 It is expected to achieve an incremental production of 8 lakh crore and an incremental export of 2 lakh crore over the next five years. The combined impact of the proposed schemes in terms of employment generation will be around 10,00,000 direct jobs. 
Q. Technologies like Blockchain, AI, Machine Learning, Internet of Things (IoT), Drone Technology, etc. are playing a major role in multiple arenas. Where do you see a role for these emerging technologies in future governance?
According to the UN e-Government Survey 2018, India is ranked at 96 on e-Government Development Index (EGDI) published by United Nations for the year 2018 (India's rank is improving from 107 in 2016 and 118 in 2014).
Our Smart Cities Network; Industry 4.0; Public Digital Platforms for Health, Education, Agriculture, etc. have to use Emerging Technologies and IoT Sensors and devices and therefore India has to build core strength in design and manufacturing of such devices. These are covered under both the PLI and SPECS Schemes. Further, there is a great opportunity to leverage our startups, software design and hardware manufacturing that will make India a global leader in these technologies.
Also Read: COVID-19, A true test of Indian Leadership
Emerging technologies like AI, Blockchain, IoT and Cloud Initiatives have a very important role in future governance. According to a report by NITI Aayog, Discussion Paper on National Strategy for Artificial Intelligence, AI/ML has the potential to transform India's nucleus – healthcare, agriculture, education, smart cities and infrastructure, and smart mobility and transportation. 
Q. The production of mobile phones in India grew from $2.9 billion to $24.3 billion between 2014 to 2019. Similarly, consumer electronics production grew from $8.5 billion to $11.2 billion. What are the next milestones and how would it contribute to bringing back the Indian economy on track?
It is a now known fact that India has emerged as the second-largest manufacturer of mobile phones in the world. The production of mobile phones has gone up from about six crore mobile phones in 2014-15 to approximately 33 crore mobile phones in 2019-20. Most of the major brands have either already set up their own manufacturing facilities or have sub-contracted manufacturing to Electronics Manufacturing Services (EMS) companies operating from India. Over 260 units are manufacturing cellular mobile phones and parts/ components thereof in the country, up from only two units in 2014.
With the PLI scheme for Large Scale Electronics Manufacturing, India will soon secure its place in the field of electronics manufacturing. The mobile phone market is dominated by five to six companies globally which account for about 80 percent of the world's market share. These companies are able to exploit large economies of scale to compete in global markets. It is imperative that these companies expand their operations in India and make it a major destination for manufacturing of mobile phones.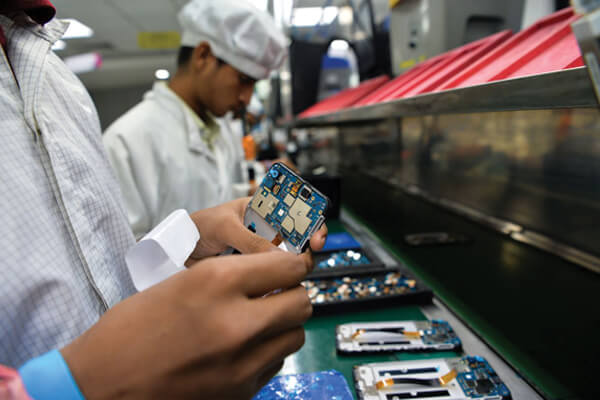 Similarly, other Ministries/ Department are also working on the Production Linked Incentive Schemes to promote the manufacturing of the products/goods handled by them.
Q. India's electronics manufacturing has grown to Rs 4,58,000 crore today from Rs 1,90,366 crore in 2014. India's global manufacturing share has risen to 3 percent in 2018 from 1.3 percent in 2012. Exports have also spiked between 2018 and 2019. How do you see the growth in the coming years?
In recent years, Government has taken several initiatives for promotion of electronics manufacturing in the country, as a result of which the domestic production of electronic goods has increased substantially from Rs 1,90,366 crore in 2014-15 to an estimated Rs 4,58,006 crore in 2018-19, at a Compound Annual Growth Rate (CAGR) of about 25 percent. As per the reports from Industry Associations, the production may reach Rs 5,46.550 crore in 2019-20.
The growth in coming years will be driven by three Schemes- PLI, SPECS and EMC 2.0. These schemes will contribute to the vision of National Policy on Electronics 2019 (NPE 2019) notified on February 25, 2019, to position India as a global hub for Electronics System Design and Manufacturing (ESDM) by encouraging and driving capabilities in the country for developing core components, including chipsets, and creating an enabling environment for the industry to compete globally.
The schemes will lead to incremental production of Rs 8.0 lakh crore and lead to incremental export of Rs 2 lakh crore.
Q. As of now, we understand the schemes are applicable to smartphone components and semiconductors- given that India is aspiring to attract disruptions in global value chains, would the scope of the current schemes/new schemes be announced to attract other hardware electronic suppliers?
It is very true that components form the backbone of all segments of electronics such as Medical Electronics, Strategic and Defence Electronics, Telecom Equipment, Industrial Electronics, Consumer Electronics, etc. Achieving a greater degree of self-reliance in components manufacturing will reduce dependence on other nations and improve the balance of trade. Components manufacturing is being aggressively pushed under both PLI and SPECS schemes.
While PLI covers the specified electronics components which are basic building blocks of electronics, SPECS covers downstream value chain of electronic products only viz., Components, Semiconductors (Discrete as well as Integrated Circuits), Displays and specialized sub-assemblies/ parts, including capital goods for electronics manufacturing, all of which involve high value-added manufacturing (an average value addition of over 30%; going as high as 50% in several cases). 
The new Schemes aspire to disrupt the global value chains and bring them to India. Once the anchor units / EMS units start shifting their base to India, it will nudge them to start manufacturing other electronics hardware, if the proper ecosystem and incentive are provided.
Q. How will these three Schemes help in increase in increasing value addition and ultimately help India to be part of the Global Value Chains? 
The new Schemes are focusing on the manufacturing of mobile handsets as well as components. Electronic components are the basic building blocks for the electronics industry and entail maximum value addition. Hence, these Schemes will promote companies to set up the whole value chain here in India and reduce import and will provide an overall conducive ecosystem of electronics manufacturing in India. Achieving high production of components will increase value addition to an average of 35% in the next 5 years from the current 20% – 25%., which is the objective envisaged under SPECS Scheme.