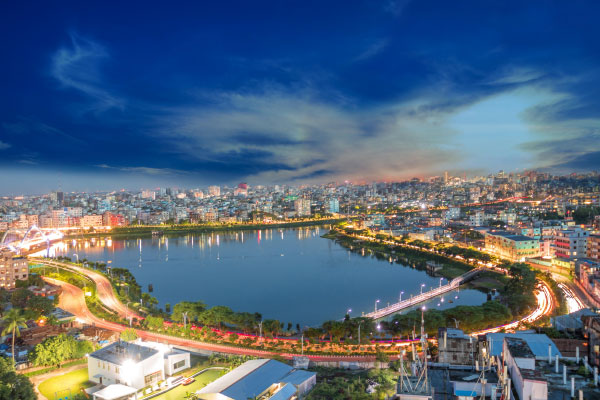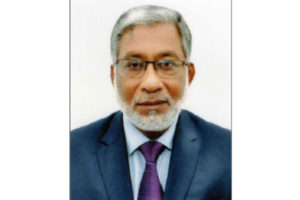 By Md. Sirazul Islam
Md. Sirazul Islam is the Executive Chairman of Bangladesh Investment Development Authority
To sustain and augment the growth, every initiative is being taken to transform Bangladesh as a 'Middle-Income Country' (MIC) by 2021; a 'Developed Country' by 2041; and a 'safe, climate resilient and prosperous Delta' by the end of this century.
Bangladesh or 'Bengal', in the medieval world, was famous for her ingenious commodities prepared by the most talented craftsmen reaching to the farthest parts of the globe. Since time immemorial the spirit of creative entrepreneurship was embedded in her social and economic fabric. The global consumers were tempted to have the finest commodity of Bengal.
However, with the time the economic reality of Bengal has headed in a different direction. The pragmatic and visionary leadership of Bangladesh has now changed the landscape of the country to an unprecedented milieu, which was never anticipated. New York Times in 2012 commented on Bangladesh as 'an unlikely corner of Asia-Strong Promise of Growth". But now in 2019, we see Bangladesh emerging as the 13th largest economy in terms of Gross Domestic Product (GDP) in the Asia-Pacific region, leaving behind the likes of Singapore and Hong Kong as per the Asian Development Bank.
To sustain and augment the growth, every initiative is being taken to transform Bangladesh as a 'Middle- Income Country' (MIC) by 2021; a 'Developed Country' by 2041; and a 'safe, climate resilient and prosperous Delta' by the end of this century. All the policy prescriptions and institutional focus are aligned to these goals. Massive reforms in the existing structure have been undertaken to streamline the economic growth and make the investment climate best in this region. The outcome is acknowledged by investors and associated agencies alike.
During this journey, Bangladesh has achieved the Millennium Development Goals (MDGs), and has undertaken massive and inclusive initiatives to attain the "17 Sustainable Development Goals" of 2030 Agenda, or 'SDGs' for Sustainable Development of UN declaration. To achieve these goals, the role of private sector is going to be most crucial as a key partner of government in the implementation process of SDGs.
In the national perspective, the Government of Bangladesh has focused on sustainable and inclusive growth of the country. For that, the 7th Five Year Plan (2016-2020), Perspective Plan (2010 – 2021), SDG Action Plan (2016-2030) and Delta Plan 2100 have been laid down to attain targets focusing on promoting resource and energy efficiency, sustainable infrastructure, sustainable production and consumption, providing access to basic services, green and decent jobs, and above all ensuring better quality of life for all.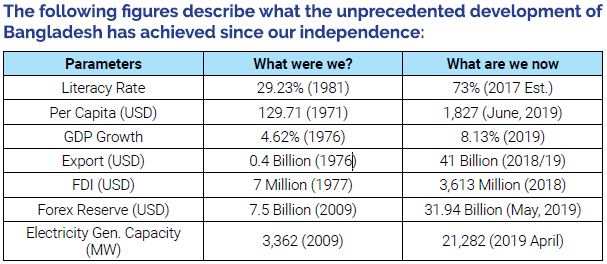 Bangladesh as an ideal investment destination: Bangladesh has created her niche based on her unique competitive edge. The following are mention worthy.
Industrious Competitive Workforce: Bangladesh offers a well-educated, highly adaptive and industrious workforce with the competitive wages and salaries in this region. About 57.3% of the population is under 25, providing a youthful group for engagement. The country is enjoying demographic dividend and the working force is able to meet global standards.
Strategic Location, Regional Connectivity and Worldwide Access: Bangladesh is strategically located next to India, China and ASEAN countries. The economic corridors in the South and South East Asian region such as BCIM, BIBM are taking tangible shape and becoming a hub of opportunity for Bangladesh. Bangladesh is actively considering creating economic corridor in its north and southern area thus gradually integrating into the global value chain.
Macroeconomic stability: The country has been enjoying macroeconomic stability for a decade now. The foreign exchange rate and exports are stable and the inflation is well within the tolerable range. The country rating in terms of risk perception is also stable. Moody's has sovereignly rated Bangladesh as 'Ba3' and Standard and Poor's as 'BB-' for consecutively six times.
Strong Local Market and Growth: In addition to the country's global presence in terms of export potential, Bangladesh offers the domestic market of the population of 160 million and regional market access of around 3 billion people. With its rising per capita and brand consciousness, the foreign investors are also eyeing the untapped local market.
Energy: Since 2009, the energy production has grown on a mammoth scale. Currently, the installed capacity is around 21,000 MW and by the end of 2021 it will be near to self-sufficiency. We are expecting that it will reach 23000 MW. The investors from India have invested hugely in the power sector.
Competitive Incentives: Bangladesh offers the most liberal FDI regime in South Asia, allowing 100% foreign equity ownership with unrestricted exit policy, almost all the sectors are open for foreign investment without any quantitative restriction, remittance of royalty and repatriation of equity and dividend. We offer generous tax holiday, reduced tax rate for ICT sector, bond facility, export incentives and other fiscal incentives.
Export and Economic Zones: Bangladesh offers export oriented industrial enclaves with infrastructural facilities and logistical support for investors both local and foreign investors. As of now there are 8 export processing zones operating in Bangladesh in various parts of the country.
Economic Zones: Bangladesh has started developing 100 Economic Zones (EZ) in the country to create structured and balanced investment. These will be heterogenous as well as country and sector specific. The vision is to create 10 million employment opportunities and export of USD 40 billion. As of now 88 EZs are earmarked. Among these 55 will be under Government initiated, 29 under private sector developed, 2 under PPP model, 4 under G2G modalities and 3 wil be built as tourism park.
Bangladesh Investment Development Authority (BIDA): To promote sustainable and inclusive investment development in Bangladesh a new agency was created named 'Bangladesh Investment Development Authority (BIDA)' from the merger of the Board of Investment and the Privatization Commission responsible for divestment of state-owned enterprises. The agency, apart from its regulatory and promotional activities, also looks actively into the following:
Facilitate the prospective investors,
Creation of true one stop service for the investors,
Endeavour to improve the ratings of Bangladesh in various indicators such as 'Doing Business report of World Bank', 'Global Competitive Index' of the World Economic Forum and others.
Acclamation on Bangladesh: Global  agencies are attesting the achievements of Bangladesh. Agencies such as Citi Investment Research & Analysis, Goldman Sachs, The International Monetary Fund (IMF), The Wall Street Journal (WSJ), JPMorganChase, Morgan Stanley, New York Times, HSBC, McKinsey & Co, The Deutsche Bank AG, Germany, The World Bank, PWC (PricewaterhouseCoopers) has spoken unequivocally on the unprecedented growth spree of Bangladesh.
Promotion and Protection of Investment: According to Industrial Policy 2016, investment in all sector of the economy are allowed and there is no restriction on the amount of share of the investment. Foreign investors are eligible to take advantage of a wide range of generous tax concessions and other fiscal incentives and facilities. Foreign investment in Bangladesh is secure vis-à-vis nationalization and expropriation. The Foreign Private Investment (Promotion and Protection) Act 1980 ensures full protection to foreign investors. Furthermore, Bangladesh is a signatory to MIGA, OPIC, ICSID, WAIPA, WIPO and WTO. Bangladesh has signed bilateral investment treaties with 32 countries and Double Taxation Treaty (DTT) with 28 countries. Bangladesh has signed both these treaties with India.
Investment position of Bangladesh: Since 2009 Bangladesh is receiving FDI on a steep trend with a CAGR of 20% since 2009 till 2018. Starting form 900 million USD in 2009, it has reached 3613 million USD in 2018 which is 68% higher than the last year. This year the FDI stock stands at 17 billion USD which was 14 billion USD in last year registering 21% growth over last year.
Regulatory Improvement: Bangladesh is striving in all areas to improve the existing regulatory regime. According to Ease of Doing Business (EODB) and other global rankings the position of Bangladesh's lies in the moderate tier. But Bangladesh has taken extensive measures to ensure that the country will elevate to the top tier of the rankings by 2021, the year to become the Middle-Income Country (MIC). BIDA and other agencies has already started focused and massive initiatives to improve the EODB and other rankings thus the doing business for the investors much easier and convenient.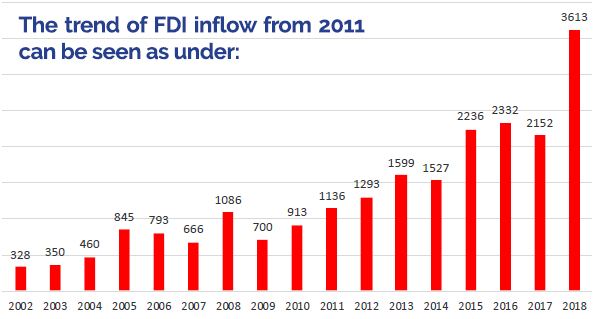 One-Stop Services: The One-Stop Service (OSS) puts all investment facilitation mechanisms under a single umbrella, aimed at easing the regulatory regime to boost investment for the nation's economic development. The OSS will be a cloud-based portal based on the best practices which an investor can access from anywhere and at any time. As of now 15 client services have been made online. In the shortest possible time, another 135 services of 34 agencies will be included in this OSS system. This will enable the investors to obtain services from one place and in one click.
Economic relations with India: The economic relation of Bangladesh with India is time tested. There was proven productive value chain existed in the earlier centuries between these two countries. To strengthen this relationship, both the countries has taken cohesive initiatives. To facilitate the investors Bangladesh has signed Bilateral Investment Treaty (BIT) and Double Taxation Treaty with India. In recent years many Indian enterprise has invested in Bangladesh and engaged in commercial and infrastructure building activities. These agencies includes NTPC Limited, MRF Limited, Air India Limited, Export- Import Bank of India, Tata Motors Limited, Comviva Technologies Ltd., ICICI BANK LIMITED, WIPRO LIMITED, Mahindra & Mahindra Limited, Ircon International Limited, IL & FS Technologies Limited, Pidilite Industries Ltd., ONGC Videsh Ltd., State Bank of India, Larsen & Toubro Limited, Shapoorji Pallonji And Company Private Limited, AFCONS INFRASTRUCTURE LIMITED, Indian Oil Corporation Limited, Bharat Heavy Electricals Limited, WAPCOS LIMITED, Godrej & Boyce Mfg. Co. Ltd etc.