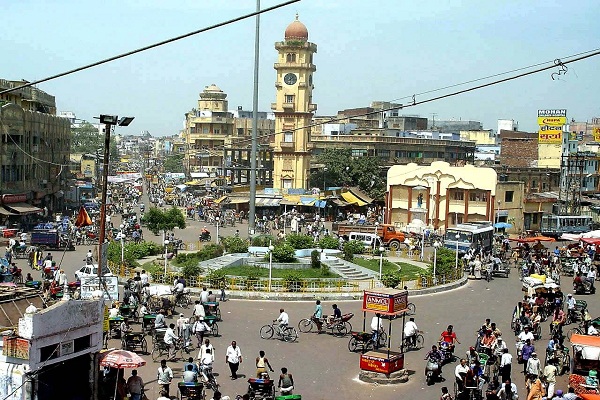 Located in the western bank of Ganga, Uttar Pradesh's commercial capital Kanpur has played a major role in the India's industrial and economic growth. Over the years, the city has experienced paradigm shift in terms of urban development as it joined the league of Smart Cities and has recently been ranked among the top 10 Smart City Projects in India. Arpit Gupta and Sreetama Datta Roy of Elets News Network (ENN) assay the urban growth charter.
Kanpur, one of the busiest and populous industrial hubs of Uttar Pradesh is marching towards transforming into a Smart City. One of the largest cities of the state, Kanpur was ranked as the 12th most populous city in India and 11th most populous urban agglomeration according to the 2011 census of India. Owing to industrial significance, especially its leather and textile, the city has also gained the nickname of 'Manchester City'. Over the past few years, Kanpur is experiencing a gradual transformation towards developing as a Smart City.
Kanpur is one of the 12 Smart City projects in Uttar Pradesh. Recently, the city has been ranked eighth in the list of top 10 Smart Cities of India by the Union Ministry of Housing and Urban Affairs. In Uttar Pradesh, Kanpur Smart City project has secured the first position. As compared to that of last year, Kanpur has walked up the ladder by five positions, as Kanpur was ranked 13th in the list released last year. Kanpur was selected for the Smart City Mission in its third phase. Despite being the industrial capital of Uttar Pradesh, the city is marred by several challenges. The primary focus areas of the Kanpur Smart City Limited (KSCL), the Special Purpose Vehicle (SPV) of Kanpur Smart City project was to address the challenges.
Overcoming Challenges and Converting them to Opportunities for Smart City Development
According to Santosh Kumar Sharma, CEO, Kanpur Smart City Limited and Municipal Commissioner of the city, population, pollution and traffic congestion are the major areas of challenge. "The numerous problems that we face have become challenges under the Smart City Mission.
Traffic poses a major challenge and we are aiming for a revolutionary change in this field", says Sharma. Waste management also posed to be one of the challenging areas for the civic bodies working towards the urban development of Kanpur. To sort this issue, KSCL along with the Kanpur Municipal Corporation focused on waste and effluent management techniques.
With the effective usage of technology, facilities like Integrated Traffic Management System (ITMS), Smart Parking system and Integrated Command and Control Centre (ICCC) through CCTV surveillance, ICT based solid waste collection, and Smart Roads to name a few have been adopted. Let us give you an overview of the multiple smart initiatives taken by the SPV for the urban development of the industrial capital.
Waste Management Initiatives
Talking about the priority projects, Sharma states, "Our first priority is not to let any garbage touch the ground. Presently you may see heaps of garbage beside some roads of Kanpur but in the coming years, all the garbage will be transported through closed vessel compactors and no garbage will be visible on the ground." Kanpur is at the receiving end towards a massive amount of industrial waste as well as other forms of solid and liquid waste. Hence, the civic bodies of Kanpur are working towards developing ICT based waste management system. Within this project, garbage is collected from every household and is transported to the eight transfer stations, where the waste materials are processed or recycled based on their types.
Kanpur holds immense historic significance. It was one of the major locations of the 1857 uprising for the India's struggle of independence. In a bid to keep the historic spirit alive, Kanpur Smart City Limited is working towards restoring the historic sites like Nana Rao Park, Ghanta Ghar or Clock Tower among others.
Subhash Chand Sharma, Divisional Commissioner, Kanpur and Chairman, KSCL says, "In an attempt to strengthen the solid waste management, we have constructed eight transfer stations where the garbage is brought from lanes and streets. We have also deployed hydraulic machines for garbage disposal. In order to clean and rejuvenate the Ganga river, major drains have been completely tapped the sewage and industrial effluent has been diverted to Common Effluent Treatment Plants (CETPs)."
Integrated Traffic Management System (ITMS)
Traffic congestion is another major problem area of the city owing to the huge population. To curb this challenge, ITMS is implemented across the city. According to KSCL, ITMS enables gathering data or intelligence and then providing timely feedback to traffic police. ITMS is integrated with various subsystems such as traffic sensors, CCTV etc.
At present, there are 68 ITMS junctions and two Adaptive Traffic Control System (ATCS) junctions. KSCL also states, "Implementation of ITMS-ATCS results in improved safety to drivers, reduced traffic congestion, improved energy efficiency, and environment quality as well as enhanced economic productivity." Shedding light on the same, Subhash Chand Sharma says, "For a smooth run of traffic, we have come up with Intelligent Traffic Management System (ITMS) project. The traffic lights have been linked with our Integrated Command and Control Centre (ICCC). We can give alerts and commands to the Regional Transport Office (RTO), police department or electricity departments and drinking water supply can also be controlled from the ICCC."
Smart Parking
In order to ease the ordeal of the pedestrians, smart parking system is installed across the industrial capital of Uttar Pradesh. Owing to a large number of private vehicles on the road, solutions such as multi-storied car parking facilities have been developed across the city. With the help of the mobile application, vehicle owners can find out available parking space.
They can also book an available parking spot in advance by paying a stipulated fee through the mobile app itself. Sharing example of Kanpur's famous Naveen Market and how smart parking system brought convenience to the pedestrians and market visitors, Santosh Kumar Sharma said, "We have completely changed the face of Naveen Market. Now it is a pedestrian market. Earlier there were huge lines of cars present in and around the market and walking in the area became very difficult. To resolve this problem, we created a multi-level car parking nearby. This resulted in a lot of space being created for pedestrians."
Smart Roads
In the Smart Roads project, the existing road network or streets are renovated in such a way that everyone on the road, be it the drivers of the vehicles or pedestrians or even roadside vendors are at equal ease. Santosh Kumar Sharma states, "We have undertaken some smart road projects for making smart pathways and cycle tracks. Also, amenities like street furniture are being installed for pedestrians."
Some of the features of the Smart Road project include widening of roads, restoring footpaths with polymer interlocking tiles and tactile path for visually impaired, smart poles and cycle tracks among others. The project also includes plantation of trees on either side of the roads and on the dividers.
Integrated Command and Control Centres
The ICCC is a culmination of multiple projects which ensures convenience of the citizens but ensures their safety and security as well. The projects include Data Centre, CCTV surveillance, free WiFi spots across the city, environment sensors, digital signboards, and emergency call box and public address among others. The Command and Control centres are enabled with centralised software to give alerts and notifications. These also include Interactive Voice Response Services (IVRS) or Call Centre support. According to KSCL, CCTV cameras with built-in facial recognition system are to be installed in 148 junctions of the city for centralised control and monitoring. There are 86 free WiFi spots across installed across the city.
Talking about the citizens' grievance redressal system, Subhash Chand Sharma says, "We are also coming up with a grievance redressal system to reach out to the citizens. Day-to-day complaints related to water, electricity or sewerage can be registered there, which will go to the ICCC. As the complaint reaches to us, it will be forwarded to the concerned officer for necessary action." The multiple utility Smart Card developed by KSCL can be used for online utility bill payments, municipal tax payments, online ticket booking for travel as well as movies, mobile and DTH online recharge, online shopping as well as cash withdrawal from ATMs.
Water Management
In a bid to conserve water resources, the Kanpur civic bodies have taken multiple initiatives to recycle, rejuvenate and harvest water from various sources.
Rain Water Harvesting and Waste Water Recycling
KSCL has selected as many as six government buildings across the city for installing rain water harvesting system. The rain water is conserved in the rooftop storage tanks and further treated in order to make the rain water potable or usable. As far as waste water recycling is concerned, KSCL mentions that waste water, resulting from common washing area in Bhaironghat is collected and recycled and the fresh water is circulated across the city for public usage.
Commenting on the waste water management, Santosh Kumar Sharma says, "We have also undertaken projects for rain water harvesting under smart city mission. We have Sewage Treatment Plants (STPs) working 24×7 and now there is a very big thermal power plant coming up in Panki. We are working on an agreement so that treated water from STPs goes to that plant."
KSCL is also developing smart water meters, through which the following features would be there for optimum utilisation of available resources as well as avoid water wastage:
Enables two-way communication between utilities and consumers
Tamper proof meters with real-time monitoring
Accurate billing with theft detection
Remote cutoff water supply in case a consumer exceeds overdue limit
Wireless data collection from water meters
Santosh Kumar Sharma also adds, "We discourage digging of tube wells or extracting underground water. We try to be fully dependent on surface water sources."
Air Quality Monitoring
Kanpur is considered to be one of the most polluted cities in the world based on the particulate matter concentration. To curb this challenge, Air Quality Monitoring sensors are installed across 50 locations in the city. The electro chemical sensor monitors the presence of harmful elements such as Carbon Monoxide, Carbon Dioxide, Sulphur Dioxide, Nitrogen Dioxide and Particulate Matter.
Beautification of city and restoration of historic buildings
Kanpur holds immense historic significance. It was one of the major locations of the 1857 uprising for the India's struggle of independence. In a bid to keep the historic spirit alive, Kanpur Smart City Limited is working towards restoring the historic sites like Nana Rao Park, Ghanta Ghar or Clock Tower among others.
Sharing further details about the project, Subhash Chand Sharma shares, "The old structure should not be changed because people can have a kind of faith or a sense of honour towards the site. We are just providing additional facilities to give an attractive shape to the place. For example, in Nana Rao Park and Bithoor, we have not touched the old structure; we are just installing statues or autobiographies of freedom fighters, so that people can know about their lives."
Apart from the restoration of the historic sites, work is ongoing for beautifying parks and installing open gyms there. According to KCSL, so far, as many as six open gyms have been installed in Nana Rao Park Phool Bagh, Water Park at Hanspuram, Geeta Park at Kidwai Nagar, Kargil Park at Motijheel, Mahapalika Park at Ratanlal Nagar and Ramleela Park at Geeta Nagar.
New Feather in Cap – Kanpur Metro
The Kanpur Metro network is under progress. According to Santosh Kumar Sharma, the Detailed Project Report (DPR) and the tender process have been completed for the Kanpur metro rail. Phase-1 for the metro is underway.
Way forward towards Smart and Healthy Kanpur
While the civic bodies are progressing towards a smarter future in terms of urban development, the mandate with the administrators and policymakers is to develop a healthy city with the elimination of the factors causing health hazards.
As Subhash Chand Sharma puts it, "One of our future plans is to completely remove health hazards. To control air pollution, we have installed pollution control panels that will give alerts to the people regarding pollution levels in the air. Another future plan is to make the whole city clean. It should reflect in the environment within and around the city. There should be an upgrade in the lifestyle of the residents and an increment in our Human Development Index."