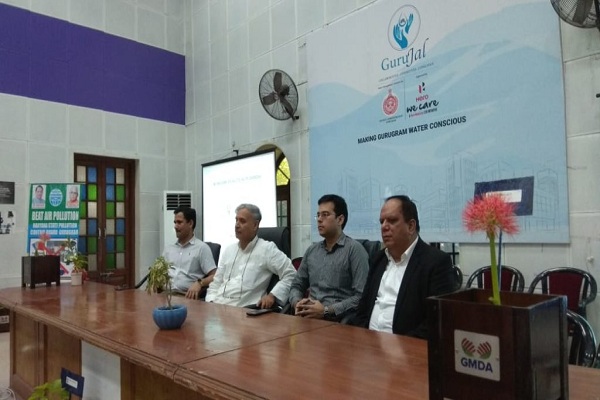 Gurugram, the Millennium city has been struggling with the water crisis. Hence, the initiative of GuruJal was taken by the District Administration of Gurugram, Government of Haryana. Ritika Srivastava of Elets News Network (ENN) writes on the water management initiatives by Guru Jal to curb the rising challenge of water scarcity through its innovative initiatives.
Water, which is the most precious resource for mankind, is under threat. As per the reports of Central Ground Water Board (CGWB), published in 2010, out of 108 development blocks in Haryana, 55 blocks were overexploited in terms of water usage, 11 are critical and five are semi-critical. This acts as enough indication that Haryana, vis-à-vis the entire country is experiencing alarming levels of groundwater over-utilisation.
Situations have been worsening with an average fall in groundwater levels by two to five meters below the surface levels annually despite the fact that more than 15 government departments have ongoing interventions in different capacities which affect water management directly and indirectly.
To chalk out an effective plan of action to curb the growing challenge of water crisis, the Government of India has lunched Ministry of Jal Shakti. The facet of the ministry is that not only does it work at the policy level, but is also taking initiatives of citizen engagement, which can create awareness among citizens, as well as work towards the common goal of water conservation. One such initiative is the launch of Jal Shakti Abhiyan.
How Jal Shakti Abhiyan would Contribute towards Curbing the Rising Water Crisis
Jal Shakti Abhiyan is a time-bound campaign focused on water conservation. During the campaign, officers, groundwater experts and scientists from the Government of India will work together with state and district officials in India's most water-stressed districts for water conservation and water resource management by focusing on accelerated implementation of five target intervention.
Challenge of Water Scarcity in Gurugram and how it is being worked upon
Gurugram, the Millennium city has been struggling with the water crisis. Hence, the initiative of GuruJal was taken by the District Administration of Gurugram, Government of Haryana, in collaboration with RKMF (CSR initiative of Hero MotoCorp). It is an integrated water management initiative, which aims to address the issues of water scarcity, ground-water depletion, flooding and stagnation in the Gurugram District of Haryana.
"We aim to collaborate with the different stakeholders of the district like corporates, civil society and research organisations to address the issue using systems thinking approach," says a GuruJal official.
Focus Areas of Guru Jal
Research and analysis of the existing water initiatives by various government, corporate sponsors and non-government organizations, for their impact and success along with failures, to avoid duplicity of efforts, centralize efforts and incorporate learnings from past projects
In-depth analysis to find accurate data points and the precise root cause of water mismanagement and devise solutions Including every possible aspect and every possible stakeholder that affects water and accordingly design solutions
Holistic, collaborative and focussed approach to enable inter and intra-department support for the implementation of proposed solutions to improve water management scenario in the district
Strict and time-bound monitoring of water conservation scheme compliance
Making Gurugram "Water Conscious District", first in India to do so
Constituent Members of Guru Jal
The Chief members of Guru Jal consist of Municipal Corporation of Gurugram (MCG), Gurugram Metropolitan Development Authority and Haryana Space Applications Centre. The Divisional Commissioner is the Chairman of the Chief members. The other members constitute of the departments of Revenue and Disaster Management, Hydrology Department, Fisheries Department, Pond Authority, Irrigation, Horticulture among others.
The Executing Members of the Programme Management Unit include the Programme Manager, Assistant Manager and Associate. The funding would be done by the CSR initiatives of the corporate organisations.
Major Initiatives by Guru Jal Support a Pond – Pond Rejuvenation: Guru Jal focuses to on reviving around 250 ponds in Panchayat land and 18 in the urban areas, by facilitating the government departments and the local community.
Water Proofing – Preventing Water Wastage: The idea of the initiative is leak proofing campuses, public spaces and institutions. Guru Jal team identifies all possible sources of water leakages and fixing them to eliminate water wastage. The team also aims to provide the institutions water budgeting and cost-effective design solution to create awareness about water conservation.
Connect The Drops – Water Workshops: Through this initiative, Guru Jal conducts workshops for schools, corporate organisations, government offices, Panchayats, Resident Welfare Associations (RWAs) and builders to provide relevant information about Rights, Duties, Process and Compliances related to minimising water wastage and creating awareness on water conservation.
I Am Water Conscious: This initiative focusses around developing implementable parameters for Panchayats, households, organisations and offices to motivate them to adopt measures and conserve water.
Jal Sanrakshan – Water Conservation: Within this segment, the focus is to ensure execution of the existing schemes, policy and programmes by following up with the Government stakeholders.
Immediate Monsoon Preparations – Utilising Rain Water: This initiative aims to avoiding inconvenience from rainwater stagnation and utilising the rainwater by the construction of check-dams and increasing natural pond area by excavation and installing recharge-pits to redirect excess storm water and using it for recharging groundwater.