Often known as the Switzerland of India, Almora is a cantonment town in Almora district which is the cultural heart of Kumaon. It is famous for its rich cultural heritage, unique handicrafts, toothsome cuisines and wildlife. The Almora administration through its unique initiatives is leaving no stone unturned in promoting local artisans and boosting tourism in a big way, writes Elets News Network (ENN).

On a sunny day with clear skies overhead, the breath taking view of the majestic Nanda Devi, the second highest mountain in India, together with Nanda Kot, Trishul and Panchchuli, is like striking gold. Almora, a serene town tucked away amidst the untold beauty of Shivaliks in Kumaon region of Uttarakhand, is an enchanting place. Perched above 1,600 mtrs from the sea, the town is worth the arduous journey one takes from the nearest rail head at Kathgodam.
Behind its modern looking facades, markets and shops pressing against the precarious mountains that are now part of the town's precinct, Almora conceals layers of history. Known as the cultural heart of Kumaon, it is said that the Kumaon's King, Raja Kalyan Chand, chanced upon the beautiful town of Almora around 500 years back while returning from a hunting expedition. In the days of the Chand Kings, Almora was known as Rajapur.
Visiting Almora in any season is an experience in itself. However, it is the simplicity of the people here that is bound to strike a chord with visitors — no matter where they come from. While simplicity and helping nature of the town people can leave an everlasting impact, interestingly it is the festivals of the town that represent the multi-layered cultural milieu deeply rooted in age-old beliefs and rich culture that has been evolving independently in this part of the world for centuries.
Almora is also known for its craftsmanship in copper ware and many other unique crafts. The town sits on a number of ancient copper plates and is located over a horse saddle shaped ridge of a mountain. The old market of the town still bears the sign of its past glory with streets named after specific groups of craftsmen who worked generation after generation to develop the skills that reflect in their products.
Fairs & Festivals
Fairs and festivals are part and parcel of the people's lives in Almora. They act as a window to the rich past of the region as well as a means to express the religious, social and cultural urges of the local people.
ALMORA FESTIVAL
Organised with an objective of reaching out to a larger section of people, Almora District Administration, Government of Uttarakhnd, organised one-of-its-kind 'Almora Festival' on October 20-22, 2018. The festival was unique in many ways, as it was used by the district administration, led by District Magistrate Nitin Bhadauria, as an occasion to promote the unique culture, arts and crafts of the region, through a host of activities attended by over 50,000 people that included an environment summit, cultural programmes, Bollywood nights, magic shows and a buyer-sellar meet that became a convergence point for businesses from across India to interact and do business with local craftsmen. This year, too, the district administration will be organising the festival with the objective of taking it to a new height and addressing many pressing issues facing the district amidst fun and frolic.
OTHER FESTIVALS & CELEBRATIONS
Dussehra Festival, Almora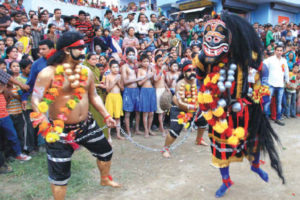 Thousands of people, including tourists, visit Almora every year to see the famous Dussehra festival. What makes Dussehra special here are the effigies of the clan of Ravana made locally in a large numbers. Almora is the only place in the country where 33 effigies of the Ravan clan is burnt during Dussehra. Before burning the effigies, the entire procession is taken out in the city with music bands. It is so famous that tourists from across India and outside the country also visit Almora to see this spectacular moment. This tradition started from 1975 when locals started contributing effigies of other members of Ravana.
Nanda Devi Festival
Held in the month of September, Nanda Devi Festival is organised in Almora for five days. Goddess Nanda was the family Goddess of the Chand dynasty which ruled the region in the ancient times. The temple of 'Nanda Devi' in Almora was built in the 17th century. More than 25,000 people attend this festival every year.
Devidhura Bagwal Mela
Devidhura is situated at the tri-junction of Almora, Nainital and Champawat. The Mela is held in the compound of Maa Varahi (Barahi) Devi temple on the day of Raksha Bandhan. Bagwal is played between four different groups of people. These groups are called 'Khams'. These Khams are Lamgariya Kham, Valig kham, Chamyal Kham and Garahwal Kham. Only people of these Khams can take part in Bagwal.
Gauchar Mela
The Mela is held every year in the month of November. An industrial fair, Gauchar Mela is known for its folk and other dances.
Music and Dance
Music is an integral part of the culture of Uttarakhand. The calm and serene ambience of this place, surrounded with hills and mountains, has inspired many musicians to compose great tones and melodies. The scintillating glimpse of streams of rivers, lush green forests and the heavenly beauty of the hilly areas are the natural components of the folk music over here. Some of the popular folk songs are `mandals`, `panwaras` and somber `khuded`, `thadya` and `jhoda`. These folk songs are composed on the beats and nodes of dhol, damoun, turri, ransingha, dholki, daur, thali, bhankora and masakbhaja.
Why Uttarakhand is a Favourite Tourist Destination?
If you want to connect to the essence of nature, visit Uttarakhand. It has beautiful sights with a rich heritage. Tourist destinations such as Mussoorie, Rishikesh, Dehradun, Dhanaulti, Auli and Almora are visited round the year. The State is now exploring eco-tourism, adventure tourism and leisure tourism.
"Almora has been the cultural capital of Uttarakhand since time immemorial. During prehistoric age, Lakhudiyar was one of settlements, which is still one of the major attractions for tourists. Apart from this Kasar Devi, Jageshwar, Katarmal, Ranikhet, Binsar wildlife Sanctuary, also have significant footprints on world tourism map.
Many others sites are also quite beautiful which are yet to be exlopred like Katali, Tadagtal, Kathpudia, Rudradhari Fall, Pinath, etc," says Rahul Chaubey, District Tourism Development Officer, Almora.
PLACES TO VISIT
Chitai Temple
Amongst the famous temple of Almora is the Chitai temple of Lord Shiva. Here He is known as Lord Gollu. People tie bells in the temple premises as an offering to make their wishes come true.
Kasardevi Temple
Located at a distance of just 5kms from Almora, the temple of Kasar Devi dates back to second century. The temple can be reached on foot from Kalimath town.
Katarmal Surya Mandir
India's second sun temple, after Konark in Odisha, is located in Almora. This 800 year old temple is surrounded by 45 smaller shrines. It has a unique architectural style.
Binsar
The Binsar Wildlife Sanctuary located near to Almora attracts lots of tourists who are enthusiastic about viewing animals and birds. The sanctuary has a forest guesthouse with an attached restaurant and also served as a resort. Binsar has an enchanting beautifully lazy feel around it. There are jungle walkaways and one can see large number of birds everywhere. True to its nature, Binsar provides peace of mind and soul.
"Uttarakhand in general and Kumaon region in particular is loaded with natural wealth and beauty which can be leveraged to provide employment to majority of the population here. Tourism can easily engage young minds in jobs," added Chaubey.
Local Craft
Almora is home to handloom and handicraft industry that is unique to it. One of the reasons for increased tourism in this part of the State is that foreigners come here to buy handmade crafts and artifacts in large number. Some of the common crafts in Almora are Aipan (ritual floor painting), copper ware, Likhai (wood carving), Bichhu Buti (nettle fiber craft), Ringal/bamboo craft, designer shawls, handloom, etc.
One of the traditional forms of rangoli of Kumaoni, Aipan is a decorative art form used extensively to decorate floors and walls at the places of worship and entrances of homes. This art is associated with a great degree of socio, cultural as well as religious significance. This art is passed from generation to generation by passing on the patterns from mothers to their daughters and daughters-in-law in the family. Some of the patterns are significant from religious point of view and are made especially at the time of ceremonies like marriages, thread ceremony, naming ceremony, etc. The patterns and motifs are typical to the region of Kumaon.
Similarly, bamboo basketry is also very popular in Almora. Bamboo is also used to make containers, storage, mats, baskets, winnows (sieve used when the crop is harvested to clear impurities in grains), etc.
"We are planning for a skill upgradation programme in Almora itself. We also need to develop an online marketing campaign. For this buyers sellers meet, we have developed DIC Pahal website where we are going to promote the artisans products online," says Dr Deepak Murari, General Manager, District Industries Centre, Almora.
Almora is also a manufacturing hub of shawls. It is also famous for metal craft. Copper craft is found in three districts of Uttarakhand, namely Almora, Bageshwar and Pithoragarh. In fact, there is a mohalla of copper artisans known as Tamtas, in Almora. Copperware is one of the traditional crafts of Almora and some of the best coppersmiths still work from Tamta mohalla. Many national awardees also belong to this region.
Follow and connect with us on Facebook, Twitter, LinkedIn, Elets video