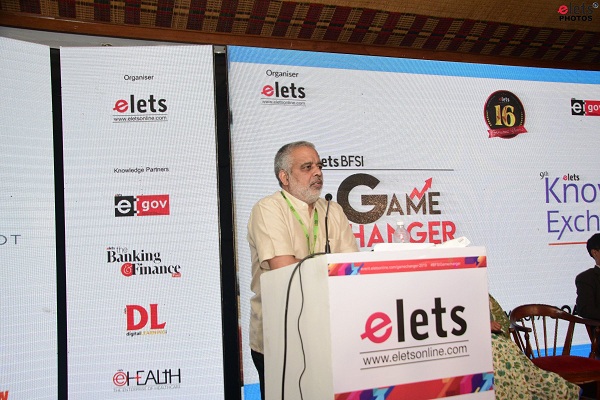 Being an IT hub, Telangana has leveraged information technology to implement the various welfare schemes in the state, said Ajay Mishra, Special Chief Secretary, Department of Energy, Forests Government of Telangana while delivering keynote address at the 9th Elets Knowledge Exchange, Goa, on 11-12 May.
Speaking at the Summit, Mishra narrated the significance of technologies like Blockchain and AI which helped the state government to implement the Direct Benefit Transfer (DBT) over the past few years. "Rythu Bandhu or friend of farmers is a scheme based on DBT. A couple of schemes benefitting the farmers have been taken in the form of loan waiver, subsidy to the fertilizer companies and support prices."
Mishra stated that the scheme has benefitted around 60 lakh farmers of the state, who are given Rs 4000 per acre to a farmer for each of the two crops they harvest in a year. "Technology has helped us in a big way to create the database of the farmers and their land holding records. This process has facilitated us in such a way that not a single farmer has to be physically present in the offices to collect their amount," he said.
He further stated, "We leveraged IT applications to gather the account details of all the 60 lakh farmer beneficiaries and delivered cheques to their addresses and during the second round of implementation, we credited the amount directly to their bank accounts. It was a time consuming procedure nonetheless as there were 60 lakh farmers in questions and the amount was around Rs 6,000 crores."
Telangana emerged second largest producer of Solar Energy through Privatisation
According to Mishra, Telangana is the second largest producer of solar energy, which is 3,600 Mega Watts (MWs). Talking about the role of private players in the operations part to achieve this feat, Mishra said, "We involved private sector to execute the end to end process of producing solar energy, rather than doing it on our own in order to avoid delays. We implemented simple policies, like avoiding going for big solar parks as those involve lengthy operational procedures like land acquisitions, infrastructure etc."
Narrating the process in detail, he said, "We identified 10 districts and assessed the district wise demand supply gap of power. The transmission and distribution network of each district vis a vis the utilisaton of power was matched and tender was floated for more than 40 locations for 3,500 MWs of power."
Mishra also added, "We allotted each and every task to the private bidders, starting from land acquisition to evacuation and as a result, we were the first state to cross 3,000 MW power generation within a year."
He also talked about the other welfare schemes implemented in the state. Listen to the full speech here.