Located in the historical region of Bundelkhand, Banda is world famous for its Shajar stone. The district is known for its rich culture and holds significance in history. The district administration of Banda is now endeavouring to make it a start-up and industrial hub. It aims to ensure comprehensive development in this part of the State.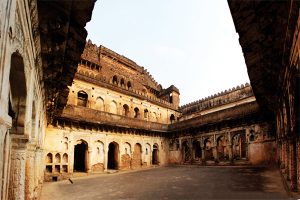 A Glance at Banda's History
Banda, finds mention in Hindu mythology and is named after Bamdev Rishi, one of the seven revered sages. He is also believed to have originated music. He is known to have resided at his hermitage at the foothills in Banda district, now called "Bambeshwar Pahar". There still exists Shivling in a temple on the Bambeshar Pahar which draws pilgrims from far and wide.
The district's historical footprints can be noticed during a visit to Kalinjar and Bhuragarh forts. The entire area was once under the reins of Chandel Kings. Mughal Emperor Akbar won this region in 1556 and then subsequently gifted it to Birbal, his advisor. Later, Bundel King Chatrasal ruled this region.
Bhuragrah Fort, situated on the bank of the Ken River. The historical importance of Bhuragarh Fort is due to Bundela reign of Hridaya Shah and Jagat Rai, the two sons of Maharaja Chattrasal. Kirat Singh, son of Jagat Rai, repaired Bhuragarh Fort in 1746 A.D.
The ruins of Bhuragarh Fort are a testimony to its historical significance. It is said to have been built with brown stones by King Guman Singh in the 17th century. A fair called the 'Natbali Ka Mela' is organised annually here.
In 1787 A.D., Nawab Ali Bahadur I took the reigns of Banda and fought a war against None Arjun Singh in 1792 A.D. Subsequently, it came under the Nawab's rule for some time but Rajaram Dauwa and Laxman Dauwa won it back from the Nawab.
After the death of None Arjun Singh, Nawab Ali Bahudar took the control of Bhuragarh Fort. The Nawab died in 1802 A.D. and Gaurihar Maharaj took the administration later on.
During the independence struggle, Banda again rose to prominence in Uttar Pradesh. On 14 June, 1857, more than 800 freedom fighters from Banda laid their life fighting Britishers.
The freedom struggle was led by Nawab Ali Bahadur II in Banda. On 15 June 1857, revolutionaries killed Joint Magistrate Cockrail. On 16 April 1858, Whitluck arrived in Banda and fought against the revolutionary army of Banda. About 3,000 revolutionaries were killed in the fort during this war.
Banda officially came into existence at the beginning of the 20th century when the British regime established the United Province of Uttar Pradesh, the present Uttar Pradesh.
The famous Shajar stone of Banda is found near the Ken River and is extensively used in jewellery which is in high demand overseas.
Folk-songs and Folk-dances
Banda region is famous for its folk dances and songs. Famous Diwari dance form originated in Banda. There are many songs dedicated to the heroes of Banda Alha and Udal.
A number of fairs are organised in Banda at various places such as:
Bhuragarh Fair
Nawab Tank Fair
Chilla Fair
Bilgav Fair
 Kalinjar Fair
 Khatri Pahar Fair
 Tihramafi Fair
 Simauni Fair
 Maheshwari Devi Temple
 Gadariya Fair
 Bamdeveshwar Temple
 Bhuiyarani Fair
Pachkauri Naga Temple
 Maa Durga Mela in Budhauli region (9th day of every Navratra)
 Diwari Dance
 Jogani Mata Mandir Fair (AUGASI)
 Jama Mosque
Kalinjar Mahotsava: Every year Banda District organises week-long Kalinjar Mahotasava to promote Kalinjar Fort's Heritage & Tourism. Kalinjar Mahotsava includes many cultural and social activities.
Banda Tourism
Gudha ke Hanuman Ji: The temple is situated in Gudha Kalan, about 40 km from Banda.
Jain Mandir: A historical temple in Banda city, located near Chhoti Bazar.
Kalinjar Fort: The most famous place to visit from the city is ancient Kalinjer Fort, located near Banda, also finds mention in the Mahabharata.
There is also a temple on the top of the hill called Khatri Pahar at Shydha, located about 24 km from the city. The temple is dedicated to Goddess Angleshwari.
Maheshwari Devi Temple: The temple is situated at the middle place of the Banda city. There are many idols of deities, Gods and Godesses inside.
Nawab Tank: The Nawab tank, originally built to fulfil the water needs of Banda, is situated about 3 km from Banda. It was built by the Nawab of Banda, and therefore it is known as the Nawab Tank.
Sankat Mochan Mandir: This temple is situated in Kachehari Road.
St. George's Church (Yellow Church): The oldest chruch of Banda is "Yellow Church", built in 1835 A.D. Some records say that Christianity existed in Banda even before 1809 A.D. Yellow Church was built by Churches of India (CNI) for regular prayers of Catholic Englishmen and their families living in Banda during early British Period. For 170 years, window panes, which were originally imported from Belgium, have not been replaced. During 1857 Revolt, no damage was done to the Church. The roof gardens of this Church are made up English cast iron. The church was built in typical Italian style with conical tops and tall windows. Inside the campus there are three graves of Norwegian.
Read More: Banda-Making Sustainable Agriculture a Reality
Follow and connect with us on Facebook, Twitter, LinkedIn, Elets video