With Ghaziabad witnessing a steady expansion in all dimensions, various projects are being carried out to prevent any incovenience to public and provide succour. There are many projects which are underway, Ritika Srivastava of Elets News Network (ENN) takes a look at the ongoing developments related to various projects.
Elevated Road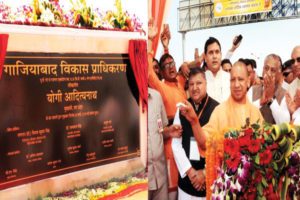 The Ghaziabad elevated road's construction began in November 2014 & On March 30, Uttar Pradesh (UP) Chief Minister (CM) Yogi Adityanath inaugurated the 10-kilometre, six-lane stretch of the Hindon Elevated Road.
Now, Ghaziabad will have better roads at important junctions and better-lit street. It will connect UP Gate on the Delhi-Ghaziabad with Raj Nagar Extension in the Uttar Pradesh city, drastically cutting travel time and enhancing commuting comfort. In order to keep the flow of traffic and movement of vehicles smooth on the Hindon elevated road, the Ghaziabad Development Authority (GDA) officials are planning to install 103 CCTV cameras after every 200 meters and speed radars which will help track speeding vehicles.
Apart from this, solar panels will be installed to power the LED lights on the Hindon elevated road to save on the operational costs.
Some Facts About the Newly-Opened Ghaziabad Elevated Road:
The Ghaziabad elevated road will connect commuters from the National Highway-24 (NH-24) directly to Raj Nagar Extension and towards Meerut, providing major relief to the commuters travelling to Meerut.
It is estimated that around 4,000 vehicles would ply on the elevated road every hour. l The Ghaziabad elevated road has been designed to enable fast traffic with an average speed of 80 km per hour, allowing direct and non-stop vehicular movement.
The cost of the Ghaziabad elevated road project has been estimated at Rs. 1,147 crore.
The Ghaziabad elevated road will shorten over an hour-long journey from Ghaziabad to Delhi to barely 18-20 minutes.
The Ghaziabad elevated road is built on 227 single pillars.
Sewerage Treatment Plant
Ghaziabad has 8 Sewarage Treatment plants & all plants are funtional.
The capacity of all the plants is 483 MLD out of which 392.8 MLD of Sewage is treated per day.
Sewage treatment generally involves three stages, called primary, secondary and tertiary treatment.
Primary treatment consists of temporarily holding the sewage in a quiescent basin where heavy solids can settle to the bottom while oil, grease and lighter solids float to the surface.
Secondary treatment removes dissolved and suspended biological matter. Secondary treatment is typically performed by indigenous, water-borne micro-organisms in a managed habitat.
Tertiary treatment is to provide a final treatment stage to further improve the effluent quality before it is discharged to the receiving environment (sea, river, lake, wet lands, ground, etc.). Ganga Jal Project
There are 3 Ganga water treatment plants in Ghaziabad. The Jal Nigam is running plants in Ghaziabad that are located in Pratap Vihar and Siddharth Vihar. Ghaziabad is a rapidly expanding city and its residents require more water with each passing day. Many colonies within the city are already being supplied Ganga water.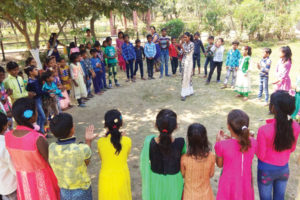 City Forest
City Forest is an artificial park in Ghaziabad, Uttar Pradesh. The park is located on the banks of the Hindon, has walking trails, cycle tracks, horse-riding facility and guided tours for visitors with open gypsy/jeep rides. The project, which is spread across 175 acres,and is offering the public an opportunity to try all rides .The park is open from 5am to 7.30pm on all seven days. A private contractor has been hired for maintenance. The pathway for hikers is narrower. Trees like neem, bamboo, amla, jamun, arjun have been planted along the routes, "This gives the whole place the look of a natural forest,In the last one year, nearly two lakh saplings of different varieties have been planted in the area in addition to the existing tree cover of the region.
The entire project area has been divided into nine blocks – A to I – with different features and facilities in each part. The three-acre lake is a natural wetland whereas tube wells have been set up for the five acre lake to augment water supply to it. The lakes attract migratory birds in the winters.
A deer park spread across five acres has also been proposed.
Waste to Energy
A waste-to-energy plants at Galand is being setup in Ghaziabad. The site – at Galand will be equipped with a waste-to-energy plant . This will help generate power for the city. The site is far away from habitation and also away from the Hindon airbase's flying zone. Also, the land is owned by the government.
There are many benefits Ghaziabad will gain by setting up Waste to Energy plant:
Cost effective treatment process and established proven technology.
No extensive preparation of waste material is required and the facility is adaptable to changes in the mix of waste material.
Energy from Waste (EfW) process recovers energy in the form of electrical power and heat. The 5MW of electricity that it produces is sufficient to light and heat 5000 homes.
EfW diverts waste from landfill, thus preventing methane emissions, which can contribute to greenhouse gas emissions.
Municipal waste is a non fossil fuel. Recovery of energy from this source by EfW means that less fossil fuels such as coal, gas and oil need to be burned – preserving this limited resource for future generations.
EfW plants are designed as all weather facilities and operate on a 24 hour, 7 day per week basis. Discharging of waste is under cover and odours are minimised by extraction fans, which provide the primary air for the process.
The EfW process produces by-products, which can be recovered and recycled. Metals are returned to scrap recycling and inert bottom ash is used as a secondary aggregate.
Landfill usage and landfill expansions greatly reduced. Waste to energy facilities typically reduce waste volumes by 90%. Fewer and smaller landfills are needed to process ash and this protects a valuable natural resource – land.
Follow and connect with us on Facebook, Twitter, LinkedIn, Elets video