The Government of Telangana is providing 24×7 power supply for agriculture purpose, setting an example for other proactive States in the country to follow suit, writes Sudheer Goutham of Elets News Network (ENN).
Telangana, the youngest and 29th State of India, created history, especially in the power sector. As a direct fall out of its separation from united Andhra Pradesh in June 2014, the State was reeling under severe power-crisis. However, the State has shown a paradigm transformation by turning itself into a zero-power cut State within six-months and then into a power- sufficient State in next three years.
On December 31 midnight, Telangana in a historic move in the power sector by announcing 24×7 power supply for agriculture in the State. That means the State will supply an uninterrupted power supply to 23 lakh agriculture pump sets, ensure 11,000 MW power demand by March 2018 and will invest an amount of Rs 12,610 crore in setting up new power lines, transformers and sub-stations.
Transmission Corporation of Telangana Ltd's Chairman and Managing Director D Prabhakar Rao and Southern Discom Managing Director Raghuma Reddy formally launched the scheme at Pothaipalli Village in the State's Medchal Malkajgiri district at 12.01 am.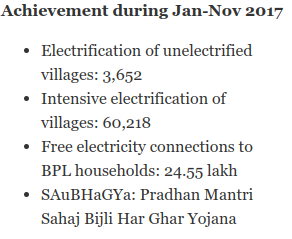 Telangana Chief Minister K Chandrasekhar Rao described the 24X7 agriculture power supply as a New Year gift for farmers.
"Though certain states are supplying power to farmers a free-of-cost, it is only for a few hours and some States are giving 24-hour power supply but for a price. Telangana is the only state which is supplying power to farmers round the clock free of cost," the Chief Minister said.
Ajay Misra, Special Chief Secretary, Energy Department, Telangana said, "We are prepared to provide the present peak power demand of 9,500 MW to agriculture sector. Also, would meet the expected increased (20% – 30 %) power demand of 11,000 MW by March. In order to achieve this in-a-first initiative in the country, our Chief Minister K. Chandrashekar Rao was on ground with the team since last one year too."
Chief Minister also announced a special increment for electricity employees in recognition of their efforts. According to
Prabhakar Rao, Chairman and Managing Director, TSTRANSCO and TSGENCO, the demand from the agriculture sector in January will be around 9,500 MW, which might go up to 11,000 MW by March.
"Our transmission and distribution system can bear the load up to 17,000 MW. We have strengthened the transmission and distribution systems at a cost of Rs 12,610 crore in the last three years," Rao said.
In addition to the present 14,845 MWs of captive power generation, Telangana is setting up new plants to add an additional 13,000 MWs in future. By 2022, 28,000 MWs of power will be available in the State, said the officials.
Electricity Supply
Telangana is on a mission. The electricity supply is crucial to farmers who use motorised pumps to irrigate their fields. It largely depends on groundwater due to lack of canal irrigation. Distribution companies, at present, are able to meet a maximum power demand of 9,500 MW to agriculture sector during peak hours of the day.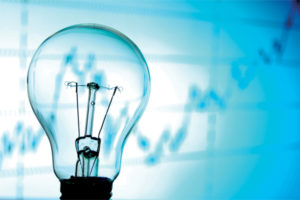 Transco officials have said at least 1,500-2,000 MW of additional power is required to meet increasing demand and implement the free-power programme.
Though it is one of the best initiatives, the State's vision and mission is to be the best performing utility in the country. It aims to be one of the best utilities in the world with the use of state-of-the-art technology and smart solutions and to generate adequate, reliable, cost-effective and eco-friendly power by spearheading accelerated power development. It is possible through the proper planning and implementation of new power projects.
Telangana State Power Generation Corporation Ltd (TSPGCL) was incorporated under Companies Act, 2013, on May 19, 2014 and commenced its operations from June 2, 2014. The corporate has risen to this level in just three years. Ever since, the Government of Telangana came to power, the State has the distinction of being zero power-cut State in the country. Telangana has achieved this in the power sector in addition to what the Government of India has embarked upon a massive programme to provide 24×7 power across the country by 2019.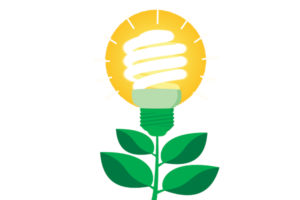 India: 24×7 Power by 2019
The Government of India has embarked upon a massive programme to provide 24×7 power across the country by 2019. Till completion of half of its term, the Government had achieved many important milestones in the Power sector. Special focus has been given to rural electrification, under Deen Dayal Upadhyaya Gram Jyoti Yojana (DDUGJY); and Urban Electrification under Integrated Power Development Scheme (IPDS). The schemes have been now oriented towards individual household electrification by March 2019, under Saubhagya scheme.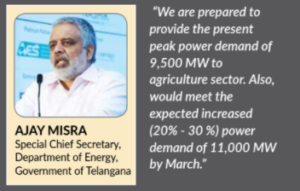 Several landmark decisions have already been taken in thermal power generation, hydel and more importantly in solar, wind and other green energy, besides strengthening of transmission and distribution, separation of feeder and metering of power to consumers. These also include not only achievements in capacity addition but also important reforms being undertaken on increasing energy efficiency of the present infrastructure and thereby reducing power losses, including increasing accountability and transparency by launching mobile applications and websites like Urja app, Saubhagya portal, National Power Portal, MERIT portal etc. Under DDUGJY, Projects with a total cost of Rs. 42,565 crores have been sanctioned in 32 States/Union Territories.
Status of Village electrification in the country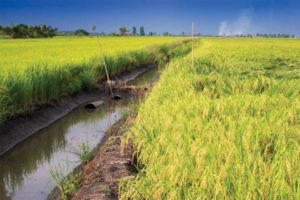 Cumulatively (as on November 30, 2017), electrification in 1,24,219 villages and intensive electrification in 4,68,827 villages has been completed. Free electricity connections to 277.20 lakh Below Poverty Line (BPL) households have been released. 18,452 census villages in the country (out of total inhabited villages of 5,97,644 as per Census 2011) were reported unelectrified by the States as on April 1, 2015.
As on November 30, 2017, electrification in 15,183 villages has been completed and 1,052 villages have been reported uninhabited. Remaining 2,217 villages are expected to be electrified by 1st May 2018. These 2,217 villages are located in the State of Arunachal Pradesh (1069), Assam (214), Bihar (111), Chhattisgarh (176), J&K (99), Jharkhand (176), Karnataka (8), Madhya Pradesh (34), Manipur (54), Meghalaya (50), Mizoram (11), Odisha (182) and Uttarakhand (33).
Integrated Power Development Scheme: IPDS Scheme aims to provide quality and reliable 24×7 power supply in the urban area. So far, projects worth Rs 26,910 crore covering 3,616 towns have been sanctioned by the Monitoring Committee. State utilities have awarded the works worth Rs 23,448 crore. The IT and technical intervention envisaged in the scheme will not only ensure 24×7 power supply in urban area but will also help in improvement in billing and collection efficiency which will ultimately result in reduction in Aggregate Technical and Commercial (AT&C) losses. So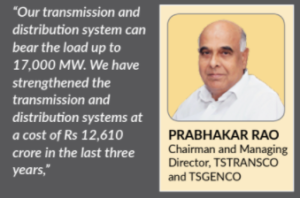 far, under R-APDRP 1,363 towns have been declared "Go-Live", 52 towns SCADA control systems have been established, 20 SCADA towns have been completed and 20 out of 21 Data Centres have been commissioned under Part-A of the programme.
Part-B projects have been completed in 970 towns. All India Short Code '1912' for consumer connect adopted in 45/57 Discoms (including private) in India. Ujwal Discom Assurance Yojana: Ujwal DISCOM Assurance Yojana (UDAY), a scheme for financial and operational turnaround of power distribution companies was formulated and launched by the Government on 20th November, 2015 in consultation with various stakeholders.
The scheme aims to provide permanent solution to the legacy of debts of approximately Rs 4.3 lakh crores and address potential future losses. The scheme also envisages reform measures in all sectors – generation, transmission, distribution, coal, and energy efficiency. The scheme availability period expired on March 31, 2017. Nagaland, Andaman & Nicobar Islands, Dadra & Nagar Haveli & Daman & Diu signed Memorandum of Understanding with Government of India under UDAY Scheme on 20 November, 2017. With this, 27 States and 4 UTs have joined UDAY till date.
Follow and connect with us on Facebook, Twitter, LinkedIn, Elets video