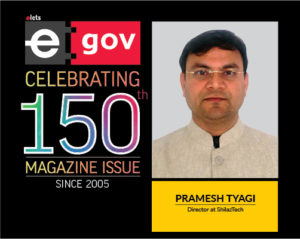 The primary objective of governance is to increase efficiency in all spheres of activity for the welfare of the society while keeping social, economic, and political ramifications within controllable reach of the governing body.
And, adoption of technology by any civilisation, society, and country has undoubtedly been the primary source of achieving efficiency. Man (Ape) used to walk on four but somewhere someone discovered to walk on two legs, leaving us with two hands to do something else, thereby increasing efficiency. Discovery of the wheel led human to efficiently migrate from one place to another leading to a chain reaction of all kinds of development.
Technologies such as cloud computing, data analytics, GIS , etc are some of the key focussed innovations for next decade that will boost and transform the governance, writes Pramesh Tyagi, Director at ShilazTech.
In order to improve the governance for improved efficiency of the society and the development of country, war scale hooking of available resources through already available and commercial technologies, e.g. internet, GIS, social media, cloud computing, data analytics, IOT, artificial intelligence and blockchain is required.
The Internet of Things (IoT) contains embedded technologies that interact with internal States, or the external environment, through which objects can sense and communicate. The Internet of Things Applications (IOTA) is a blockchain enabled distributed transaction platform that allows the smallest possible transactions at a very low cost among devices connecting through IOT. Social media generates loT of data about our day-to- day interaction and perceptions of things around us.
GIS (Geographical Information System) allows us to link the generated data from any source to a location. Cloud computing and data analytics allows us to store, navigate and arrange this vast amount of data for further analysis through artificial intelligence to make smart decisions in the smallest possible time. And, blockchain gives us the ability to reduce control on data, analysis, decisions, and rewards by any central authority thereby giving control and rewards back to those who contribute the most. This is changing and will keep changing how and where decisions are made and by whom.
Now, coming to improving governance. Improvement needs to be measured against previous performance with input from consumers of governance, i.e. citizens. The more people involved in active measurement and resolution, the better the outcome will be. With the reach of social media, e.g. Facebook, Twitter, WhatsApp, now it is extremely easy to measure the performance of any government policy or initiative.
Let me take an example to demonstrate the effectiveness of social media in combination to some of the technologies mentioned above in improving road infrastructure. The government has to create a Twitter/Facebook handle on which people can just upload the poor condition of the road, congestion on the road, crime on the road, poor light on the road, etc. and geotag the location. Doing this much is easy for citizens to solve problems promptly and effectively. Further, is the government's responsibility for which the government needs to assign sufficient resources for that.
Resources will be required to quickly respond to the complainer communicating that the problem is acknowledged and has been forwarded to its respective department. The respective department has to respond promptly to initiate that action and to inform when the problem will be resolved.
As the problem is addressed, the feedback will be requested from the person who initiated it. In case that person does not respond, the department has to evaluate the effectiveness of the solution with recurrence of similar problem at same location by other people.
The government has to maintain and share with people the database of complaints that are coming in, being resolved, pending, recurring, and then take action against those responsible for the continuously recurring problems, as well as rewards to those who have effectively handled complaints.
A reasonably working example of this can be easily found with the railway wherein one can tweet directly to the railway minister and the problems can be addressed in real time. I have experienced it personally during my travel by railway at two different occasions. All the latest technologies mentioned above can be deployed to make this system effective and capable to respond in near real time. Cloud computing, data analytics, and artificial intelligence are the key technologies to effectively analyse large amount of data that such involvement of citizens and things (through IoT) will help in making smart and effective policy decisions.
It is not difficult to imagine how this can be expanded for any other activity of governance, e.g. cleanliness, health system, education system, electricity, water, law and order, justice etc.
The Government initiatives with good intentions, at times, do not invoke the right response from citizens. Beyond simply being indifferent, citizens are afraid in the beginning to register complaints for fear of being reprimanded by authorities on the ground. Additionally, people just do not come forward to complain thinking "what's in it for me?".
To address this problem, the government can further create a compliant system using blockchain technology which provides identity protection to the person and also link it to a reward system like Steemit, a blog system that rewards active bloggers.
The rewards distribution will remain directly linked to how genuinely a person complains, by simply measuring if similar complaints have been raised or if the same complaint has been upvoted/liked/shared by more people. Then, whoever raises the complaint first gets the highest reward and so on.
They can also judge this on how actively a person has contributed in solving the complaint, e.g. how did she/he campaign to highlight the complaint, feedbacks post resolution, etc. The reward system should be highly liberal in the beginning to attract large number of people in short time to participate actively, and tuned later on as it evolves.
Therefore, what I consider as key focus areas for technology to lead transformation in governance are the improvement of fast speed internet connectivity, extensive use of social media platforms, data analytics and cloud computing, artificial intelligence, IoT, and blockchain.
Lastly, we should not feel that by adopting these latest technologies some parts of the society are left behind. History has shown that it does not happen and will not happen. An example from recent times is the use of mobiles; even an illiterate can use it for his/her benefit now. The same will happen with newer and emerging technologies which will be adapted gradually.
About Author
(Pramesh Tyagi did his M. Tech in Applied Geophysics from IIT Roorkee in 1993. After his graduation till 2015 he worked with national and international companies serving Oil and Gas sector. His longest tenure was with Schlumberger where he worked in their offices in Kuwait, Egypt, USA, and India and held increasingly responsible positions to provide technical and management leadership to respective departments. He published a total of 17 technical papers in national and international journals and gave many lectures in industry events.
In 2015, he set up three ventures in the field of FinTech, Geophysics, and Automobile to pursue his interests of using latest and emerging technologies like cloud computing, data analytics, artificial intelligence, robotics, and blockchain.)
Follow and connect with us on Facebook, Twitter, LinkedIn, Elets video